14 Essential Tips for Saving Money on a Road Trip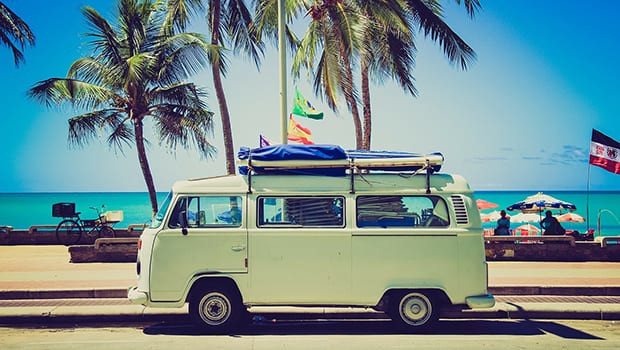 Last summer was my best thus far. I got the chance to take an extended road trip visiting much of the country. Before this, I knew how to save money on traditional traveling, but a road trip is a whole different ball game.
It was a great trip. I devoured local staples (yes, the Philly cheesesteak is worth the hype), saw all those images I've only seen in books and movies for years (Mount Rushmore and Niagara Falls, to name two), and enjoyed every second of it.
Learn from my mistakes and the things I learned along the way with these tips for saving money on a road trip:
Prepare your car.
Take your car for a check-up.
Besides having peace of mind, keeping your car in tip top shape is a money saver. Fixing a minor issue before it becomes major problem out on the road is the better option by far. Check your tire's air pressure and quality to be more efficient on gas.
If you're getting close to an oil change, go ahead and do it now. Many national chains like Firestone and Jiffy Lube offer printable coupons online, so print one off before you head out to the shop.
Consider renting a car instead.
I'm a huge fan of renting a car instead of using my own. Since my car is a little older, I'd rather not put the miles and wear and tear on it. This is especially something to consider if you're leasing your car and have a limit on miles. During my road trip, I opted for a safer car with much better gas mileage than I would have gotten with mine.
If you do decide to rent, pay for it with a credit card such as the US Airways Premier World Mastercard, that offers an Auto Rental Collision Damage Waiver or a car rental insurance when you put the purchase on the card.
Likewise, check around for the best deal before reserving a car. Companies like Avis, Budget and Hertz often have coupons you can apply during booking.
Double check your auto insurance policy.
Before you head out, call your car insurance agent to see if you're covered in other states if something should happen. I would highly recommend paying the small fee for adding roadside assistance if you don't have it already (I paid about $5 per month). Even though I rent my car anytime I take a road trip, a helpful call to my insurance agent saved me a lot of money the first time around. I opted to enhance my policy to be covered even when I'm in cars I don't own, allowing me to pass on the pricey renter's insurance.
That said, some credit cards do offer secondary rental car insurance when you pay with their card. Check your your credit card provider to see if you actually need any additional insurance at all.
Pack smart.
Pack money-saving items.
Since you're not flying to your destination, you don't have to worry about over-packing, to an extent. Packing camping equipment can save you money on lodging. Lower your food bill by bringing snacks and some easy-to-prepare meals along with you. As a food enthusiast, my favorite part of my cross-country road trip was cooking local foods. I brought my grill and got to have fresh, grilled vegetables I picked up at a local farmer's market in South Dakota and had juicy steaks on the grill when driving through Omaha. A portable grill, like this Guide Gear Deluxe Camp Kitchen, is a great way to cook on the road so you're not always having to eat at a restaurant or pick-up fast food.
Pack light.
While it can contradict the above tip, you want to watch the weight of what you're packing in your car. If you're starting to add on heavy items, that added weight can cause you to use more gas.
Pack car essentials.
You hope you never have to use it, but play it safe by packing emergency gear – flashlight with extra batteries, road flares, jumper cables, and essential tools. This AAA 76-Piece Premium Excursion Road Kit, which contains these and more, currently is marked down to $49.99 at Amazon.
Save on gas and tolls.
Use a credit card with cash back rewards.
Your gas bill is going to add up fast. Use a card that offers cash back for gas stations to earn money as you go, and pay the balance when you're done. The Discover It card will earn you 5% cash back on gas stations July through September.
Plan an efficient route.
Before you hit go on your GPS, do a little more research on the best route. I can't tell you how frustrating it was to be driving through Atlanta during rush hour. Had I just thought ahead, I would have saved time and aggravation and a lot of gas. Check for delays, construction, and learn from my mistakes and avoid larger cities during peak traffic times.
Consider avoiding tolls.
Exploring the Northeast easily cost me $200 in tolls. Worth it? Yes, especially Maine, but I could have opted to avoid those tolls and used that money to buy even more lobster rolls. If you're using Google Maps for navigation, you can opt to avoid tolls when plotting a route. (The latest versions also detect faster routes when traffic is slow, which is an incredibly handy feature when you wind up stuck in that Atlanta rush hour traffic I mentioned.)
Limit your car use.
Sounds crazy for a road trip, right? Well, even though your car is readily available, if you don't need, leave it behind. See what's walkable from your hotel or campsite. Take advantage of a free shuttle offered by your hotel to popular places nearby. When I stayed outside of Boston, it was much cheaper for me to leave my car at the hotel and take public transportation to the city instead of paying for tolls and gas to get there and then parking once I arrived.
Fill up when it's cheapest.
Gas prices vary greatly. I kicked myself quite a few times that I didn't fill up just a few miles earlier when it was noticeably cheaper. Use the free GasBuddy App to search the gas prices within your area for the cheapest.
Find deals on lodging and entertainment.
Opt for a hotel credit card.
Enrolling a hotel credit card definitely has its benefits during a road trip adventure. The Hilton HHonors Reserve Card will get you two free weekend nights plus HHonors Gold Status which means free breakfast and other perks. You'll earn 10 points per dollar spent at any Hilton hotel, including Embassy Suites, Double Tree, Hampton, and more. I'd feel comfortable going with this card during a road trip since I know there's always a Hilton hotel nearby.
Take advantage of last-minute deals.
Travelocity offers deals on last-minute hotels and popular attractions and things to do. Even better using the Travelocity AmEx Card earns you triple points on Travelocity purchases. You should also check daily deals in the cities you're visiting at sites like Gilt City, where you can get 20% off your first purchase with code WELCOME20.
Be flexible.
Since you're in the car, you have the opportunity to shop around a bit to find the best rate for the evening. Check out the Hotel Tonight app for the best rates available wherever you're bedding down for the night. You can also call the hotel directly to ask about the best available rate for the evening.