The Brad's Deals Guide to Graduation Gift Ideas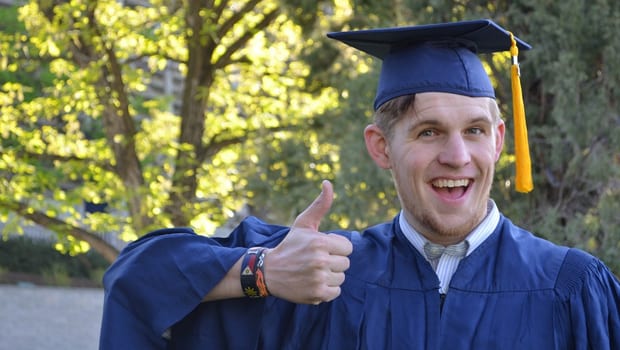 Graduation season is upon us, and with it comes the challenge of finding the perfect gift for the high school senior, brand-new college graduate, or freshly-certified Krav Maga instructor in your life. Worry not, because we're here with a suggestion for everyone on your list!
For the grad who doesn't have much:
Whether you're buying for a kid fresh out of high school with few possessions to his name or a college senior who's spent four years growing dependent on his building's housekeeping staff, his school's athletics center, his roommate's pots & pans, and his ex-girlfriend's DVD library, often the best gift for a new grad is a practical piece of equipment for independent living - like a Dirt Devil, gym membership, basic cookware set, or Netflix subscription.
Practical gifts certainly don't have to be dull - consider the example of an upgraded laptop or a new car. But for a gift that fits into any budget and is practically guaranteed not to go unused, find out where your grad is most likely to do her grocery shopping - Safeway, Walmart, Target, Peapod, wherever - and buy her a gift card in the denomination of your choice. This is the kind of "boring practical gift" that suddenly becomes pretty cool when your grad has nine dollars in his or her bank account and nothing but a lonely jar of pickle juice in the fridge.
For the grad who has everything:
Even in this economy, not every new grad needs help stocking their apartment or upgrading their computer. If you're buying for someone who's mostly set for the future, it may be best to focus your efforts on celebrating the present.
Online party supply and general knickknack superstore Oriental Trading Company has everything you need to throw a million-dollar graduation party on a budget, from mortarboard invitations to customized banners to themed shot glasses. For a lasting keepsake of the moment, pick up an engraved pen set or photo album at Personalization Mall, where graduation gifts are 30% off through 5/5.
For the grad who's headed back to school:
Someone who's going off to college or on to grad school is in a different position from other grads - embracing campus life is like entering an alternate dimension where the bad news is that well-worn, widely-available used books are often priced upwards of $100, but the good news is that it is entirely socially acceptable to make a regular meal of 3 A.M. buffalo wings.
Equip your grad for the quirks and quiddities of this magical upside-down fantasyland with an account credit at Delivery.com, a textbook rental gift certificate from Chegg, and a tip about this evergreen 5% off coupon.
For the grad who's headed abroad:
Know anyone who's doing a post-grad internship in Zurich or ESL teaching stint in Seoul?  Life and work abroad presents endless opportunities to learn new, unexpected, and amazing things about the world we live in and the people we share it with.
And with the gift of Skype Premium, one of these lessons can be that there is literally no place on Earth to escape your mother asking whether you're growing that awful facial hair just to spite her. Skype offers free video conferencing and deeply-discounted international calling with friends and family anywhere in the world, and unlimited subscriptions are discounted by 15% when you sign up for a full year.
For the grad who's temporarily unemployed:
Every entry-level job seeker needs a nice set of interview clothes, but not every entry-level job seeker can afford one. A gift card from a store that's good for interview-ready professional wear will come in handy even after your grad lands a steady gig.
Choosing a card from a bargain-friendly retailer like Loehmann's and Nordstrom Rack is one way to give your grad extra bang for your budget - searching for discounted gift cards from Ann Taylor, Banana Republic, H&M, and DSW at Plastic Jungle is another.
For the grad who's temporarily moving back home:
The Emily Post Institute recommends a copy of The Giving Tree tastefully rubber-banded to a bottle of Wild Turkey for both parent and child.
Be careful about mixing the two.
Want to see more great ideas for budget-friendly graduation gifts? Sign up for Brad's Daily Deals to get the best daily deals delivered right to your inbox!