Welcome! I'm so excited to be connecting with you here on the site and blog for my new book, Do More, Spend Less – The NEW Secrets of Living the Good Life for Less!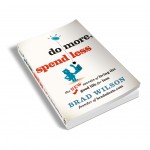 After spending the past 12 years brining you the very best discounts and deals on my site BradsDeals.com, I figured it was time to pull back the curtain and reveal ALL of my secrets about being a smarter consumer and saving both time and money!
Here are a couple ways you can engage with me and the launch of Do More, Spend Less in early January 2013:
Pre-Order Do More, Spend Less – If you pre-order a copy of my book before December 24, 2012 and email me your receipt to holidayguide@bradsdeals.com, I will send you my exclusive 2012 Holiday Shopping Guide (I will be rolling out a number of other great promotions over the next couple weeks in addition to this one!)
Join Me Here – I'd value connecting with you here on my Do More, Spend Less blog where I'll be revealing many topics and real-world examples highlighted in the book. You can click on the RSS feed button at the top of this post to get these posts delivered to you when and wherever is most convenient for you.
Subscribe – In addition, you can subscribe to my Do More, Spend Less newsletter (blue box at the bottom of this site) where we will be providing bi-monthly updates on the book with exclusive videos, giveaways and more!
I couldn't be more excited to reveal my personal secrets about being a smarter, stronger and wealthier consumer with each of you! I'm looking forward to connecting with each of you here and most of all to hear back from you about how Do More, Spend Less has changed your life.
Talk more soon!