About Do More, Spend Less!
Do More, Spend Less is about erasing everything you have learned about being a consumer, turning the tables on retailers, airlines, hotels, banks and credit cards and essentially every business that has been winning the battle for your hard-earned cash.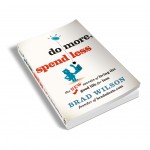 With more than 50 different real-world examples within retail, travel and personal finance that come from personal experience, I walk you through how to play and win at this consumer game yourself!
I've spilled all of my secrets and advice in Do More, Spend Less so that you and others can benefit from the things I've learned, live life to the fullest, and save tons of time and money while doing so.
Enjoy the book and please don't hesitate to email me your thoughts, feedback or ways that you've lived the Do More, Spend Less lifestyle at brad@bradsdeals.com.
My very best,