Brad's Deals Introduces First Women's Tech Accelerator Cohort
September 14, 2016
CHICAGO, IL
Determined to empower women in the technology industries, the shopping experts at Brad's Deals have selected three Chicago-based, female-led startups to participate in their brand new Women's Tech Accelerator.
The members of this inaugural cohort are:
Jasmine Shells, CEO and co-founder of

Five to Nine

, an experience-based social club for millennial professionals who want to explore and unlock their cities.

Tatyana Shestopalova, Founder of

GiftOn

, an online community and gift inspiration source that answers the question, what did other people give?

Alice Locatelli, founder and CEO of Feedback Builder, an automated system designed to help managers with the review process by asking short, thought-provoking questions about employees throughout the year.
While most accelerators and incubators take an equity stake in the businesses they're mentoring, Brad's Deals provides resources instead of funds. The three selected startups have access to the Brad's Deals office space, and work side by side with the Brad's Deals team, which is filled to the brim with subject matter experts on everything from web and app development to accounting and marketing.
This program was created to combat the lack of gender diversity in the tech world. While women make up more than half of the national workforce, only 30 percent of tech workers identify as female, and women working in STEM fields are 45 percent more likely than their male peers to leave the industry within their first year. With a staff that's more than 50 percent female, Brad's Deals is an outlier in its field, and is committed to empowering a new generation of women-led businesses to flourish.
"My team is honored and beyond excited to be part of the WIT program at Brad's Deals," said GiftOn founder Tatyana Shestopalova. "I am blown away by how the team at Brad's Deals has already rolled up their sleeves to provide the hands-on help and mentorship we need we need in order to build our product."
The Women's Tech Accelerator at Brad's Deals is expected to start accepting applications for the next cohort in early 2017.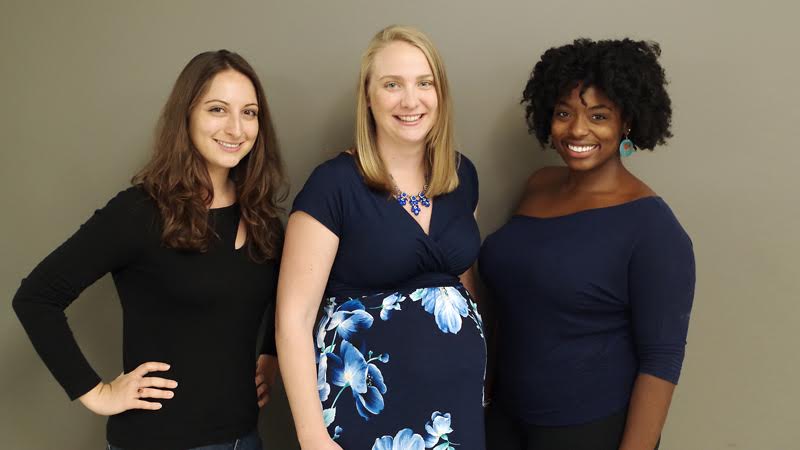 The first Brad's Deals WIT cohort. From left: Tatyana Shestopalova, Alice Locatelli and Jasmine Shells
About Brad's Deals
Brad's Deals brings together the best deals on the internet, all in one place. The company has grown from a one-person operation in 2001 to a dynamic, 65-person team that helps shoppers save millions of dollars every year. Learn more at www.bradsdeals.com.