Brad's Deals is a 2018 National Best and Brightest Program Winner
January 17, 2019
Brad's Deals is once again one of the "Best and Brightest Companies to Work For" in the United States, according to the National Association for Business Resources. This is the 6th year that Brad's Deals has won national "Best and Brightest" honors.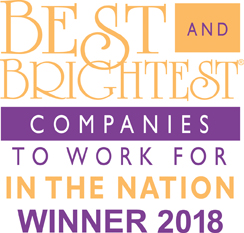 The National Association for Business Resources recognizes companies "that excel at employee relations, use innovation to motivate employees, implement creative compensation programs and more." In 2018, the Best and Brightest Program received 2,400 nominations and ultimately honored 512 winners from across the country. Companies are evaluated partly by employee surveys to score their satisfaction across thirteen categories including compensation, work-life balance, diversity, and community initiatives.
"We are thrilled to again be considered a 101 Best & brightest Organization in the Nation," said Jessica Adams, VP, Human Resources at Brad's Deals. "What was even more exciting was reviewing our results. Based on previous feedback from our team members we have known that they appreciate our work-life balance initiatives, but we were also able to see that the work we have been doing with comp & benefits as well as with employee engagement & retention are positive and impactful. Our team also values our community involvement, which is not surprising when you look at all the work our team members do around the community. I love that they feel supported to be that engaged."
Interested in working for one of the country's Best and Brightest companies? Find your next career with our team. Check out Careers at Brad's Deals for current openings.