9 Gorgeous Designer Dresses to Rent for Holiday Parties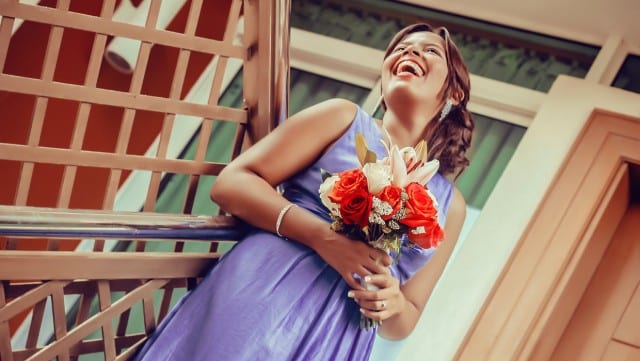 It goes without saying, but the holiday season can get expensive. I'm not just talking about the money you have to shell out on thoughtful presents and groceries, I'm talking about the events. Christmas dinner with the family, New Years Eve out on the town, your best friend's Christmas party, your office holiday party, your cousin's winter wedding … the list goes on and on. Instead of tapping your wallet for every event, take a look at these designer dresses to rent!
I'm about to introduce you to something that will blow your mind: Rent the Runway. This online service provides customers with designer dresses, accessories and jewelry for rent at prices that won't break the bank. These are dresses from designers like Moschino, Dolce & Gabbana, Versace, Vera Wang, and Zac Posen, which retail for hundreds or thousands of dollars, available to rent for under $100.
If you're a new customer, use the coupon code FIRSTRTR to take 20% off your first rental or first month of RTR Unlimited.
I have a serious dress hoarding problem where I buy an expensive dress, wear it once, and then let it sit in the back of my closet for years, so Rent the Runway is an invaluable asset for me. I can rent a dress for either 4 or 8 days, and they'll send me two sizes of the same dress in case the one I ordered doesn't fit.
They've got hundreds of dresses to choose from which might be a little overwhelming, so I decided to do the work for you. I made a list of 9 possible upcoming occasions, and handpicked a dress option under $100 for each one. Enjoy!
9 Designer Dresses to Rent Online for the Holidays
Occasion 1: A Classy Dinner Party – nha khanh "West Dress" – $45-72 rental ($425 retail)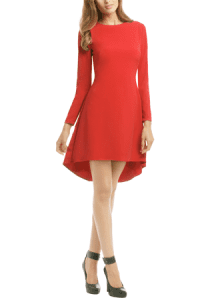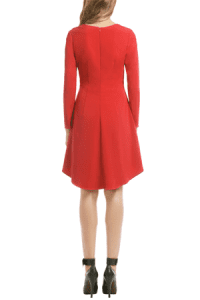 The winter months are riddled with dinner parties, because nothing is more comforting than stuffing your face on a cold night. When dressing for a dinner party, you want to look classy without being too fancy, and the dress should be comfortable enough to sit down in. You probably don't want to go with anything too tight lest you eat too much, so I chose this fit and flair style, which looks good on almost everyone. It accentuates the waist but hides any belly you don't want poking out, and I also love the sexy but subtle crew neckline.
This is always a tricky one. If you're dressing to impress at an office party, you want to be conservative and professional with just a touch of sparkle, and you certainly can't wear anything too tight or revealing. This dress is a perfect mixture of everything: it has a boat neckline, open back but doesn't dip too low. It also has a hint of sparkle that will catch someone's eye across the room.
Occasion 3: A Friend's Holiday Party – Slate & Willow "Red Petal Dress" – $40-$64 rental ($225 retail)
When you're among friends you can let your personal style shine without fear of judgement or side-eye. The perfect dress for a boozy Christmas party is fun and flirty while still being seasonally appropriate, which is why I opted for this wine-red dress. It might be cliche, but there is something so perfect about a red dress against white snow, and the deep v-neck and sexy pleats in the skirt make it a perfect fit for even the wildest holiday celebration.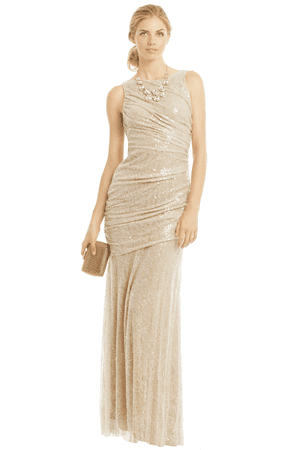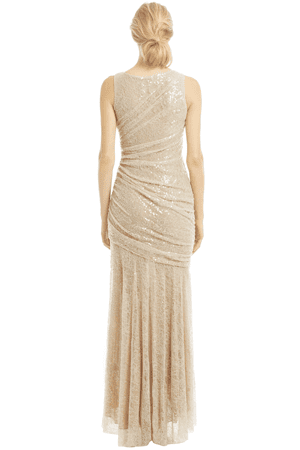 I've actually never been to a gala, but I've always wanted an excuse to wear a long, fancy gown that flows behind me as I descend a marble staircase. Clearly I've given this a lot of thought. I may or may not be able to con my way into a gala this holiday season, but if you have one already in the books, please wear this gorgeous gown for me. It's elegant while showing off your curves. I feel fancy just looking at it.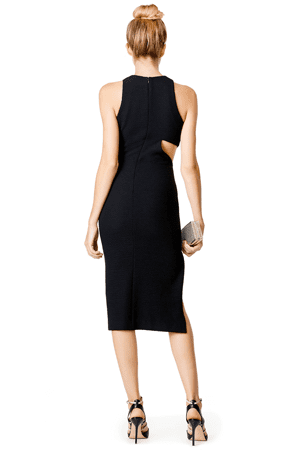 In between all the craziness of the holiday season, it's important to take some time for romance. Whether it's a first date or a 10-year anniversary dinner, you want to look your best when you step out with that special someone. It's hard to go wrong with a little black dress, and I liked the cutout on this one–it gives just a hint of skin without being too much. This dress shows off a lot of leg and can be dressed up with a bun, so I think it's perfect for a hot night out on the town.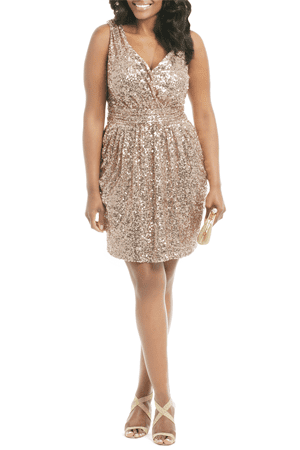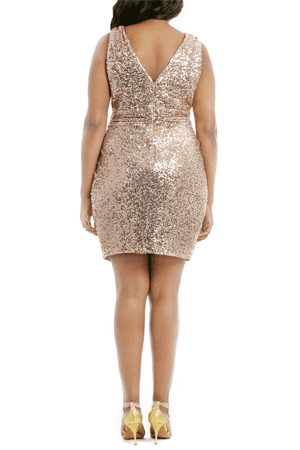 The glitziest of all holidays, NYE is the time to go big or go home. There are very few occasions where it's socially acceptable to wear a shining gold dress covered in sequins, so why not flaunt it while you can? I absolutely adore this little drapey gold number, which seems like something a Greek goddess would have in her closet. This little number is pictured in the plus size version, but is available in sizes 0-22W. I think this one could make a variety of body types look stunning.
While I usually dress for comfort at my family's holiday celebrations, I know a lot of people for whom the occasion warrants a trip to the mall. If your family is a formal bunch, or if your holiday traditions include a night at a house of worship, you're going to need a dress that's formal and conservative while still being comfortable. I like the idea of a green dress (to match your Christmas tree!) and I think this dress's sparkling green skirt and high crew neckline is perfect for a formal holiday with the family.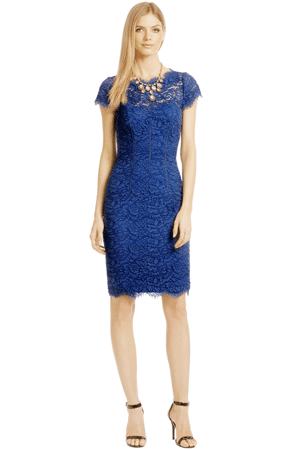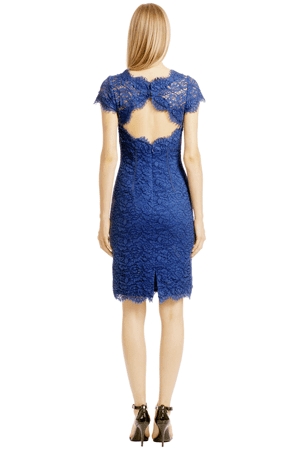 It's always a good idea to add a pop of color that isn't red or green to a winter wedding, and that's why I love this dress. The color stands out, the pattern is adorable, and while the neckline is modest, it's got a short skirt that will look good with both sheer pantyhose or dark tights.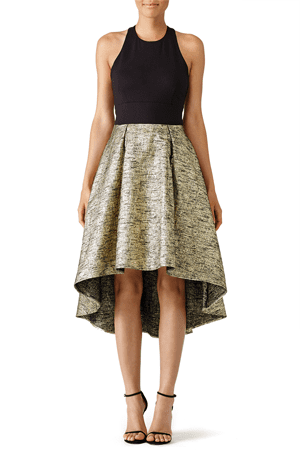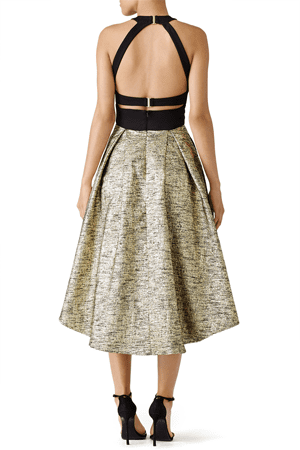 A lot of families have age-old holiday traditions like going to see the symphony orchestra play seasonal tunes, snagging tickets to a performance of The Nutcracker, or heading to a Broadway show. This beautiful high low dress is classy, conservative and just a bit flirty–the ultimate dress for dinner and live entertainment with family, friends or a significant other. I really love the gold pattern on the skirt that makes me think of a Christmas present, and the modest length of this dress is a safe bet around family members.
So what do you think of my picks for designer dresses you can rent? Love 'em? Hate 'em? Agree or disagree with my reasoning? Let me know in the comments, and definitely include a picture if you end up renting a dress of your own!