DIY: 10 Crafty Stores for Getting Creative on a Budget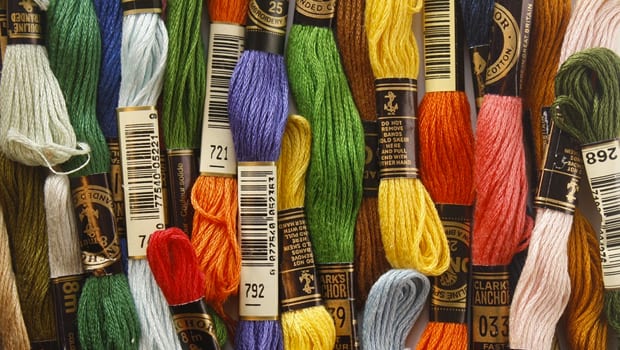 There are few things in the world so satisfying as creating something beautiful with your own hands. We love seeing all of the crafty ideas and DIY decor that our friends pass around on Pinterest so much that we even created a DIY Saves $$$ board where we've been stashing some of the clever things you've been posting! Without further ado, here are 10 crafty stores where you can save money while indulging your creativity.
From quilting fabric and yarn to sparkly glue and scrapbooking paper, Fabric.com is a one-stop sort of place for crafts of all kind. My personal favorites are the adorable amigurumi kits, because you can never, ever have too many amigurumi. You can stock up here and get an additional 15% off your order of $40 or more with Fabric.com coupon code CAT811.
As a staple of the crafting world, we already know about the fabrics, yarns, embroidery floss and seasonal crafts and decor. But I bet you never thought about the cutest pink heart-shaped muffin tin ever. Save 40 off one regular priced item through 2/24 with Jo-Ann promo code GFW55.
Mention Simplicity and it probably conjures up memories of clothing patterns. I know I always had fun flipping through the pattern catalogs as a kid! While sewing patterns are still their strong suit (pun alert!) they also sell other crafting supplies including knitting needles, activity sets for kids, custom home decor and more. The out-of-print pattern archive is a standout feature, but the Boye Learn to Knit with Mickey kit, on clearance for just $8, is just too adorable. It's the quilters who are in luck this month, though, with all quilting tools 20% off through 2/29 with Simplicity coupon code WQM20.
When it comes to discounted bolts of fleece, flannel, team prints and such, Hancock Fabrics is hard to beat. If you're a senior crafter, be sure to take advantage of Senior Citizen Days on the 1st and 3rd Wednesdays of each month to snag an extra 15% off. Shipping is free with a $60 purchase, one of the lowest free shipping thresholds we've seen from a craft-oriented store.
As a knitter, CreateForLess first hit my radar because of Stitch Nation yarn. Anything with alpaca in it gets my attention! A closer look reveals a great online source for crafters of all kinds, from scrapbooking to beading and beyond. I've even spotted cake decorating accessories here. Excellent prices and free shipping for orders over $100 make CreateForLess worth a look.
Maybe you think that Dick Blick is more "artist" than "crafter" territory, but before you dismiss it as a place for painters, check out their robust but unheralded Crafts category, where you'll enough beads, feathers, macrame, wiggly eyes and colored noodles (yes, really!) to make your crafty little heart explode in a glitter bomb of joy. Check out the Mosaic category while you're there, too. Because, you know, us crafters always need yet another crafty thing to obsess over. Dick Blick usually offers a variety of coupon codes, so be sure to check Brad's Deals for one before placing an order.
In the crafting world, Michaels is a heavyweight, but of all of the stores on this list, this is THE place to go when you're planning a wedding. Materials for centerpieces, fabric for bridesmaids gowns, bakeware for cookies and cakes and even invitation kits make Michaels a must-visit for any crafty bride. Be sure to grab a printable coupon for 15% off regular-priced items before you head out to the store.
Scrapbooking has exploded over the last few years. And if scrapbooking is your craft of choice, then Scrapbooking Alley was made just for you. From die cutters to book binders to cardstock,  you'll stamp, emboss, embellish and sticker to your heart's content with every scrapbooking accessory you've ever dreamed of, plus a few you probably haven't. Score free shipping with a $50 purchase.
The best way to describe Hobby Lobby is "crafting superstore". And if you're a crafter, it's probably one of your favorite places to waste an afternoon - if only there was a cafe in the store! But did you know that Hobby Lobby also has an online shop? Enjoy a cup of coffee from the comfort of home while you peruse Hobby Lobby's vast selection of crafting goodies. I suggest starting with the letter F - fabric, flowers, frames, fringe, face paint... Whether visiting the store or shopping from home, be sure to check Brad's Deals for a coupon before you buy.
If you haven't met Craftsy yet, you should. Besides being great eye candy for crafters, the Deals section is like the best possible mashup of Etsy and Groupon for knitters, crocheters and quilters. Deeply discounted design rolls and fat quarters  for quilters and luxury yarns for the fiberphiles make Craftsy well worth the bookmark, but I'd strongly advise signing up for their emails to get notified when new deals go live since the best deals always sell out quickly. Keep an eye out for the monthly "mystery box", which surprises buyers with more than $50 of yarn and knitting supplies of Craftsy's choosing for $25 plus shipping.
There are more than 80,000 free crochet and knitting patterns in Ravelry's incredibly well-organized database. Looking for a free knitting pattern that uses less than 400 yards of sock yarn? The advanced pattern browser will hook you up with pages and pages of options, all presented with thumbnail photographs. It even lets you peek at projects that others have made, what yarns they used, and any project notes that they might have added - all very helpful when trying to determine if the yarn you have is going to work, or what exactly the pattern author means by K3UF. Did I mention that membership here is free?
Most thrift stores will also have a crafts section where it's not unusual to find a treasure trove of donated supplies for all kinds of crafts. Yarn artists can often find yarn donated from someone's stash, scrapbookers might discover old books they can cut up. One store I visited recently even had an entire row devoted to bolts of fabric. And as if thrift stores aren't already enough of a bargain, many thrift chains have loyalty programs. And most will, at the very least, have a website and an email newsletter you can sign up for to be alerted to sales. Sales! At thrift stores!
But here's my best tip, for anyone who agonizes over the cost of high quality yarn. All sweaters are made of yarn and can be unraveled. There's a whole subculture of knitters and crocheters who scour thrift stores for sweaters made from high quality fibers like silk, cashmere, and merino, just so they can unravel them and recycle the yarn. Keep in mind, sweaters yield a LOT of yarn, and it's not uncommon to get more than 1,000 yards out of a cashmere sweater that cost you just $10. You'd pay at least $150 for that much cashmere from a yarn retailer. Check out this great tutorial by Neauveau Fiber Art: How To Unravel a Sweater to Recycle Yarn.
What are your best budget crafting tips?
Share your best kept crafting secrets in the comments below! And don't forget to sign up for Brad's Daily Alerts to stay on top of the latest and greatest deals the internet has to offer.
Related Coupons: