10 Stores That Are a Thousand Times Cooler Than Abercrombie & Fitch Ever Will Be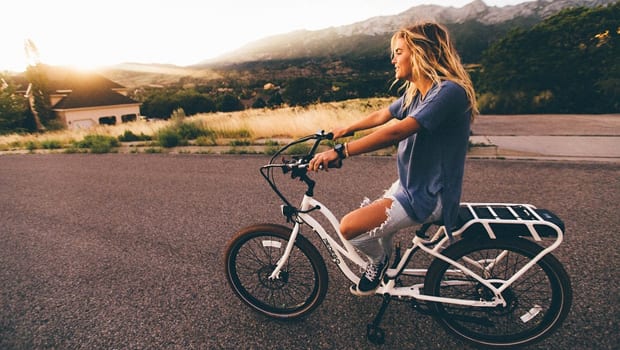 "In every school there are the cool and popular kids, and then there are the not-so-cool kids. We go after the cool kids. A lot of people don't belong, and they can't belong."
—Mike Jeffries, CEO of Abercrombie & Fitch
Are you not "cool" enough for Abercrombie & Fitch? Don't worry, neither are we.
Fortunately, the rest of the world operates on a completely different definition of "cool". While Abercrombie & Fitch sees it as the top tier of a teenage caste system as determined by one's popularity and proximity to size 0 jeans, the team here at BradsDeals thinks that diversity and inclusion are much, much cooler. We've built our site on the premise that anyone can live the good life for less - and by "anyone" we mean "everyone". Frankly, we're not terribly impressed or inspired by the message that Abercrombie & Fitch is sending. We've made a list of ten of our favorite fashion stops that make Abercrombie & Fitch look, well, a little thin and pale in the social consciousness department.
Check out our picks below and add your thoughts in the comments.
Aeropostale
Aeropostale's corporate giving program, Aero Gives, offers grants to local charities and organizations that are working to make a difference in the lives of teens. From Aeropostale.com: "Through the heart and spirit of the Aéropostale family, we work to spread our belief that all young people should have the opportunity to learn, feel safe, be passionate and have fun." That message of inclusion is not lost on us, and earns Aeropostale a well-deserved place on our list. Through May 20th, you can get 25% off your entire purchase with Aeropostale coupon code SPRING25.
Forever 21
When a tsunami devastated large swaths of Japan two years ago, Forever 21 pledged 100% of a single day's worldwide online sales to the Red Cross for disaster relief. The campaign raised more than $2 million. But Forever 21's sense of social responsibility doesn't end there. Those awesome cutoff shorts you bought at the mall last weekend helped to support FEED Projects, the Humane Society of the United States, Susan G. Komen for the Cure, The Samburu Project, Big Brothers Big Sisters, the Starlight Foundation, and the ASPCA. Aber-who?
TOMS
These distinctive canvas shoes are more than just a fashion trend. For every pair of shoes you buy, TOMS gives a pair to a child in need in Haiti, El Salvador, Peru or Malawi. TOMS Eyewear is less well known, but the formula is the same: every pair of TOMS glasses you purchase results in prescription glasses, sight-saving surgery, or other medical vision treatment in a dozen countries including the United States.  Just think - if you and all of your friends are wearing TOMS, then somewhere out there in the world is another small gang of friends who have shoes because of you. That's completely awesome. Take $5 off when you spend $25 or more with our exclusive TOMS promo code BRADSDEALSTOMS.
H&M
Abercrombie & Fitch cuts their sizing off at a women's size 10 because they don't want their brand associated with people who are overweight. On the other hand, fashion retailer H&M not only offers larger sizes, but featured plus-size model Jennie Runk in a beachwear campaign - helping to promote positive body image for women everywhere and proving that you don't have to be a toothpick to be trendy. H&M also just signed a factory safety pact with Tommy and Zara in the wake of the tragic factory collapse in Bangladesh, committing themselves to stricter safety standards than most retailers do for their factories overseas.
ModCloth
As an online boutique that generally flies under the radar, ModCloth has quietly built a strong following for it's quirky vintage styles, often chosen by their fans. And although we couldn't find any kind of statement about it, we're happy to note the plus-sizes prominently featured in the main navigation, and gorgeous product photos featuring models whose curvier bodies look a lot like our own.
United Colors of Benetton
The hipster of retail, United Colors of Benetton had a social conscience before corporate social responsibility was cool. This pioneer of retail branding with a social conscience challenged the public to embrace diversity long before corporations were expected to come equipped with community outreach and charitable giving programs. The Benetton Group supports the Unhate Foundation, an organization that strives to "fight against hate and discrimination in all its forms" - including race, religion, sexuality and body type. Recent projects by the Unhate Foundation include art and photography projects by New Delhi street kids and working with street kids and teens in Sao Paulo, Brazil.
Armani Exchange
When an earthquake leveled most of Haiti, Armani Exchange partnered with Mercy Corp to create a special edition t-shirt to raise relief money for victims. And for World AIDS Day? There was a special edition tee for that, too. The designer duds here are a little more expensive than at Abercrombie & Fitch, but Armani has shown that they're not afraid to pitch in when a great cause is on the line.
American Apparel
Sweatshop labor is often the dirty little secret of cheap apparel, but American Apparel puts their commitment to sweatshop-free products front and center. It's hardly "American" apparel if it's made in Sri Lanka, after all. Everything they sell is made in downtown Los Angeles. American Apparel has also been a vocal proponent of immigration reform and gay rights through its ongoing Legalize LA and Legalize Gay campaigns. Stepping beyond mere social acceptance of immigrants and GLBT issues and into the civil rights arena earns American Apparel a gold star.
fashionABLE
Scarves are super trendy, and I won't lie, fashionABLE is my favorite place to ogle them. The thing that makes fashionABLE special is that they work with women in Africa to start their own sustainable small businesses making scarves, helping to lift them out of poverty. Purchasing a scarf here helps to create jobs, which in turn contributes to the development of local economies that otherwise would rely on charity. Each hand-dyed, hand-woven scarf comes with a short handwritten personal statement from a woman whose life has been changed for the better. Oh, and they're beautiful and completely awesome.
Warby Parker
We thought that that the convenience of trying out different eyeglasses at home was the coolest thing about Warby Parker until we discovered their Do Good initiative. For every pair of glasses that Warby Parker sells, they provide a pair to someone in need. According to WarbyParker.com, "Glasses can increase one's income by 20%, enable students to see a blackboard and offer dignity to those with poor eyesight." Knowing the sort of impact that a pair of eyeglasses can have on someone living in poverty shows that Warby Parker truly understands how they can make a difference.

Follow BradsDeals on Facebook

Follow @BradsDeals on Twitter

Follow BradsDeals on Google+

Subscribe to Brad's Daily Alerts for the latest deals, shopping tips and more!