Only 100 Days Until Black Friday! Here's What You Need to Get Ready Now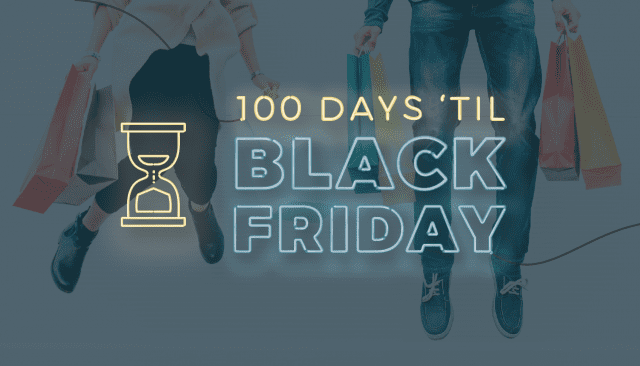 Editorial Disclaimer: Brad's Deals has partnered with CardRatings for our coverage of credit card products. Brad's Deals and CardRatings may receive a commission from card issuers. This content is not provided or commissioned by the issuer. Opinions expressed here are author's alone, not those of the issuer, and have not been reviewed, approved or otherwise endorsed by the issuer. This site may be compensated through the issuer's affiliate program. These user responses are not provided or commissioned by the bank advertiser. User responses have not been reviewed, approved or otherwise endorsed by the bank advertiser. It is not the bank advertiser's responsibility to ensure all posts and/or questions are answered. You can read our full advertiser disclosure:
click here
Black Friday season will be heating up roughly a month from now, so it is our solemn duty as deal experts to impart some wisdom on upcoming Black Friday sales upon our faithful fans on this, the day the countdown officially begins.
Sure, it's only August, but we're going to let you in on one of our best November shopping tips, three months in advance: The best time to start planning for Black Friday is right now. 
It sounds crazy, but it's true. The Black Friday game has changed a lot over the last few years, and the smartest shoppers will be getting their budgets and their wallets in order sooner versus later.
How will Black Friday shopping be different in 2019?
Credit card-based price protection is dead, dead, dead.
For many years, we recommended getting a credit card with price protection so that shoppers could effectively "hack" Black Friday sales. If you knew what the price was going to be well ahead of Black Friday, then you could buy it before the sale and simply submit a price protection claim.
But in the past year, nearly every credit card issuer has discontinued their price protection benefits. As of our publication date, Citi Price Rewind is still up, but you only have until September 22, 2019 to use it – and then that, too, will be gone.
Tariffs may lead to higher than usual prices on nearly everything.
With a trade war brewing with China, the tariffs on Chinese-made goods are likely to be passed on to consumers. Tariffs are slated to kick in on popular holiday items like laptops and toys sometime after December 15, 2019, but the reprieve only applies to some, not all Chinese-made goods. That means some households may feel the pinch earlier, which in turn will tighten holiday budgets – even as the prices on holiday purchases remain relatively unaffected.
"Given that the tariffs will likely increase prices on a wide range of products, consumers will be more focused than ever on finding great deals and saving money during the holidays," says Kevin Joyce, Vice President of Partner Development at Brad's Deals.
Since consumers may be feeling the financial squeeze a little more than usual, the best approach to holiday shopping will be to plan your holiday shopping budget now, and start socking money away sooner instead of later.
How to prepare your finances for Black Friday 2019
Create your budget and savings plan now.
"The last thing that any holiday shopper needs is to be stuck with a large credit card bill at the end due to a lack of planning," says Rebecca Lehmann, Black Friday expert at Brad's Deals.
"Shoppers should go into the season knowing exactly how much they're going to spend and where that spend will be allocated. The best way to do that is to start saving well ahead of time, especially if you're expecting your budget to be a little tighter than usual."
Let's say you can comfortably set aside $100 from each paycheck, and you'll get 6 paychecks between now and Black Friday. That gives you a cash budget of $600 to work with.
Now let's say you have five people you need to buy gifts for. You can split that $600 budget five ways to spend $120 per person, or divvy that $600 up however you like.
It also helps to know exactly what you're going to buy – or to at least have a pretty good rough idea of it. Lehmann offers up this tip to keep impulse buys at bay: "My mom always does her holiday shopping according to a simple framework: Something you want, something you need, something to wear, something to read. If an item doesn't fit into one of those categories, then it stays on the shelf. Once all four categories are filled, then her shopping is done."
Sign up for the Paribus app for automatic refunds on price drops.
If you're digging around on the internet for credit cards that still offer price protection in 2019, you'll probably find that Capital One is on most of the lists. These are two of our favorite Capital One credit cards right now.
But while they're not exactly wrong about Capital One offering price protection, they're also not exactly right.
Capital One's price protection benefit is actually the Paribus app, which it acquired back in 2016. And the good news here is that you don't need to be a Capital One customer to use Paribus.
Paribus is an app that keeps an eye on your email account for online shopping receipts, automatically checking for price drops. When it finds a lower price, it then files a price adjustment claim with the retailer on your behalf. The app works with more than 25 major retailers, including popular Black Friday retailers like Amazon, Target, Kohl's, Walmart, Best Buy, and Macy's.
Some users may not want to give email access to an app, of course, but it can't find your email receipts without it. At the very least, it's safe to say that Capital One isn't a shady fly-by-night app developer.
If that trade off sounds reasonable to you, then Paribus is a good replacement for the credit card-based price protection benefits that were pretty universally killed off this year, and may even prove to be easier to manage since it does all the price checking for you. The catch is that only online purchases will qualify for the service.
Get a cash-back credit card into your wallet now.
Price protection may be dead, but cash back credit cards definitely are not. While we definitely don't recommend racking up credit card debt with your holiday shopping, we also believe that there's no reason why you shouldn't be taking full advantage of cash back benefits. Put your purchases on that card, and then pay off the entire balance right away.
Note that both of these cards have a statement credit incentive. If you decide that getting the right credit card into your wallet is the right move for you, then it's best to do it now instead of later so that you have plenty of time to collect that statement bonus – which you can then figure into your holiday budget.
If that sweet statement credit is not enough of a reason to load up now, keep in mind that it's always a good idea to put major purchases like televisions or appliances on a credit card, even when you have the cash, because many credit cards offer extra warranty protection. Our founder, Brad Wilson, once used this benefit to replace a television that had broken just outside of the manufacturer's warranty period!