16 Beautiful Beach Vacations Your Family Can Actually Afford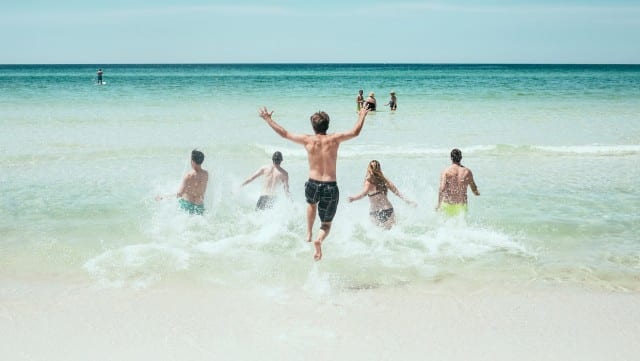 Ever feel like getting away just to sit in the sand, listen to the waves and relax in the sun? Of course you do! Do you also make a list of reasons why you can't plan a beach vacation, with the number one reason being that travel is so expensive? Here's a tip, plan a relaxing beach vacation somewhere close to home! We've broken down some of the best and most bang-for-your-buck beach vacations in each part of the U.S. Depending on where you live, there are affordable beach vacation options that will get your rear end in the sand without having to spend a fortune. 
How to get the best deal on a beach hotel stay
First, pick beaches that you've never heard of. The less popular the beach, the more likely you are to get a deal on a hotel and have more space for your beach towels, coolers and umbrellas. Next, use TripAdvisor and enter your location, sort by price and then pay close attention to the user reviews. Finally, you'll want to book through a discounted site like Expedia or Travelocity. The obvious trick is to find the highest user-rated hotel for the lowest price you're willing to spend.
Also check out alternative and lesser known lodging options like Homeaway.com or Airbnb which allow you to rent rooms or homes from locals.

Good Harbor Beach, Massachusetts (Credit: Bex Walton / Flickr)
Northeast
Silver Sands State Park in Connecticut boasts the warmest water out of the New England beaches in their shallow areas of Long Island Sound. Hotels in the area average around $114 per night.
Good Harbor Beach in Gloucester, Massachusetts with white sand beaches, swimming and a shallow enough low tide to walk out to Salt Island and see the shoreline. Booking on a discount site will get you a room this summer for around $164 per night.
Mid Atlantic
Sandbridge Beach in Virginia is a barrier island near Bay National Wildlife Refuge which boasts more than 8,000 acres of beach, dunes, farmlands and water. Most hotels are within walking distance of Sandbridge Beach and are an average of $192 per night.
Sandy Point State Park near Annapolis, Maryland is great for swimming, fishing and boating. You also get a great view of Maryland's Chesapeake Bay and you could even spend the day crabbing on the pier for the famous Chesapeake Bay blue crabs. A hotel in the area will cost an average of $161 per night.
Southeast
Cumberland Island in Georgia averages $133 per night and is accessible via ferry at St. Mary's. It is a car-free island and wild horses can sometimes be seen near the Dungeness Ruins area.
Florida is well known for having some of the most gorgeous beaches in the U.S. There are several affordable beach spots all across the state, but worth noting are Clearwater and New Smyrna Beaches. Clearwater is consistently rated one of the most beautiful beaches with its clear water and pristine sand. Plus, you can stay for an average of just $145 per night. Along with award winning, white-sand beaches, New Smyrna has unique shops, camping, fishing, golf and a selection of hotels, inns and bed and breakfast spots averaging $125 per night.
Central Midwest
I'm from Michigan, so you couldn't expect me not to include beaches along Lake Michigan on this list! I grew up in Muskegon so I have a soft spot for Pere Marquette Beach and Holland's Tunnel Park where you can watch the sun set over the lake. Hotels in these areas will run around $126-$142, respectively. On the other side of the lake, you can watch the sun rise onto the city in Chicago at the popular North Avenue Beach or, my favorite, Hollywood Beach on the north side of the city.
Door County, Wisconsin has been called the "Cape Cod of the Midwest". With 10 lighthouses, over 20 beaches and quaint little towns situated around the peninsula, it is another Lake Michigan favorite. Lodging in Door Peninsula costs an average of $94 per night.
Midwest
Table Rock Lake in Missouri averages $108 per night located in Shell Knob, MO. It is known as one of the clearest freshwater lakes in the world. There are scuba excursions, camping available and a marina that rents a variety of boats for personal use.
Lake McConaughy near Ogallala, Nebraska has white sand beaches and is over 20 miles long. Visitors can fish, camp, swim and stay in a nearby hotel for around $83 per night.
South
While Arkansas probably wouldn't be the first state in your head for beach vacations, they do offer some beautiful lake destinations. Beaver Lake, in Rogers, Arkansas is found high in the Ozark Mountains and along with 487 miles of shoreline, there are 2,008 acres of campgrounds and over 650 individual campsites. Hotels in this area will run around $85 per night. Camping averages $20 per night or $140 per week.
Magnolia Beach in Texas is located along the waterfront of Lavaca Bay, southeast of Alamo Beach and is best for relaxation in a quaint and quiet beach town. If you're looking to stay in a larger town, Corpus Christi is about an hour and a half drive away. Hotels close to Lavaca Bay average $119 per night, but in the more populated Corpus Christi, you'll average around $170.

Telephone Cove, Nevada (Credit: NPS.gov)
Southwest
Traveling to the Southwest may mean fewer oceanfront beaches, but it doesn't mean you can't have a beach vacation. Many of the beaches in the Southwest U.S have gorgeous views of the mountains and make for a beautiful scenic vacation. Telephone Cove, in the Laughlin area of Nevada has two quiet beaches that offer swimming and camping. Hotels in the area average $70-$90 per night.
If you're looking to do some camping on your beach vacation, New Mexico might be a place to check out! Elephant Butte has some hotels for under $100 per night, but along with Navajo Lake, Conchas Lake, and the Bottomless Lakes, there are many options for camping right at the beach for around $14 per night or $98 per week. Check out ReserveAmerica.com for campsite availability across the U.S.
West Coast
With an amazing coast, California has lots of gorgeous beaches to choose from. Staying out of the major beach areas can end up saving you up to $200 per night on average. Check out El Matador State Beach (or its two sister beaches, El Pescador and La Piedra) for white sand and rooms that average $171 per night. An even more economical option is Torrance, CA with some of the most beautiful sand in the U.S. Nights here are around $142/night.
Cannon Beach in Oregon is located about 80 mile west of Portland and is surrounded by forests, ocean beaches, rivers, and the Oregon Coast Mountain range.
With inns and hotels ranging from $170 to an average $207 a night, you could get a bargain on what some call the Carmel of Oregon!
You Tell Us!
We realize locals know best when it comes to beaches across the U.S. Please let us know if you'd like to add your favorite beach to the list. Leave us a comment with your favorite beach near your own town, we'd love to hear about it!
*These prices are subject to change.
Related coupons: