5 Adorable Styles for Your Pet to Rock this Winter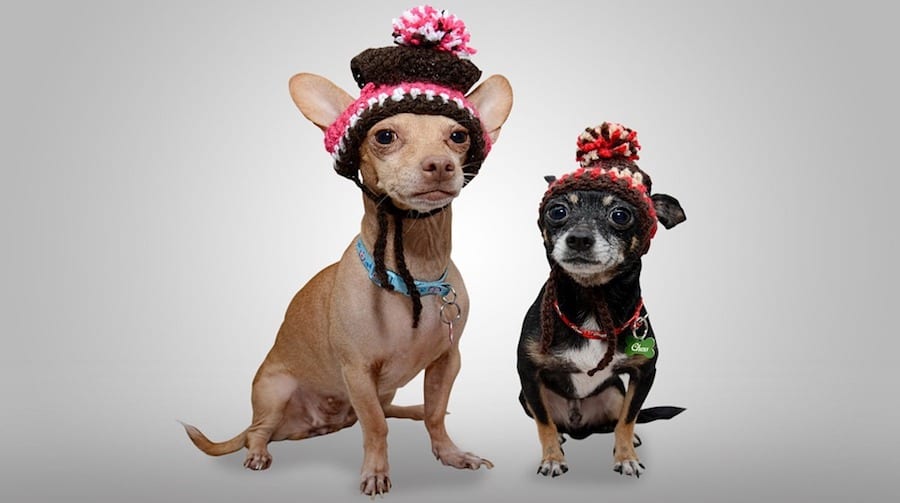 Is there anything cuter than an animal wearing clothes? Even the furriest animals can use a little extra help when the temperature drops, so if your pet shivers every time the door opens, it's probably time to invest in some cozy animal duds.  
In addition to the "AWWW" factor, buying a little coat, hat or vest for your furry friends can help them stay warm and snug through even the chilliest winter walks. We asked you to send us pictures of YOUR pets wearing their cold weather best, and boy did you comply! It was tough, but after hours of deliberation (read: squealing hysterically at every picture) we finally picked a few to showcase alongside some adorable winter styles that will make any pet--whether it's a cat, dog, hamster or bunny--look and feel its best until spring.
Patterned Sweaters
BellyRubz the cat stays snug in this cozy kitty sweater while helping her person unpack the Christmas tree. If you think your cat would look smart in a similar style, check out this Grreat Choice Paw Fleece Sweater from PetSmart, which is only $13.99 if you order it in a cat's size.
Here we see Sami modeling a lovely knit number on a chilly day inside. Just think of the compliments your little dog would get trotting around the neighborhood in one of these fetching sweaters! To get this look, try out the similar Nordic design of this Boots & Barkley Knit Sweater, for $12.99 at Target.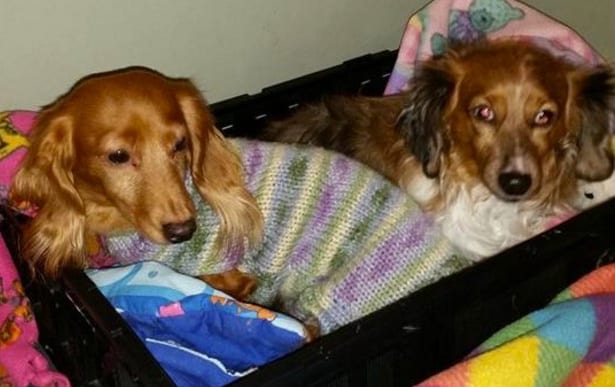 Jasper's braving the cold without any extra layers, but Sasha is grateful for her sweater, which was custom-knit just for her! If you've got knitting skills and want to pamper your fur babies with sweaters that'll fit like a glove, check all the pet patterns on Knitting Pattern Central. If you need a place to start, try out this adorable leaf-inspired doggie sweater, and for the love of god, PLEASE send us a picture when you're done!
Puffy Vests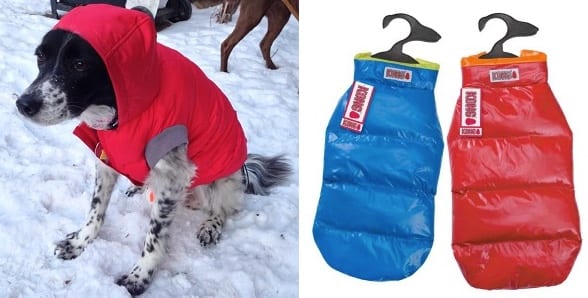 Lucky (on the left) is not thrilled about the weather, but he'll be prancing around the snow in no time with the help of his snug red vest. If your dog looks this sad when you take him outside, you might want to consider buying one of these puffy KONG vests (starting at $17.99) from PetEdge.com.
It's not easy being an internationally renowned dog model, but James seems up for the challenge in this smart, green puffy vest that really brings out the red in his ears. Obviously James here is the Kate Moss of dogs, but please don't get intimidated by his good looks! ANY dog can rock a vest like this, so head over to Petco and pick up this $17.99 Good2Go Green Quilted Dog Parka for your pup and watch as they strut down the street like it's a runway in Paris.
Hats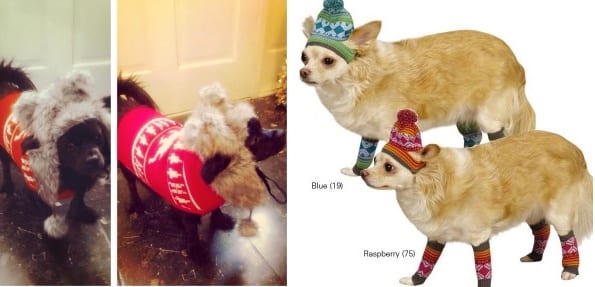 Winston is nothing if not prepared for a winter walk. Not only is he sporting a red knit sweater, but he's also picked out a stylish fuzzy hat to keep his head warm and free of rogue snowflakes. I couldn't find this exact hat anywhere (if you know where to get it, let us know in the comments!) but I did stumble upon this AMAZING knit hat and leg warmer (!!) set from PetEdge.com that I can't stop looking at. Seriously, click on that link. The picture alone is worth it, I might even make it my desktop background. All dogs should be required by law to wear matching leg warmers and hats. BY LAW.
Flora Mae's statement sombrero proves dogs aren't the only kind of pet that can work a say-something hat. This kitty supermodel knows hats are best worn at a jaunty tip, and best paired with a sultry stare. For a more seasonally appropriate version of this style, try this Wag-A-Tude Grey Knit Hat for $7.99 at Petco. While your cat might not be overly enthused by this fashion-forward head-warmer, I recommend setting her up in front of the mirror -- I'm sure she'll change her tune once she sees how festive she looks. Maybe.
Booties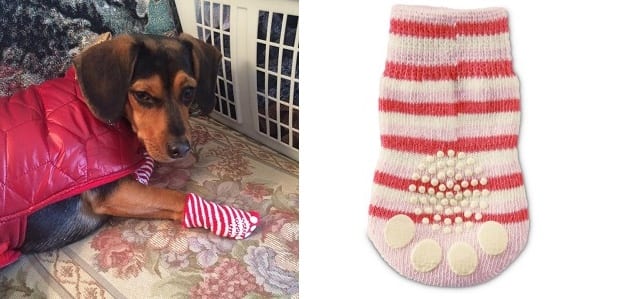 The only thing Pippa from Nashville hates more than doing laundry is going outside in January without her stripy red booties. Keep your dog's paws safe from snow, ice and freezing concrete (and snag Pippa's style while you're at it) with these Smoochie Pooch pink striped doggie socks from Petco. At just $4.19 for a set of four you can snatch up enough to keep your puppy's feet warm and dry all winter long.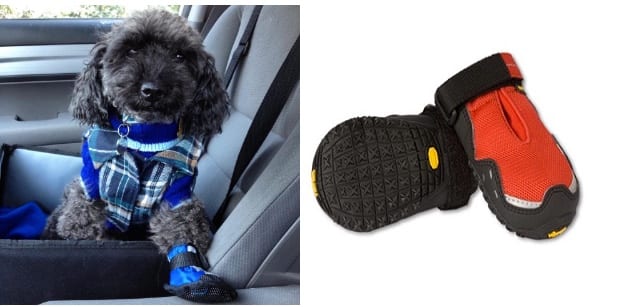 Georgie here isn't messing around when it comes to winter gear. With a sweater, a vest and some serious boots, this pup is ready to prance through the snow like it's going out of style. If you and your dog are frequent adventurers, check out the selection of rough-terrian dog boots on RuffWear.com. This set of Grip Trex paw-wear will set you back $69.95, but it'll help your dog navigate any kind of path: rain, shine or snow.
Pink Coats and Snowsuits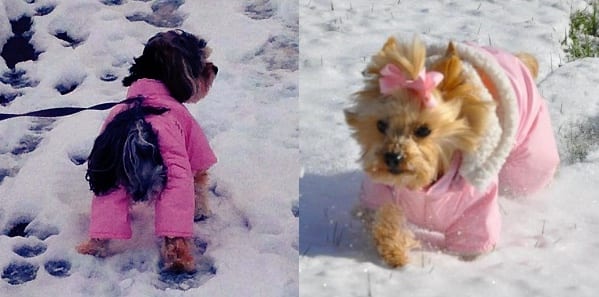 It's easy to be both warm and stylish, just look at the way Roxie is WORKING this bright pink snowsuit! Want your dog to look this good even in negative temps? You can find this exact style on Amazon for $35.99, and it even comes with a detachable hood (see photo on the left). Roxie prefers to let her curls flow free in the wind as she bounds along her snowy sidewalk, but to each her own, right?
Bella really lives up to her name in this stylish little jacket! Give your pup similar street swag with this pink plaid faux pocket sweater starting at just $8.99 from Petco.
I'll leave you with a picture of a puppy in PJs, because PUPPY IN PJS.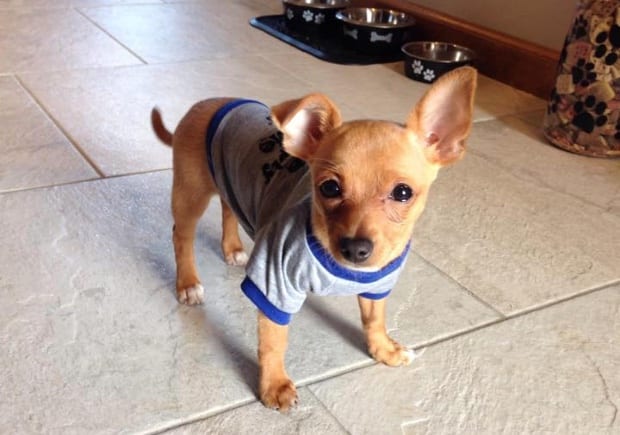 Woof! Stay warm out there, folks!
I can't tell you how much it pains me to not have enough space to feature ALL the pictures we received. If you'd like to take a look at every entry, head over to the Brad's Deals Facebook page, and "like" us while you're there for a chance to be featured in our next crowd-sourced article!
Related coupons: