5 Road Trips to Take While Gas is Dirt Cheap [Infographic]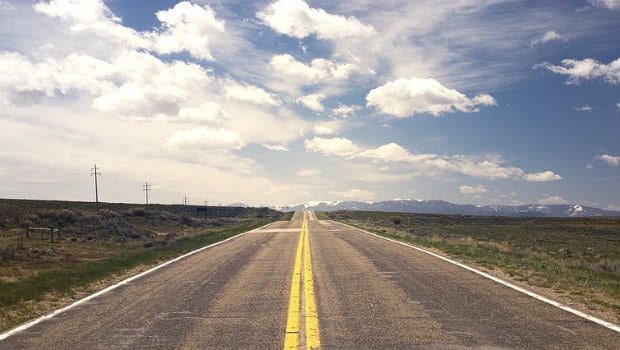 If you have a car, you're probably pretty happy about the crazy-low gas prices currently popping up around the country. At the very moment I'm writing this, AAA reports that the average price of a gallon of gas in the US is just $2.06, and it's going down fast. If trends continue, we're due to get under $2 VERY soon, so wouldn't you say it's about time to start planning a road trip?
Here at Brad's Deals, we're dedicated to helping you live large while saving big, so we put together this infographic in an effort to inspire you to take to the open road. We've picked 5 hot road trip destinations and calculated how much a round trip car ride would be from 7 of the most populated cities across the country, and then we compared that number to how much that same trip would have cost just one year ago, when gas prices averaged about $3.30 a galleon.
To make these calculations, we used the average gas mileage for a new car, which is 24.8 miles per galleon, so if you've got a car with either higher or lower gas mileage, these numbers are not going to be exact. We also didn't account for tolls, roadside meals or motels. What's listed here is just meant to help you estimate about how much you'll spend on gas when driving to one of these fantastic places, and show you how much you're saving by going now, while gas is dirt cheap!
Keep reading after the infographic for suggestions on where to stay, what to eat, and what to do at each destination. Happy road tripping!

1. The Grand Canyon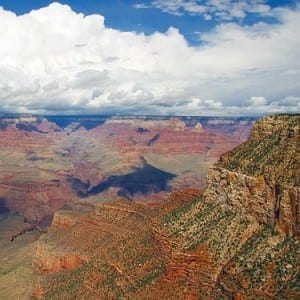 The Grand Canyon is one of those places everyone should see before they die, and it's such an obvious road trip destination that we had to put it first. Chicago-based elementary school teacher Rachel Alexander recently returned from a trip to the canyon, and she gave us a few suggestions for food, lodging and fun:
"The Grand Canyon is a spectacular sight to see, however, Sedona (which is an hour away) has better places to dine and stay," said Alexander. "At the canyon, you pay $25 per car to park, and then you can wander around the numerous lookout posts--some of which have binoculars. People say that the Grand Canyon actually looks better in the winter because the contrast between the rocks and the snow makes the depth more vivid, and I agree!"
But if you do make the trip this winter, Alexander warns to use caution when driving.
"We went on a day after it had snowed six inches," she said. "The roads were not plowed very well, and because most drivers in Arizona aren't used to driving in the snow, we saw a lot of tow trucks fishing people out of ditches."
If you're more set on staying by the Canyon, Brad's Deals editor Mark Jackson suggests Phantom Ranch. "They have a campsite, where I stayed, but there are also cabins to rent," said Jackson. "After a long day hike, you can eat stew family-style with fellow hikers, it's an awesome place!"
And if you're ready to make a serious commitment, Alexander note that it's a GREAT place to propose. "Get a little Ellie Goulding 'Your Song' going and you're golden," said Alexander, who arrived at the canyon a single lady, but left with a hefty rock on her ring finger, courtesy of her now-fiance, Tom.
2. Yellowstone National Park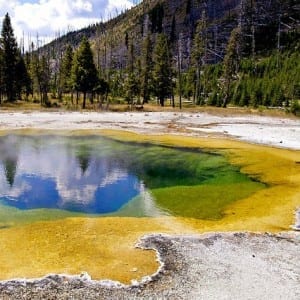 Yellowstone is so colorful it will make your eyes hurt, in a good way, of course.
Jackson recommends camping and cooking out at your camp site, but if you're hankering for a kitchen-cooked meal, Jackson Hole will soothe your soul:
"Jackson Hole is an inevitable stop if you're coming from the South, and it has every restaurant you could ever wish for," said Jackson.
He also has some suggestions for sights to see while at the park.
"Ol' Faithful is of course a main attraction, but in the northern part of the park, near the Montana border, is Mammoth Hot Springs, with an awesome travertine flowstone formation, and the drive through the Grand Tetons is unmatched."
3. The Minnesota Boundary Waters
To me, there's nothing more relaxing than a few days away from the hustle and bustle of modern society. The Minnesota Boundary Waters, located so far north they're practically in Canada, immerses visitors in the beauty of nature.
If you're headed up to the Boundary Waters, you're going to want to either bring a canoe or rent one when you get there. Check out the exhaustive Paddle Planner to find interactive maps, photos and visitor forums.
If you'll be camping, which is highly recommended, stock up on gear before you go. You'll need a tent, sleeping bags, cooking supplies and quality hiking boots and sensible camping clothes. This is one of those trips where you'll need to carry your supplies, along with your canoes, on your back, so try to pack as light as possible.
If you like the idea of a few short day trips better than a full-on camping retreat, check out Golden Eagle Lodge. They can set you up with a canoe and direct you to the most gorgeous views and waterfalls the Boundary Waters have to offer, (or send you on a relaxing cross-country ski trip if you go up in the winter) and provide you with a cozy cabin to sleep in at night.
4. Niagara Falls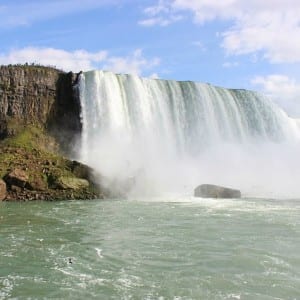 It's hard to beat the beauty of a normal cascading waterfall, and so it goes without saying that it's pretty much impossible to beat the beauty of the three giant waterfalls that make up Niagara Falls.
If you're into the whole bed and breakfast thing (and honestly, who isn't?) try out the Butler House Bed & Breakfast, a short walk away from the Niagara Falls State Park, which, according to their website "provides a seasonal trolley to most local attractions including The Falls, Maid of the Mist, Cave of the Winds, Goat Island, the Three Sister Islands and Luna Island."
Of course you'll want to check out all the attractions mentioned above, but save time for lunch at the Quality Hotel & Suites ballroom, where you'll hear tales of ghostly activity around Niagara Falls from a local ghost hunter.
Later, try your luck out at the Seneca Niagara Casino, and don't miss the view of the falls at night when they're lit up in the dark!
5. New Orleans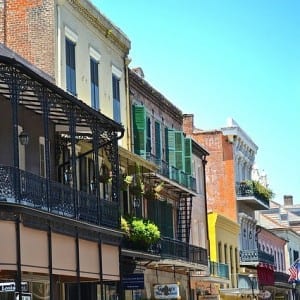 New Orleans is a city alive with history, music and fun, which makes it an ideal destination for a road trip. Massachusetts native Cat Philbin lived in NOLA during college, and she recommends checking out the National WWII Museum and the Audubon Nature Institute's Insctarium while you're in town.
For food, Philbin raves about the Parkway Bakery and Tavern, which serves up creatively delicious poboys in a casual and friendly environment, and Jacques Imo's Cafe.
"Their alligator cheesecake and dinner menu are both unreal,"  said Philbin. "And if you love good music but hate a long wait, you can go next door to the Maple Leaf and boogie until your table is ready."
For a truly immersive New Orleans experience, look for an apartment near all the sights on airbnb.
Will you be taking advantage of these amazing gas prices and hitting the open road? Let us know in the comments!