8 Free Holiday Apps for the Whole Family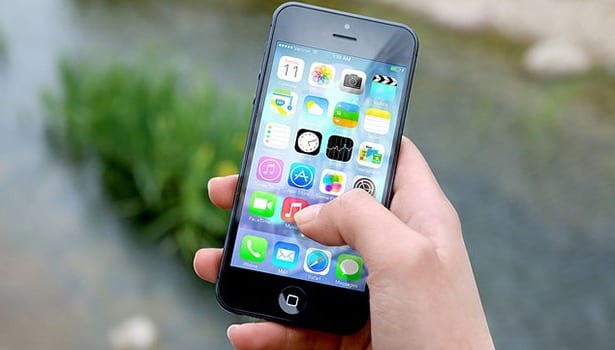 Remember that 2009 iPhone commercial which claimed the (then new) smartphone had an app for everything? It might have seemed silly back then, but here in 2015, we really do have an app for everything--including holiday fun!  
Whether you want to track Santa's progress on Christmas Eve, light a digital menorah or talk face-to-face with family members around the world, here's a list of 8 totally free, totally fun apps for the whole family that'll make your holiday just a little bit brighter.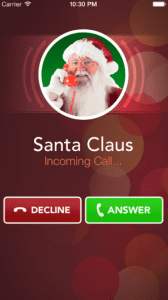 If your kids have worked themselves into a pre-holiday frenzy, this will help to keep them in line until Christmas. The app lets you customize an incoming call from Santa, who can either praise a good kid or warn a trouble-maker of their impending spot on the naughty list. We tried it out to hilarious results--I pretended to be a six-year old boy named Billy who had just said a bad word. Santa chastised me for being a bad boy, and informed me I needed to clean up my act if I wanted to get back on the good list. It definitely won't fool older kids, but this is just the thing to keep the young and Santa-obsessed acting sweet as honey... at least until they've opened their presents. A Call From Santa is available for both iOS and Android.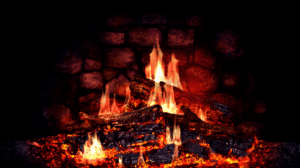 A nice fire is always a cozy place to gather the family after a hefty holiday meal, but if you don't have a working fireplace in your abode, this is the next best thing. Download this app to a tablet or a Smart TV and set it up in the family room to make that annual post-dinner nap extra comfy. This is the most popular free fireplace app, but if you're looking for something a little more realistic, you can pay $0.99 for A Very Cozy Fireplace, which has better graphics and crackling fire noises to lull you to sleep on a cold winter day.
Chances are you'll have a few friends or family members who can't make it to your holiday festivities, but the magic of technology makes it possible to see them from miles away--as long as they have a solid internet connection. Download Skype for free on iOS or Android phones and tablets (or laptop and desktop computers) and you can give face-to-face holiday cheer to loved ones far and wide.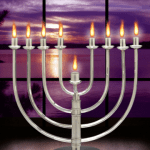 If you're a dorm-bound college student, you're likely not allowed to have real candles in your room. This could cramp your Hanukkah style, but there's an app for that! The Jewish Museum created this fun menorah app which lets you pick out a background and choose one of several traditional lamps from around the world. You can light the lamp every night and share your menorah with friends and family!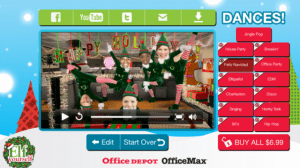 I can't count the number of hours I've spent rolling around on my living room floor laughing hysterically at Elf Yourself videos. If you've never seen or made one of these bad boys, your life is about to get 100 times funnier. Download the app (on iOS or Android) and choose up to five friends or family members to turn into dancing, singing elves with over sized heads. You can use pictures from Facebook, upload saved photos from your phone or snap a quick headshot, and the app puts together a hilarious video depicting your newly-elfed friends dancing to classic holiday tunes. It gets funnier every time you play it, and if you don't at least crack a smile watching your grandma do a somersault over your dog, I question whether you are truly alive.
This one's more practical than fun, but it'll help curb holiday stress by getting you organized. Todoist is a to-do list app that can sync with virtually any device or platform, and when you've got last-minute presents to buy, dinner to cook, family to pick up from the airport, and countless other holiday tasks to complete, your memory can use a little nudging every now and again. This app is free and highly rated in both the App Store and the Google Play Store.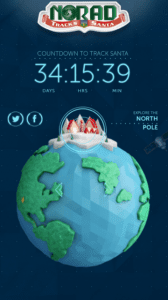 The brainchild of the Elf-run North Pole Science Department, this app tracks the progress of Old St. Nick's sleigh as he makes his way around the world, sliding down chimneys and delivering gifts to children across the globe. With cheery Christmas carols, a countdown timer to help you plan for the big day and data on how fast the sleigh is moving, your little one will love watching Santa move from country to country throughout Christmas Eve. You can get it for Windows, Android or iOS, and it's totally free!
You'll need this in case you want super last minute gift ideas, or feel like ordering something nice for yourself as a reward for all the craziness you put up with this holiday season. You'll get minute-by-minute updates on new deals on everything from designer shoes to quality kitchenware, and you can enable push notifications to ensure you never miss a new deal.
What apps do you rely on to get you though the holiday season? Leave a comment and let us know!