9 Easy & Cheap DIY Organization Hacks for Spring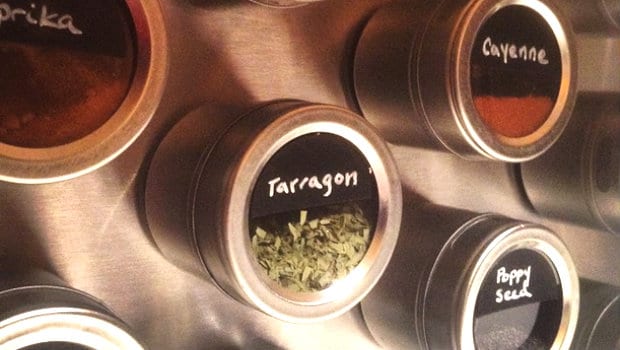 I'm not typically a Pinterest-project kinda girl. Sure, I like casually scrolling through cute DIY project ideas while I'm watching TV, but I often find myself rolling my eyes at some of the more elaborate "hacks." If it takes you two months and $600 to put together, it's not a hack--just sayin'.
That being said, I'm gearing up to move in with my boyfriend in April, and I'm suddenly finding a bunch of adorable DIY projects that I'm actually excited about trying in our new apartment. Of course, I have a full-time job, only so much money and limited crafting skills, so anything I successfully put together is going to have to be legitimately cheap and easy.
With this in mind, I set off in search of inspiration, pestering everyone from fellow Brad's Deals employees to random Facebook friends for simple project ideas, and spending the better half of my Wednesday afternoon scouring the depths of Pinterest for viable home improvement ventures. Here's what I found...
1. Wine Holder Towel Rack
I fully support this idea as it combines my two great passions in life: wine and showers. I plan to set one of these bad boys up in my new bathroom and and keep a bottle of two-buck-Chuck on the top rack for use in emergency wine showers.
This idea is all over Pinterest, and many of them are shown mounted on the bathroom wall to save space.
2. Magnetic Spice Rack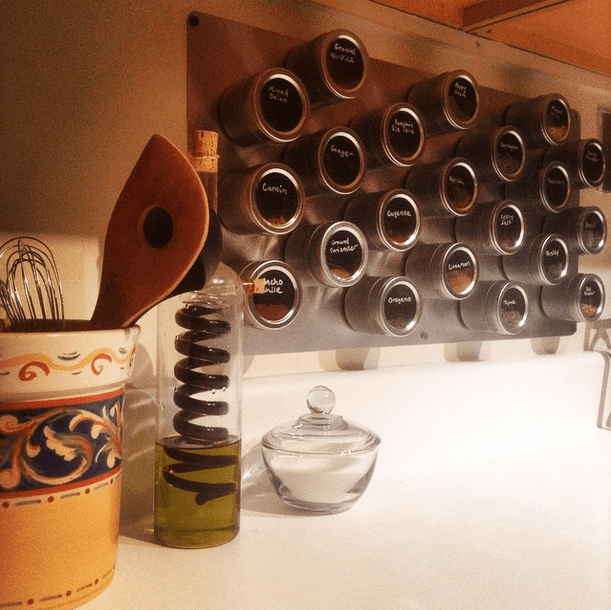 I love to cook and experiment with new recipes, so having my spice collection on hand at all times would be ideal. Unfortunately, my current kitchen is roughly the size of Harry Potter's closet bedroom, and there's no place for me to set them up that's within easy reach of the stove. Luckily, my new place has a big open kitchen with lots of wall space, so I'm hoping to put this together some rainy April weekend!
Brad's Deals manager of content and SEO, Becky Lehmann, built one from scratch in her own kitchen this winter. "I made my own magnetic spice rack rather than buy a kit since I wanted a bigger base and more jars," said Becky.
"The jar labels are round chalkboard stickers that I cut in half. Total project cost was about $70, so it's not exactly a dirt cheap spice rack, but it cost slightly less than if I'd gone with a pair of Kamenstein kits and I got to customize it - jar color and shape, label style, and picking whatever spices I liked rather than being stuck with something pre-labeled. There are tons of options for customizing your jars, and you can skip the magnetic base and use your refrigerator door instead if you like."
3. Curtain Rod Pot Lid Rack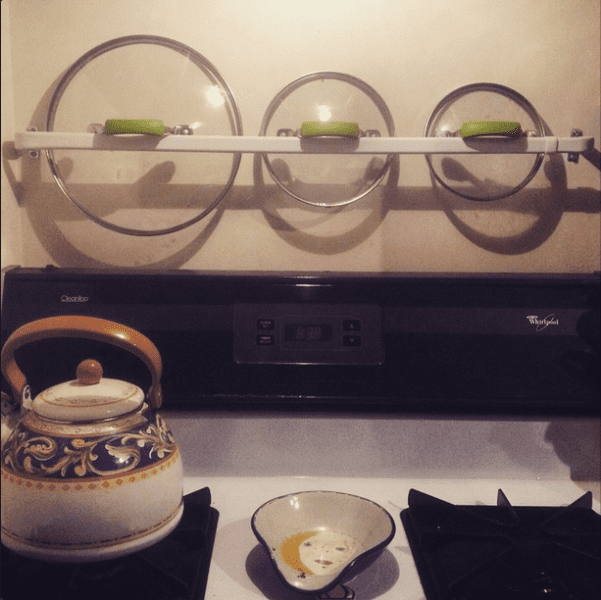 Another idea from Becky, AKA Brad's Deals' resident crafting queen, this curtain rod pot lid rack is so simple and cheap I'm surprise I haven't seen it plastered all over the virtual halls of Pinterest Palace. Because of my aforementioned closet kitchen, I have to stack my pot lids just so or risk being impaled by pot lids every time I open my cupboard doors.
Says Becky: "My pot lid rack is a $1.49 aluminum curtain rod from Target!"
A project that takes less than two minutes and $2 to complete?! The results speak for themselves; you can bet I'll be snatching up this idea come April 1.
4. Space-Saving Cabinet Mug Hooks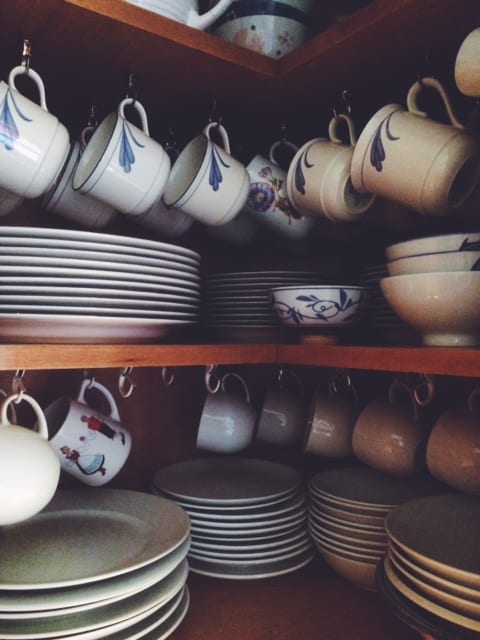 When you've got limited cabinet space, storing mugs, with their protruding handles, can be nothing short of a hassle. But add some hooks to the top of your space, and suddenly you can fit all your mugs AND leave room for various plates and bowls underneath. My mother's cabinets are set up like this (see above photo), and the amount of things she can fit inside of them as a result is pretty astounding.
DoItYourself.com has a pretty in-depth how-to on this project, which shouldn't take you more than 25 minutes if you've got all the supplies on hand.
5. Outdoor Pallet Couch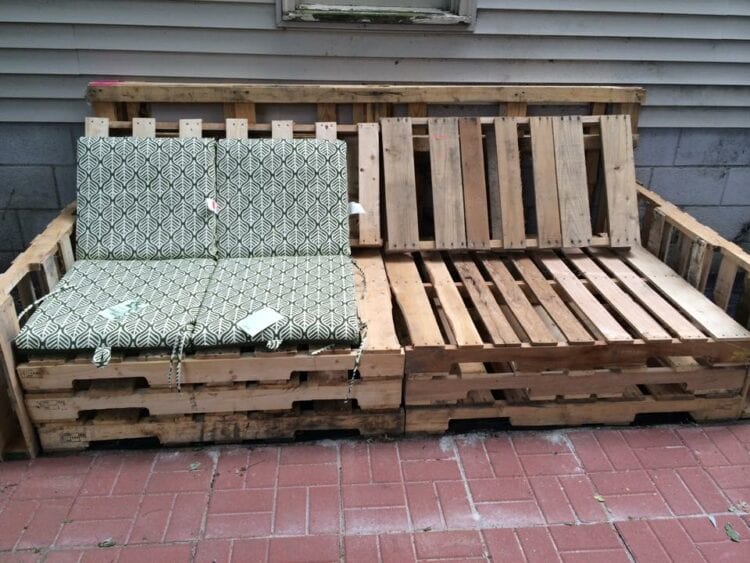 My boyfriend's sister-in-law, Morgan Herrera, is quite an accomplished crafter and DIY expert. Last summer she assembled this super-comfy outdoor couch for the patio, and set it up next to a fire pit in her backyard.
"Pallets are my number one cheap DIY," said Morgan. "There are so many ideas! I made this by just stacking a bunch on top of each other, and I also have a pallet headboard!"
For more ideas on pallet DIY projects, check out the blog 1001 Pallets, which--you guessed it--features 1001 pallet projects for every room of your house!
6. Storage Headboard
This is one of those projects I'll tell everyone I'm going to do and then actually force my boyfriend to finish when it gets too complicated. I do have an old dresser taking up dust in my basement right now, so the idea of painting the drawers a cool color and using them as a decorative and functional headboard sounds pretty cool.
For more info on and pictures of this project check out Better Homes & Gardens.
7. Magnetic Bobby Pin Strip
I'm convinced that bobby pins are actually tiny sentient beings that escape to form large colonies in my walls whenever I'm not looking. How else do you explain the speed at which they go missing? I'll buy a pack of 200 and by the next month, I'll be back at Walgreens buying another. I'm not sure if this magnetic strip would stop the bobby pin exodus all together, but I'd be willing to bet it would slow it down significantly.
This 2010 blog post puts the magnetic strip on the inside of a bathroom cabinet, but I've seen it on Pinterest set up on the inside of a drawer, which I think might actually be the best way to go about things. One big bonus of this project: other elusive items like tweezers and nail clippers will also stick to the strip! No more frantic digging through your medicine cabinet next time you have to pluck a stray hair!
8. Reupholster Old Chairs with a Staple Gun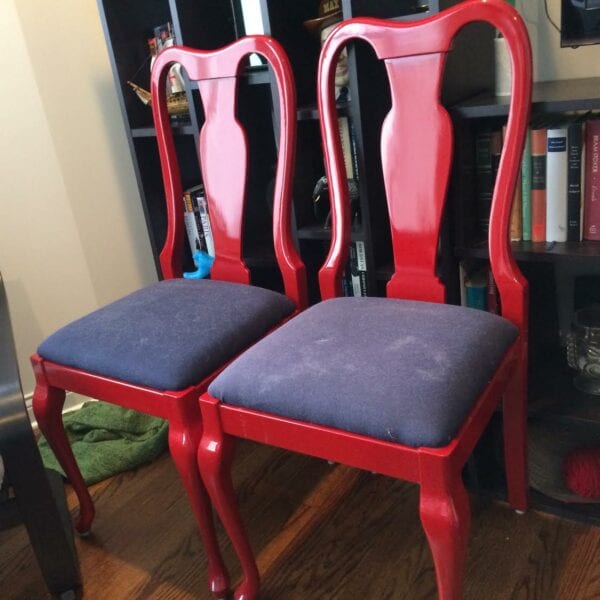 Brad's Deals Keith Mazanec recently came into possession of six bright red "90s bachelor-pad chairs," which he plans to give a 21st century makeover.
"To salvage them, I just plan on reupholstering the seats with something brighter, modern, and fun," said Keith. " I ordered proper upholstery fabric from warehousefabricsinc.com for around $11 per yard compared to $20-50 at Jo-Ann's.  They will also send you samples for $1.75 each so you can be sure you like it before you buy.  I should be able to have the whole set redone for around $50 - a lot cheaper than the chairs we were considering buying.  There are a ton of DIY websites with instructions on how to do this, and the only tool you really need is staple gun which is about $10 on Amazon.  Just ordered the fabric last night, so I don't know how easy it will actually end up being..."
If you're thinking of attempting this project, here are some detailed instructions from (naturally) instructables.com.
9. Weekly Menu Planner
As I said before, I love to cook, but if I don't plan out what I'm making in advance, I end up having to make last-minute trips to the grocery store whenever dinnertime rolls around. I've started meal planning using my Google calendar, but when I move I'd love to have a board up in my kitchen that I can use to plan my meals and weekly grocery list.
This project from Make and Takes is extremely easy to make and customize, and I already have all the materials I need to put it together!
What kinds of DIY projects are you planning this spring? Let us know in the comments!