Lulu-Who? 5 Swaps & Alternatives to High-End Activewear Brands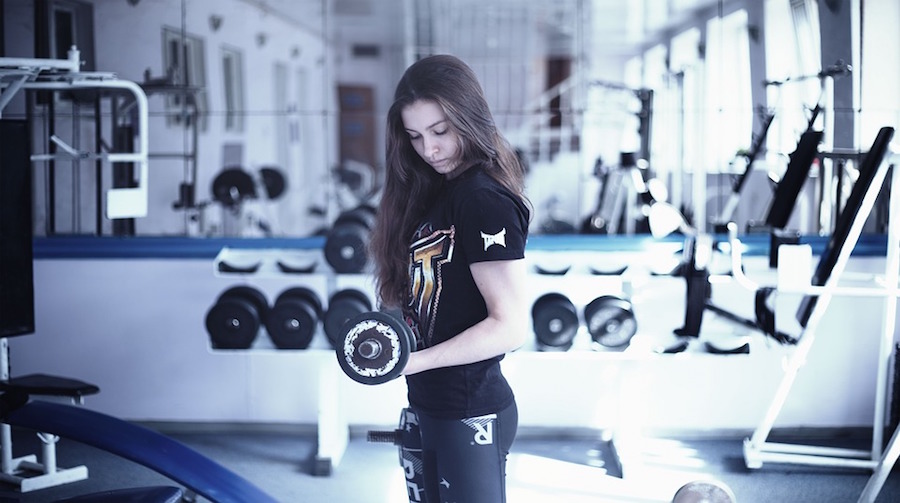 Back in the day, "activewear" meant an old T-shirt and a pair of Soffe gym shorts. Now, it's more common to see someone headed to the gym in a strappy bra framed by an open-back tank and a pair of matching leggings that are nicer than my nicest jeans.
The idea that you can be dressed for the gym -- but still look presentable if you instead decide to head to the bar -- is certainly compelling. But spending $80 on a pair of leggings that are going to smell bad a month from now isn't exactly a sound investment.
Still, I firmly believe that dressing in stylish and comfortable activewear can give you motivation to work out, and scientists have even coined the term "enclothed cognition" to describe how the symbolic meaning of our clothing affects our behavior when we wear them. It's a bit like dressing for the job you want instead of the one you have -- if you dress like an athlete, you're more likely to feel some enthusiasm for your workout routine.
Lululemon was one of the first status brands to introduce runway-worthy activewear, and classic athletic brands like Nike and Adidas were quick to follow. Teeki and Alo Yoga are also making waves with their $70+ yoga leggings. The upside of the activewear explosion? Affordable activewear brands that don't skimp on style are popping up as well, so you can get the look without having to fork over hundreds. Here are five of my favorites.
Printed compression tights: Swap Nike for Old Navy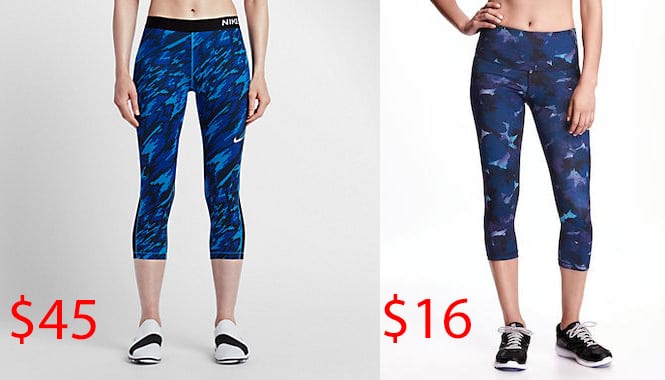 This one surprised me, but if you're looking for style and value, Old Navy Active has a lot to offer. Their printed compression tights are similar in style to Nike and Reebok. Check out these Go-Dry High-Rise Printed Compression Crops for $16 at Old Navy. You can also apply any site-wide coupons that are available. That's a pretty significant savings from these Nike Pro Overdrive Training Capris, which will set you back $48.
Sports Bras: Swap Lululemon for Forever 21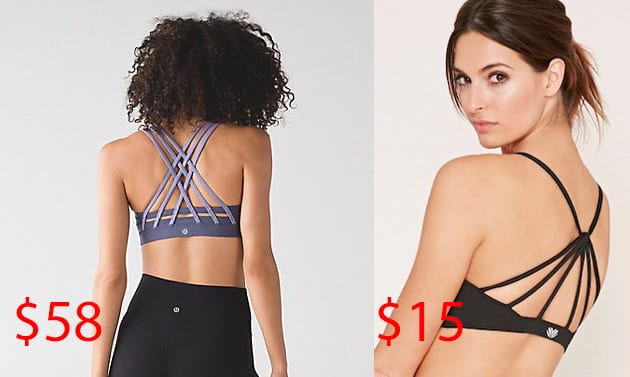 Forever 21 has caged and strappy sports bras that aren't too different in style from the bras you'll find at Lululemon, and they're available at a fraction of the price. Check out this Webbed Sports Bra for $14.90 at Forever 21, compared to the Energy Bra for $58 at Lululemon.
Bold branded capris: Swap Nike for Fila Sport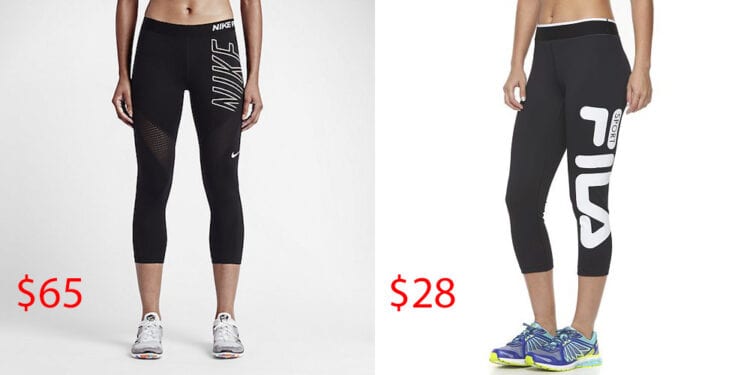 If you want a bold, branded pop of fun in your workout wardrobe, head to Kohl's. You'll be able to use coupons and Kohl's Cash to save even more on Fila Sport activewear, and you'll find tank tops that will expose your trendiest sports bras, ombre workout tees, and my favorite Rainbow Blast Capri Workout Leggings for $28. The bright bold print is reminiscent of Nike capris, like these Nike Pro Hypercool Graphic Training Capris for $65.
Tanks: Swap Athleta for Zella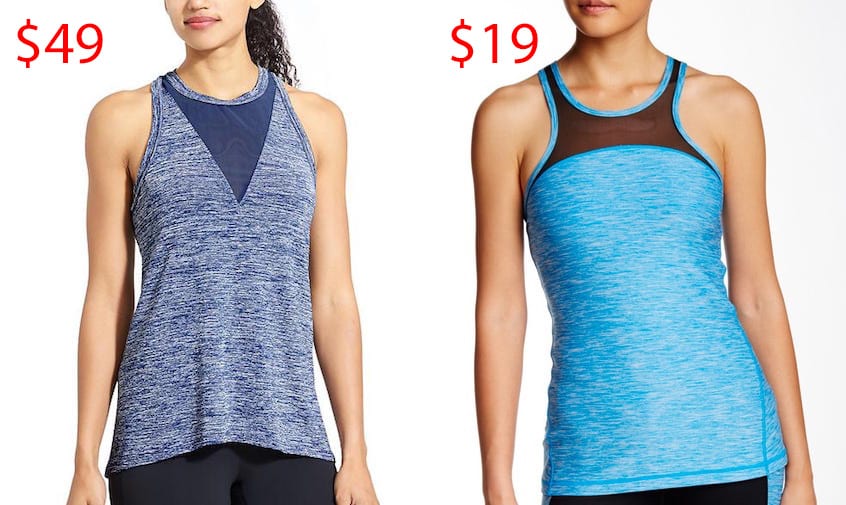 Zella is a quality activewear brand that's available at Nordstrom and Nordstrom Rack. At full price, their activewear pieces are comparable to Athleta, but unlike other popular activewear brands, you can always find a good sale on Zella activewear. Z by Zella also offers low price and plus size options. The Sculpted Tank for $18.72 reminds me of the Utopia Tank at Athleta, which goes for $49.
Sheer cutout leggings: Swap Alo for C9 Champion for Target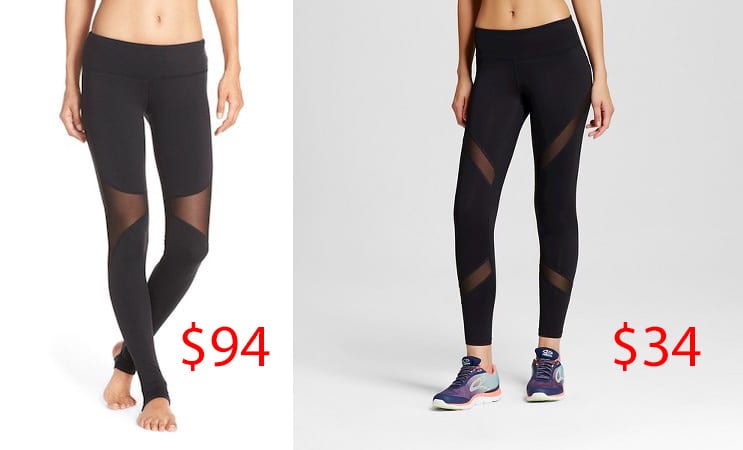 It's gotten pretty difficult for me to go to Target for groceries without getting sucked into their activewear department. The Champion brand leggings and sports bras get cuter every season. These $35 Champion Must Have Performance Leggings give you the look of these $94 Alo Yoga Mesh Insert Leggings without breaking the bank.
Where can I buy the expensive stuff for less?
If you're too posh for these dupes, it's still possible to find sales on most hip activewear brands. While it's rare to find any discounts on Lululemon, Adidas.com is a great place to shop new markdowns, and you can find coupons for an additional 20 to 40 percent off Nike's clearance department about once a month.
We also see discounts of up to 70 percent off on Nike items at Kohl's. YogaOutlet.com has frequent sales on printed leggings from all your favorite yoga brands, and a bit of digging at 6pm usually yields some impressive savings on Under Armour and other athletic brands. Shop frequently, spend wisely, and now that you've paid a reasonable price for those duds, don't be afraid to sweat!
Where do you buy discount activewear? Share your secrets in the comments!
Related coupons: