How New Members Can Get $67 Amazon Prime Memberships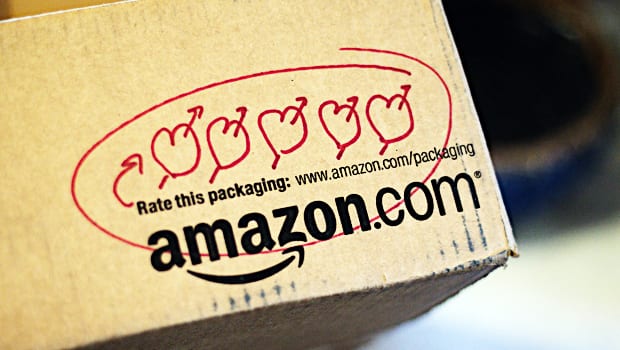 1/5/16 UPDATE: It was nice while it lasted,  but it looks like the hack is officially dead. We're hearing reports that the discounted gift memberships are no longer being honored for existing members. Instead, Amazon is giving the money back as a gift card and forcing a renewal at full price.
UPDATE #1: Bad news, friends! Amazon caught on to the trick and is no longer offering $67 memberships as gifts. We're sorry for the mistake and we'll keep looking to see if we can find another loophole to get you a deal on this membership. New users can still snag this price today, but current users are still seeing $99 in the cart. You can create a new account with a different email address and get the $67 price, but if you're subscription isn't ending soon, you'd have some overlap. What a bummer, Amazon!
UPDATE #2: We've seen reports indicating that Amazon might honor the $67 price on a gift membership if you're actually sending it to someone else. In theory, you should be able to send that gift membership to another member of your household. Call or get on a chat with an Amazon rep to ask for a refund of the difference. To be clear, we have not tested this and YMMV.
This Friday, for one day only, the price of an Amazon Prime subscription will drop to just $67 to celebrate its Emmy wins for "Transparent". This is great news for new members, but what about those of us who already have it? Are we left out in the cold?
In a word, no. In fact, current Prime members (or anyone, for that matter) can stock up on future Prime subscriptions through the magic of gift subscriptions.
Below, you'll find step-by-step instructions detailing how current Prime subscribers can stockpile cheap memberships for future use. We've covered this Amazon hack several times now, frequently enough that it's becoming a thing (so long as Amazon keeps producing award-winning video content, anyway). So while Amazon Prime normally costs $99 per year, I have never once paid full price - and neither should you.
Important Note: This hack will expire after 9/26/15, when the price of a new membership goes up to $99.
Step 1: Login to Amazon and Manage Your Prime Membership
Once you're logged in to Amazon, click on "My Prime", then "Manage Your Prime Membership" to arrive at this page. Look for and click on the "End Membership" link in the left column, indicated below with the red arrow.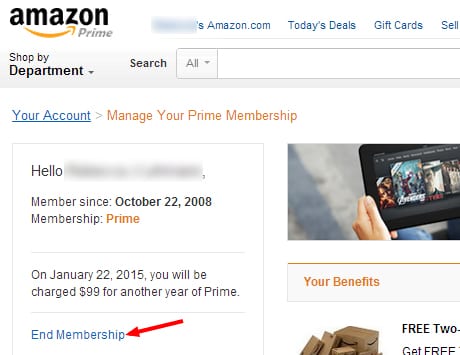 Step 2: Set your membership not to auto-renew.
First, you'll be presented with an "Are you sure?" screen and three choices: Continue, Remind Me Later, and End Membership. Click on "End Membership".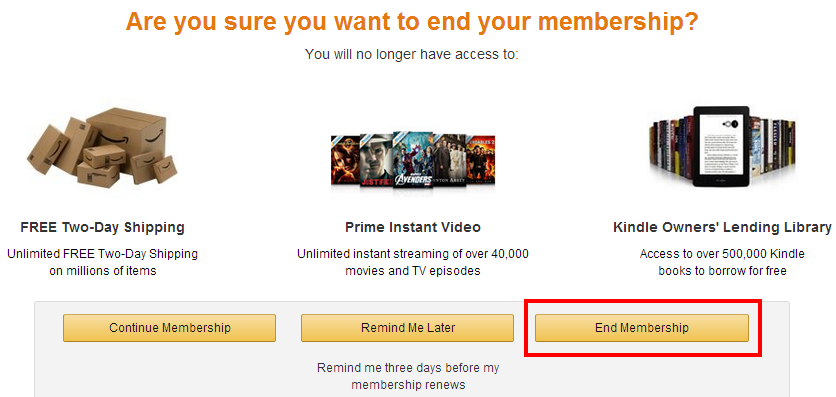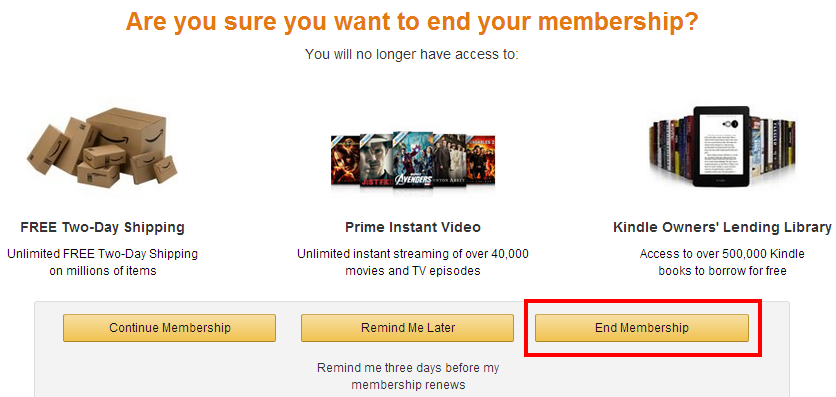 Next, you'll be presented with a choice to cancel your membership now or to end it later, keeping your Prime benefits until your renewal date. In my example, the membership would continue until January 22, 2015.  Make a note of your end date and choose "End Later". You may be asked to reenter your password.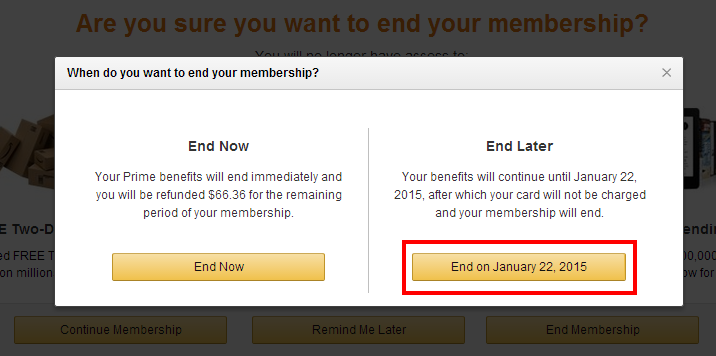 Step 3: Add an Amazon Prime Gift Membership to your cart
The next step is to buy yourself an Amazon Prime Gift Membership. Gift memberships are still just $79 through March 20, 2014. Add it to your cart and proceed to checkout.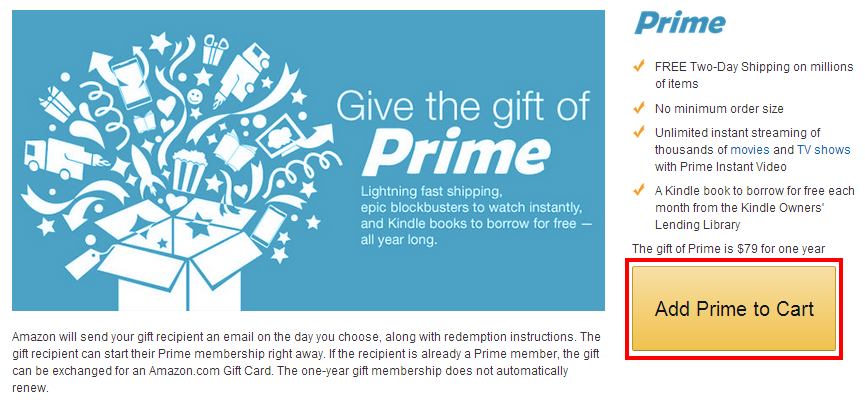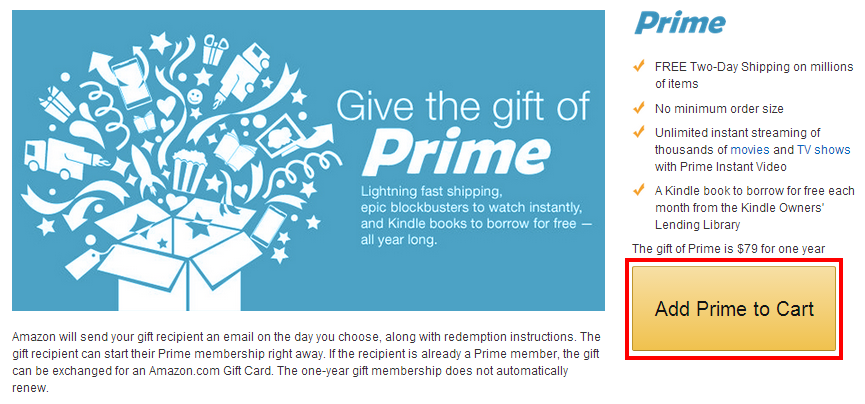 Step 4: Schedule your "gift" for later.
Delivery can be scheduled for delivery up to a year in advance.  Schedule it to arrive the day after your Prime membership expires. In my example, the membership expires on January 22, 2015, so I've set the gift membership to be delivered on January 23, 2015.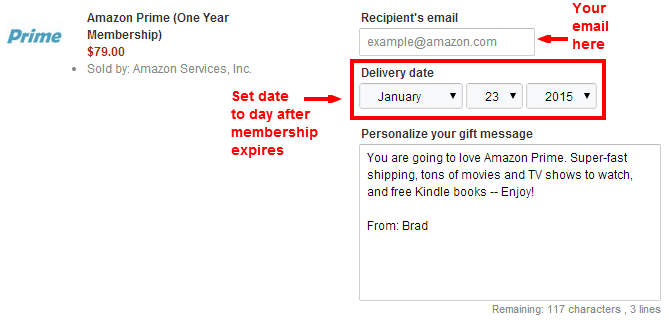 Step 5: Pay with a credit card that earns rewards.
If you have any Amazon gift cards languishing about, you can certainly use them up here, but I'd rather put it on a rewards credit card to get some points or miles out of it.
The Amazon Prime account I tested this on will now get Prime benefits at the old $79 rate through January 23, 2016, and I'll be doing it again on Friday to lock in the $67 rate through 2017. Not too bad for 5 minutes of work!