Amazon Prime Members Will Get Discounts at Whole Foods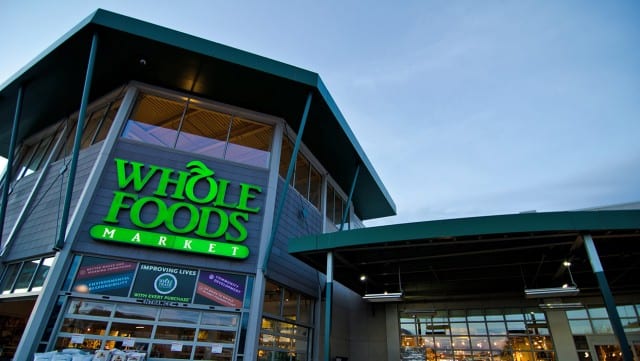 You may have heard the hype around Amazon acquiring Whole Foods since the announcement back in June and it looks like it will be official come next week. Whole Foods shoppers can plan on seeing the prices drop at their favorite grocery chain, but that's not all they have in store for us. Per a press release earlier today, "Prime members will receive special savings and in-store benefits."
So when will Prime member discounts start?
Unfortunately, they haven't set a specific date quiet yet. Amazon plans to integrate their technology into the Whole Foods point-of-sale system which will take some time. According to Amazon, "after certain technical integration work is complete, Amazon Prime will become Whole Foods Market's customer rewards program, providing Prime members with special savings and other in-store benefits." So although it won't be immediate, you can add yet another perk to the growing list of Amazon Prime advantages.
When will grocery prices drop?
While we may have to wait for the Prime member discounts to roll out, according to the release the price drops will happen immediately after the official takeover on Monday. Per their statement, customers will see lower prices on Whole Trade bananas, organic avocados, organic large brown eggs, organic responsibly-farmed salmon and tilapia, organic baby kale and baby lettuce, animal-welfare-rated 85% lean ground beef, creamy and crunchy almond butter, organic Gala and Fuji apples, organic rotisserie chicken, 365 Everyday Value organic butter, and much more.
"We're determined to make healthy and organic food affordable for everyone. Everybody should be able to eat Whole Foods Market quality – we will lower prices without compromising Whole Foods Market's long-held commitment to the highest standards," said Jeff Wilke, CEO of Amazon Worldwide Consumer. Their immediate focus will be to make healthy eating more affordable for the average consumer, and we're excited about it!
We're also excited about the other updates Amazon says they have in store for us in the future including Whole Foods private label brands (365 Everyday Value, Whole Paws and Whole Catch) becoming available online through Amazon, AmazonFresh, Pantry and Prime Now, as well as Amazon Lockers being available in Whole Foods stores where Amazon customers can pick up their online orders during their weekly grocery trip.
What do you think of the Amazon Whole Foods takeover? Excited or worried? Let us know in the comments!