The Amazon Prime Discount at Whole Foods Goes National on Wednesday 6/27!
Editorial Disclaimer: Brad's Deals has partnered with CardRatings for our coverage of credit card products. Brad's Deals and CardRatings may receive a commission from card issuers. This content is not provided or commissioned by the issuer. Opinions expressed here are author's alone, not those of the issuer, and have not been reviewed, approved or otherwise endorsed by the issuer. This site may be compensated through the issuer's affiliate program. These user responses are not provided or commissioned by the bank advertiser. User responses have not been reviewed, approved or otherwise endorsed by the bank advertiser. It is not the bank advertiser's responsibility to ensure all posts and/or questions are answered. You can read our full advertiser disclosure:
click here
For all of us who have ever cracked a "Whole Paycheck" joke, shopping at Whole Foods just became a lot more affordable.
Since Amazon acquired Whole Foods last August, we've known that a discount program for Prime members was in the works. Amazon slashed some prices immediately for everyone, but the Prime discount took a bit longer to set up. Here's everything you need to know now that it's finally rolling out.
Where and when will the Whole Foods discount be available?
Amazon has been slowly rolling out the Prime discount at Whole Foods and Whole Foods 365 locations nationwide. Now Amazon has confirmed that the discount will be available nationwide on Wednesday June 27, 2018.
As of 6/25, the discount has been rolled out to the following states:
Alabama
Arizona
Arkansas
California
Colorado
Florida
Georgia
Hawaii
Idaho
Kansas
Louisiana
Mississippi
Missouri (Kansas City only)
Nevada
New Mexico
North Carolina
Oklahoma
Oregon
South Carolina
Tennessee
Utah
Washington
"We're excited that Prime savings will be available at nearly half of our Whole Foods Market stores this week, giving more Prime members access to great deals just in time for summer," said A.C. Gallo, President and Chief Operating Officer at Whole Foods Market in a statement dated June 11, 2018. "Based on the positive customer feedback and successes we've seen over the past month, we're accelerating our timeline to expand these savings to all of our U.S. stores."
How big is the discount?
It depends. Members get a flat 10% off items already on sale, but other offers will probably vary broadly. The bottom line here is it's not going to be anything like a flat percentage off your final bill. In fact, it's really just bringing Whole Foods a step closer to the way less bougie grocery stores already run sales through their loyalty programs.
What items are discounted?
Some of the earliest reported discounts were $10 off per pound of halibut steaks (wild-caught and sustainably-sourced, of course) and $2 off per pound of organic strawberries, as well as deals on sparkling water and granola bars. We can't help but notice that the savings on the halibut alone could be enough to make up for Prime's recent $20 price hike in a single grocery trip.
A few days ago, Bloomberg's Sarah Halzack snapped a few photos of the discounts and signage at a Whole Foods on the West Coast.
I also visited a West Coast Whole Foods where Prime discounts have rolled out. While I found this blue table a wee bit sad, all the signage definitely catches your eye. pic.twitter.com/BdtazhcUzT

— Sarah Halzack (@sarahhalzack) June 25, 2018
(I can neither confirm nor deny that there is a contingent of Brad's Deals team members who were just a wee bit excited to see Annie's Mac and Cheese getting the BOGO treatment.)
While shopping in-store, look for items that are flagged for discounts. There are two types of discounts to look for.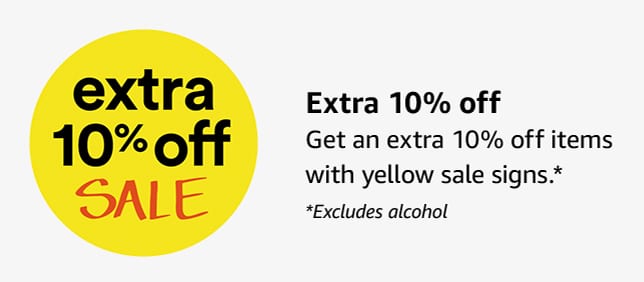 The first discount gets Amazon Prime members an extra 10% off sale items marked with yellow sale signs.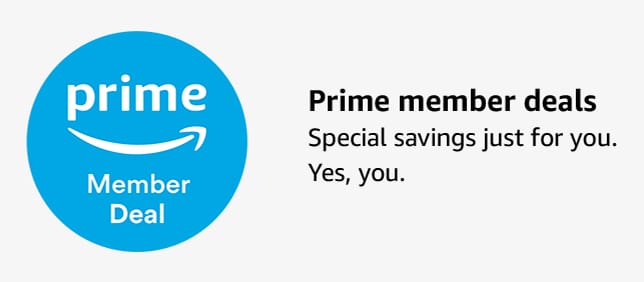 The second discount is special pricing exclusively for Prime subscribers. These items otherwise would not be on sale, but your membership gives you access.
Both of these member discounts were leaked in late March, so it's nice to see them confirmed and actually rolling out now.
What isn't included?
Alcohol is specifically excluded from the extra 10% off sale discount, but there's nothing we've seen that excludes alcohol from Prime-only special offers. So it's possible that we may see some boozy members-only deals.
How to get the discount.
Functionally, the discount works much like the grocery store loyalty programs you're already familiar with, though instead of a plastic key fob, you'll download a Prime Code via the Whole Foods app for the cashier to scan at checkout.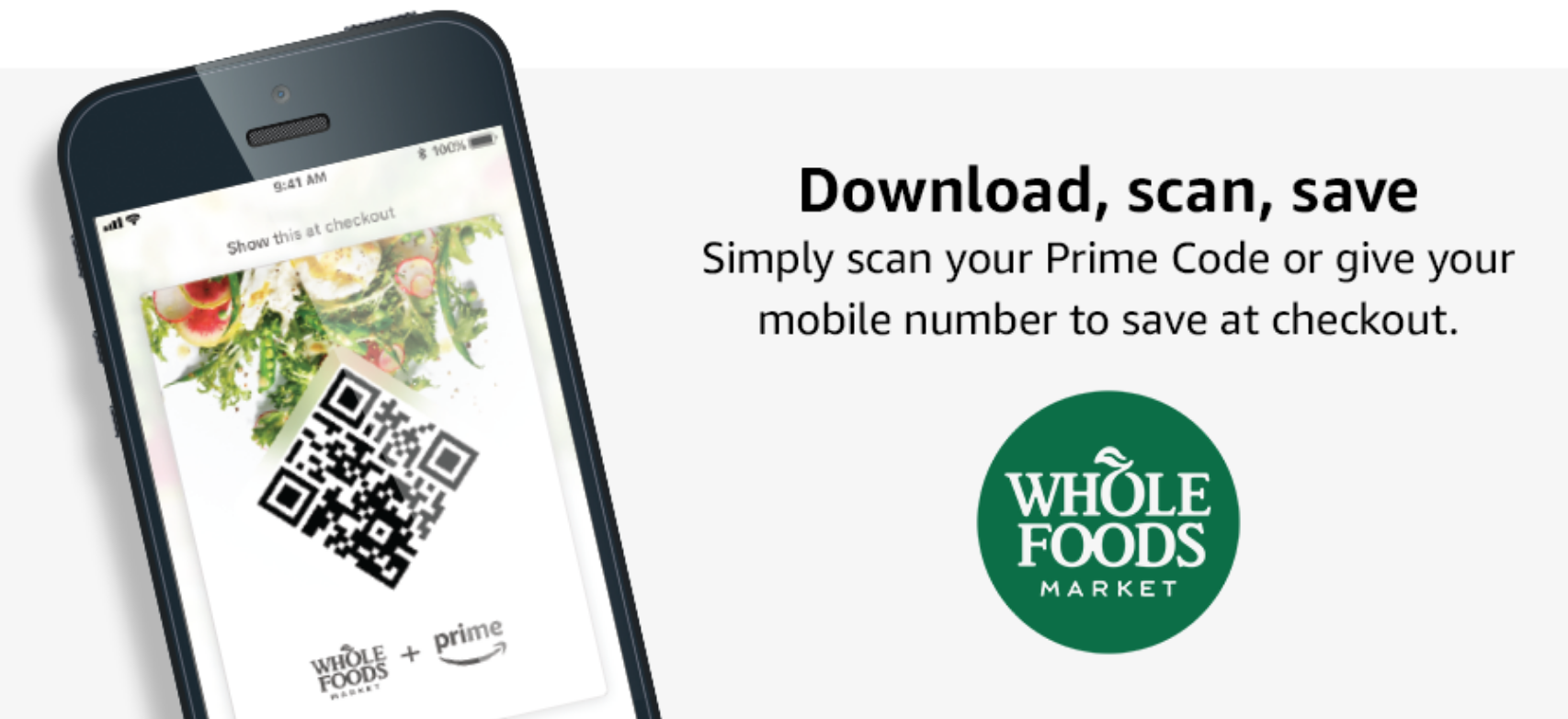 If that sounds like too much trouble, you can also give the cashier your phone number – just be sure it's connected to your Prime account.
So far as we can tell, there's nothing stopping a Prime member from sharing their phone number with non-members to use at checkout. However, it seems likely that Amazon is technologically on the ball enough to be on the lookout for any abuse.
It's also worth noting that non-members can give the Prime discount a try on their own with a 30-day free trial of Amazon Prime.
Additional grocery perks and benefits for Prime members.
Amazon Prime members in select cities are also eligible for free, 2-hour delivery from Whole Foods via Prime Now.
A tip to save even more...
Since February, members have been able to pay with an Amazon Prime Rewards Visa to get 5% back at Whole Foods. No surprise, our personal finance editor, Mark Jackson, recommends it as the best credit card for shopping on Amazon. Or you can go with one of your favorite credit cards for grocery shopping to maximize your savings.