The Ultimate Guide to American Airlines Fare Classes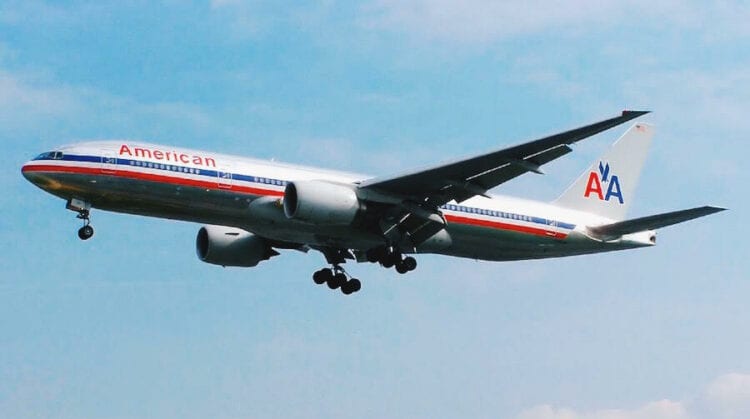 When you book a flight on American Airlines, whether it be a paid or award ticket, the logic behind how many miles you earn, whether you're able to upgrade, and more, are governed by "fare classes," which are often hidden to the novice traveler. Paying attention to how these fare classes work can save you time and effort and make your travels on American Airlines more enjoyable. Here's our guide to American Airlines fare classes.
American Airlines Fare Classes: What Are They, And Why Do They Matter?
As we mentioned in our guides to Elite-Qualifying Dollars (EQD) and Elite-Qualifying Miles (EQM), the fare class that your ticket is booked into matters for how many EQD and EQM you might earn.
You might be wondering how to find out what fare class your ticket is booked into. First, I searched on AA.com for a sample flight, which turned up the following results: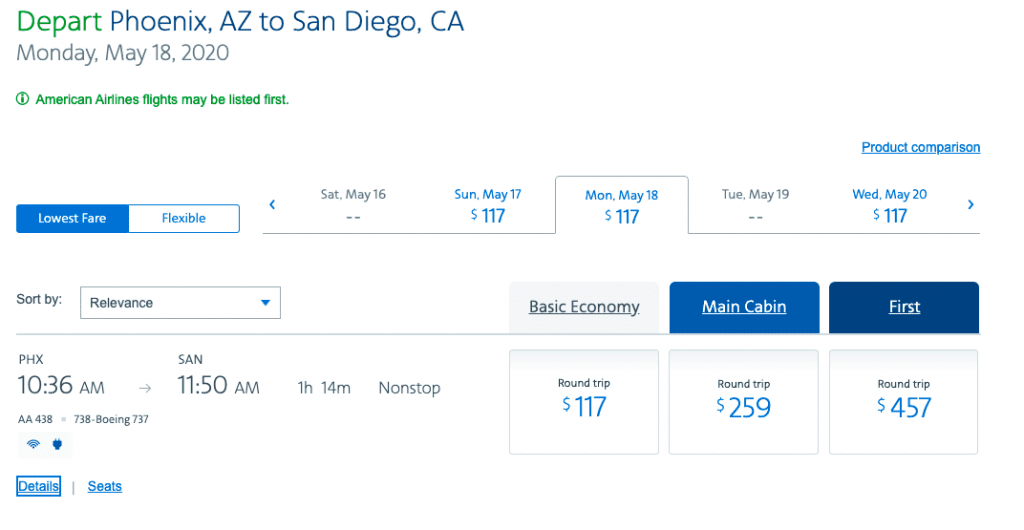 If you see underneath the flight results "Details," click that and you'll see a pop-up appear with the fare classes for each fare listed under "Booking Code."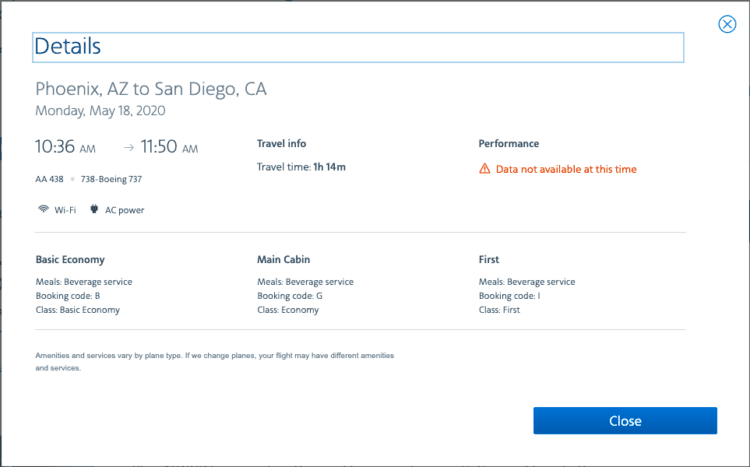 If you're concerned about redeemable miles (that's the type of miles you use to book award tickets,) you can largely ignore fare class. Redeemable miles are tied to how much you spent on your ticket. For EQD, you'll also earn the same amount no matter the fare class, except for "Special Fares," which are booked with AA Vacations packages.
EQM and EQS are a different story. There are 18 fare classes for revenue tickets that your ticket could be booked into:
First Class
F: Earns 3 EQM per mile flown
A: Earns 2 EQM per mile flown
Business class
J: Earns 3 EQM per mile flown
R: Earns 2 EQM per mile flown
I: Earns 2 EQM per mile flown
D: Earns 2 EQM per mile flown
Premium economy
W: Earns 1.5 EQM per mile flown
P: Earns 1.5 EQM per mile flown
Economy
Y: Earns 1 EQM per mile flown
H: Earns 1 EQM per mile flown
K: Earns 1 EQM per mile flown
M: Earns 1 EQM per mile flown
L: Earns 1 EQM per mile flown
V: Earns 1 EQM per mile flown
G: Earns 1 EQM per mile flown
S: Earns 1 EQM per mile flown
N: Earns 1 EQM per mile flown
Q: Earns 1 EQM per mile flown
O: Earns 1 EQM per mile flown
B: Earns .5 EQM and .5 EQS per mile and segment flown
Not every fare class is always available and without using some super-advanced booking tool like the ITA Matrix, you're stuck with booking what American's search engine comes up with for booking.
Upgrade Fare Classes
I've found myself needing specific fare classes when it's come time to use upgrades from American's Business Extra program. Fare codes B, N, Q, O, S, which you can see above are for deeply discounted economy fares, don't qualify. I've had to be careful when booking my flights if I wanted to use that upgrade certificate. To find a seat I can actually upgrade to, I need to find flights with A fare class availability for first-class on 3-cabin flights and C fare class availability for business class on three-cabin flights and first-class on two-cabin flights. I use Expert Flyer to search for this. For most flyers, this isn't a concern but I wanted to raise the issue for any advanced flyers visiting this blog.
If you're an elite member hoping for a complimentary upgrade, all fares except for B (Basic Economy) would be eligible. You'll also need to find A or C fare class availability in order to be upgraded, which can change minute-to-minute.
The type of fare class also matters when you're looking for flexibility in your travel plans. Full-fare classes like F, J, and Y are fully-refundable and changeable, with no fees, which is helpful for those without status or volatile travel plans. If you're looking to do a Same Day Flight Change, note that First Class and Business Class fare classes include free changes. You'll need to find E class availability to do a same-day change for your ticket.
Award Ticket Fare Classes
When it comes time to use your miles to fly for free, you'll also be hoping for certain fare classes to be available on your flight. Here are the fare classes for award travel:
F: First class AAnytime award on three-cabin aircraft
Z: First class MileSAAver award on three-cabin aircraft
J: Business class AAnytime award on two-cabin aircraft
U: Business/domestic first-class MileSAAver award on two-cabin aircraft
W: Premium economy AAnytime award
X: Premium economy MileSAAver award
Y: Economy AAnytime award
T: Economy MileSAAver award and Web Special Awards
AAnytime awards, as you may know, are more expensive than "MileSAAver" awards, which are set to a much cheaper rate (and now variable under American's new dynamically-priced award chart.) So, for your traveling family, you're likely looking for "T" availability. This is easily found on an American Airlines search, or if you're looking to search like a travel pro, Expert Flyer is the way to see multiple fare classes in one search.
Overall
We hope this guide helps you better plan your family's travels, and understand a bit more about how American's revenue, upgrade, and award ticket system works. This will allow you to better realize what options are available for your future travels and hopefully travel a little smarter than before!