An Ode to SkyMall: 10 Fantastic Items to Buy While You Still Can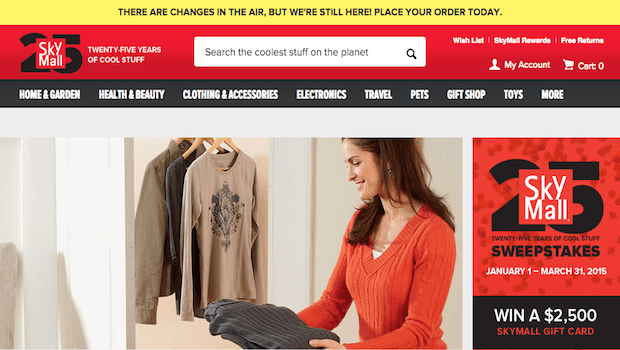 As we reported last week, the internationally cherished airline catalog SkyMall has filed for bankruptcy, and consumers across the globe are reeling from this tragic news.
An in-flight staple for the past 25 years, SkyMall is universally recognized as the most entertaining item in any airplane seat pocket, and is the only known place that air travelers can, after a few mini-bottles of Kettle One, drunkenly procure a $75 neck pillow that they will never, ever use.
But I for one am not ready to give up SkyMall. Though the catalog might be bankrupt, they're not gone yet, and if we all band together, we might just have a chance at saving this in-flight treasure. How? It's simple: buy stuff. We put together a list of SUPER important and useful SkyMall products you can purchase online right now! Snatch 'em up quick and maybe we can save SkyMall from its free-fall into obscurity.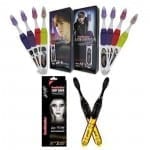 Are your daily tooth-brushing sessions devoid of obnoxious pop music from 2011? Are you not tech-savvy enough to solve this problem by just playing music on your phone or turning on the radio? If this sounds like your life, the Justin Bieber Singing Toothbrush will CHANGE EVERYTHING. For just $14.99, you can spice up your dental regime with two-minute clips from some of the Bieb's best smash-hits, including Baby, U Smile, Never Say Never, Boyfriend, and more!
If you're one of the three people on Earth who doesn't openly identify as a Justin Bieber fan, consider instead investing in a toothbrush that blasts Gangnam Style, the one-hit-wonder from Korean pop sensation PSY! This one even features "a synchronized music and light show" so you can party like it's 2012 every time you brush your teeth!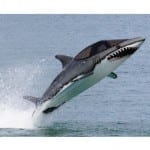 If you own a private beach, you're probably tired of shooing off all the pesky peasant sunbathers constantly invading your property. So why not scare them away with this handy-dandy, shark-shaped mini submarine? I mean, I think it's a submarine.
The website describes it as a "must-have toy for those who play hard—especially in the water," and claims it can go up to 55 miles per hour while jumping and diving through open water. To be honest it seems kind of like a deathtrap, but at just $85K, you might as well buy one just to get all the poor people off your beach. I'd say just one terrifying robot shark sighting should be enough to clear it out for good. You're welcome.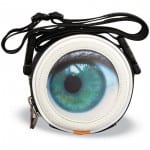 Banned from both the New York and Paris fashion weeks for being TOO FASHIONABLE (editor's note: citation needed), this winking cross-body bag will either make you the toast of the town, or get you burned at the stake for witchcraft.
Sadly, it seems this product is both out of stock and a major let-down for those who've ordered it. A review from SkyMall website user Lgfeldstien declares the bag "So Unique but disappointing." Lgfeldstien and other reviewers all object to the small size of the bag, which is apparently not even large enough to fit a cell phone. Still, this bag is a looker (see what I did there?), and perhaps through whatever magic makes the eye blink (editor's note: it's just basic holograph technology) it will be again available for purchase before SkyMall goes totally under.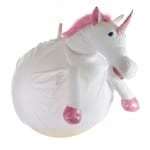 It's common knowledge that all adults own at least ONE plush hopping unicorn ball, so if your current one is getting a little worn from frequent use, why not order up another for the low, low cost of just $79.99? What a bore life would be without being able to settle into your favorite chair after work, crack open a beer and bounce that plush hopping unicorn ball to your heart's content! Thank you, Skymall, for making the American Dream an attainable reality!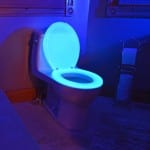 Spruce up your boring old toilet with a glowing seat that lights your way to the bathroom even in the dead of night! With this bad boy on your throne, you'll never again have to complete the laborious task of flipping a light switch when you need to use the toilet in the dark. I mean who has time for that, am I right?! It's solar powered and can hold a glow for eight glorious, florescent hours! Get yours today for $49.99!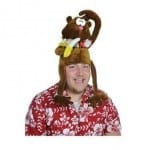 There's nothing more frustrating than heading to the store to buy a six-pack of plush monkey hats only to find they're being sold individually. I mean who needs just ONE plush monkey hat? ANY sensible person can tell you that plush monkey hats should be sold in packs of six or not at all!
Thankfully SkyMall is aware of this universal truth, and they're offering this exciting headwear for $72.66, which comes out to just $12.11 a hat! Quite the steal, and absolutely perfect for your next annual plush monkey hat party.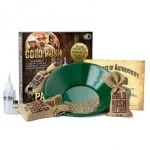 If you're an 1852 California Gold Rush miner like me, you're always on the hunt for gold, even when you're on the go! Luckily with this gold panning kit, you can take your work home with you, and because this item includes dirt that's "guaranteed to contain real gold," you'll be the envy of all your wacky gold-hunting friends working themselves to death in the mines! Yay!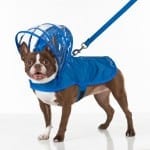 OK if you know me at all you're aware I can literally talk for days about clothes for pets, so I'll try to keep this bit within 10,000 words (but I can't promise anything). What's better than a raincoat for a dog? How about a raincoat for a dog with a FREAKING UMBRELLA HOOD?!?
Look at this little dude trotting along, free of the petty cares or concerns that plague the thoughts of other, less fashion-forward dogs. Is his head gonna get wet? NOPE. He's got an umbrella for a hood, y'all! This is a good way to keep your pup's immaculate curls frizz-free, and possibly get him or her signed to a puppy modeling agency. $49.99? Stop. I'd pay $499.99 for this little number! You can't put a price on adorable!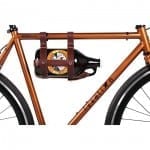 For the record, I'm pretty sure that biking while intoxicated is illegal in all 50 states, but the creator of this leather strap to hold your beer snug on the frame of your bike clearly doesn't have for silly things like "laws." The description of this product claims it's meant to help the beer enthusiast "easily bring their precious cargo home from the brewery while riding their bike," which I guess means hipsters have officially taken over the entire world and we'll soon all be legally obligated to grow long scraggly beards and get vintage sailor tattoo sleeves. If only the founding fathers could see us now.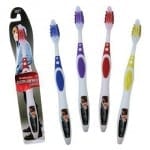 You didn't think I'd end this list without featuring another Justin Bieber toothbrush, did you?! Obviously I had to throw in another one! If you don't mind brushing your teeth in silence but still love the idea of having anything Justin-themed in/around your mouth, this is the toothbrush for you, my friend! Adorned with a photo of young Bieber in more innocent days, this toothbrush will keep your pearly whites squeaky clean while showing off your dedication to Mr. Bieber's long and fruitful career.
So what are you waiting for? Become a part of the revolution: whip out those credit cards, stock up on all the life-essentials I mentioned in this list, and let's save SkyMall!