Your 7 Biggest Questions About Apple Pay (Answered!)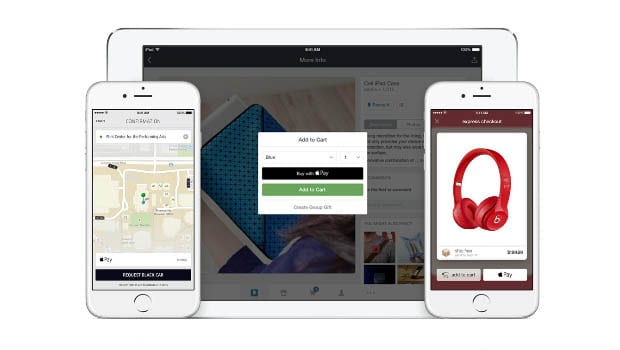 On Monday, Apple rolled out yet another perk of living in the modern age: Apple Pay. No longer will the shoppers of the world have to pull out their wallets and laboriously swipe their credit cards to make a purchase. No, the payment of the future can be made with just a tap of a smartphone.
So what does this mean for you? We came up with a list of 7 common questions about Apple Pay and answered them for you.
1. What is Apple Pay?
Apple Pay is a new mobile payment service that allows you to make purchases, both in person and online, with just the tap of your finger.
2. What do I need to use it?
In order to use Apple Pay to make an in-store purchase, you need an iPhone 6, an iPhone 6 Plus or an Apple Watch (which comes out in 2015). The iPad Air 2 and the iPad Mini 3 are able to make in-app purchases with Apple Pay, but you can't take them out to the mall and use them to buy stuff IRL.
If you have one of these devices, you need to make sure you've updated the software to iOS 8.1 and set up fingerprint Touch ID on the phone or tablet. You will not be able to use Apple Pay on earlier operating systems or if you do not have at least one fingerprint saved in Touch ID.
You'll also need a credit or debit card from one of the following companies:
Compatible Credit Cards:
VISA
MasterCard
American Express
Compatible Debit Cards:
American Express
Bank of America
Capital One
Chase
Citi
Wells Fargo
Coming in 2015:
Barclaycard
Navy Federal Credit Union
PNC
USAA
US Bank
3. How do I set it up?
Once you've updated to iOS 8.1, open up the Passbook app, which can also be used to store boarding passes, tickets and coupons. You can automatically add the credit or debit card connected with your iTunes account by entering the security code, and if you want to add another card just select 'Add a Credit or Debit Card.' If you're on an iPhone, you can also just swipe down in Passbook and click on the plus sign. You will be prompted to either take a picture of your card or manually type in the number.
Although the card you were using for your iTunes account is automatically applied as your default card, you can easily switch this in Settings.
4. How do I make purchases with Apple Pay?
Now for the fun stuff! If you're at a participating retailer (more on that in a minute), pull out your phone and put your finger on the Touch ID, then point it at the contactless reader connected to the credit card keypad. Even if your phone is locked, your default card will pop up on your screen (with just the last four digits visible), and the phone will vibrate and beep when the payment has been accepted. It takes just a second, and doesn't require you to wait to sign your printed receipt.
The Apple Watch will work similarly: you'll position the hand wearing the watch close to the reader, and double-click the button next to the Digital Crown to pull up your default card.
To make in-app purchases, select the item you want to buy and then check out by holding your finger to the Touch ID sensor.
5. Where can I use it?
As this is all very new, the list of participating retailers isn't infinite. Apple estimates that about 220,000 stores across the nation currently accept Apple Pay. Still, if this proves to be a popular way to make a purchase, we predict most stores will eventually adopt it. For now, though, here's where you can use it:
Retailers with in-Store Apple Pay:
Aeropostale
American Eagle Outfitters
Apple
Babies R Us
BJ's
Bloomingdales
Champs
Chevron
The Disney Store
Duane Reade
ExtraMile
Foot Locker
Footaction
House of Hoops
Kids Foot Locker
Lady Foot Locker
Macy's
McDonald's
Meijer
Nike
Office Depot
Panera Bread
Petco
RadioShack
Run
Six 02
Sports Authority
Subway
Texaco
Toys R Us
Unleashed
Walgreens
Wegmans
Whole Foods
Retailers soon to have in-store Apple Pay:
Anthropologie
Free People
Sephora
Staples
Urban Outfitters
Disney World
Retailers with in-app Apple Pay:
Apple
Charish
Fancy
Groupon
Hotel Tonight
Houzz
Indiegogo
Instacard
Lyft
OpenTable
Panera Bread
Spring
Staples
Target
Threadflip
Uber
Retailers soon to have in-app Apple Pay:
Airbnb
The Disney Store
Eventbrite
Jack Threads
Levi's Stadium
MLB.com
Sephora
Starbucks
StubHub
Ticketmaster
Tickets.com
Even stores that are not yet official Apple Pay partners, like CVS or the clothing retailer Zara, may accept Apple Pay if they already have a contactless payment system in place. When in doubt, try it out!
6. Is Apple Pay safe?
This is the million (or, more realistically, billion) dollar question. Given the recent celebrity iCloud photo hack, the credit card data breaches plaguing popular retailers like Target and Staples, and the rampant collection of personal data by companies like Facebook and Google, you might be understandably concerned about what Apple Pay could mean for both your privacy and your security.
Apple knows this, and they realize that the key to making Apple Pay a successful, everyday technology is to make it as safe and secure as possible. And that is why they're claiming that using Apple Pay is more secure than using a plastic credit card. From their website:
"Every time you hand over your credit or debit card to pay, your card number and identity are visible. With Apple Pay, instead of using your actual credit and debit card numbers when you add your card, a unique Device Account Number is assigned, encrypted, and securely stored in the Secure Element, a dedicated chip in iPhone, iPad, and Apple Watch. These numbers are never stored on Apple servers. And when you make a purchase, the Device Account Number, along with a transaction-specific dynamic security code, is used to process your payment. So your actual credit or debit card numbers are never shared by Apple with merchants or transmitted with payment."
If a store doesn't have access to your credit card number, you're not vulnerable to traditional data breaches, which is probably why retailers like Target are touting their relationship with Apple Pay. As we mentioned in our piece on Target's Holiday Announcement, consumers are wary of shopping at retailers that have recently suffered data breaches, so presenting this new technology as a way to keep credit card data safe is almost certainly a calculated attempt to restore consumer trust.
With Apple Pay, even if your phone or tablet is lost or stolen, the fingerprint Touch ID makes it impossible for anyone but you to make a purchase. You can also use Find My iPhone to easily put your device on Lost Mode, which will suspend Apple Pay and/or wipe the device completely clean. It's pretty easy to use a stolen credit card, as it's rare to be asked for an ID when making a purchase with plastic, so Apple Pay's added layer of security may be very attractive to safety-conscious shoppers.
7. But what about my privacy?
One of the major differences between Apple Pay and its older Android sister, Google Wallet, is that Apple Pay does not save your transaction information. While Google has access to every Google Wallet users' purchase history, Apple senior vice president Eddy Cue was quoted in a recent Tech Times article saying: "We are not in the business of collecting your data… Apple doesn't know what you bought, where you bought it or how much you paid for it. The transaction is between you, the merchant and your bank."
On top of this, Apple Pay keeps your name and your credit card number totally out of everyday transactions. The card on your phone's screen does not display any identifying information, whereas handing over a credit card to be swiped by a store clerk lets them see not only your full name, but also your signature and card information. With Apple Pay, this information is never out in the open, making it second only to cash purchases when it comes to shopper privacy.
Tips & Tricks
In the days since Apple Pay was rolled out, hundreds of journalists, bloggers and everyday folks have tried it out and found a few quirks in the system. Based on their accounts, we've compiled a few tips and tricks for new Apple Pay users to try out.
Set up Touch ID on your index fingers as well as your thumbs! A blogger for Forbes noted that the size of the thumb makes it a bit clunky to use as a fingerprint ID. She got a lot of "Try again" notices while using her thumb, but never had any problem with an index finger.
Call ahead! Although the retailers listed above are supposed to have Apple Pay technology in place, it's still so new that many have yet to set it up. If you want to leave your wallet behind on your next trip to Walgreens, give your nearest store a quick call to make sure you'll be able to successfully shop with your iPhone. Once you're in the store, make sure the line you're standing in is "Apple Pay Enabled." There's nothing more embarrassing or annoying than getting to the front of the line and being unable to pay.
Wait on making in-app purchases! In-app purchases are still a little clunky, as many shoppers are finding it hard to purchase multiple things at once within apps. One New York Times writer was frustrated while trying to make purchases within the Target app, because Apple Pay would only allow her to purchase one item at a time. She couldn't add items to her shopping cart and then buy them all at once. Something else to watch out for in the early days of Apple Pay: being charged multiple times for in-app payments. While these are definitely significant bugs, Apple has a significant interest in making Apple Pay seamless, easy and reliable, so we predict a quick fix. If you want to avoid the hassle of these early quirks, wait a few weeks to make in-app purchases, just in case.
As the overwhelming majority of Apple Pay reviews we've seen so far have been positive, we think it might just be here to stay. So what do YOU think about mobile payment systems? Let us know in the comments!