24 Back-to-School Style Steals for Kindergarten through College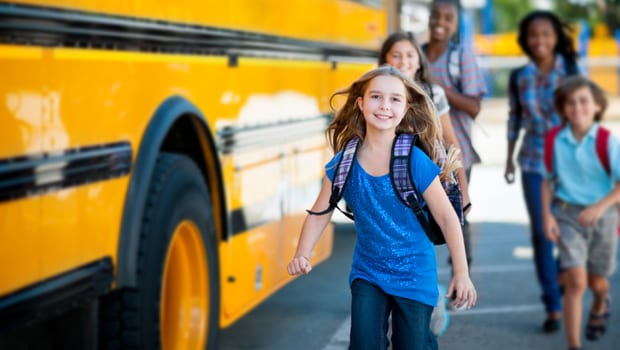 Fashion-conscious kids and budget-conscious parents often find themselves at odds when it comes to shopping for a back-to-school wardrobe, and parents know all too well that finding neutral territory on the topic is an eye-roll contest waiting to happen when what you wear on your first day back is so incredibly, crucially important!
If that sounds about right to you, then our collection of 24 low-budget, high-style fashion finds is for you. These top back to school bargains are sure to earn approval from kids and parents alike.
Deals for K-8
Bon-Ton Department Stores
Check out back to school clothing and accessories at Bon-Ton and other regionally branded stores Carson's, Bergner's, Herberger's, Boston Store, Younkers and Elder-Beerman for some pretty incredible deals on really cute clothes for the kids. These Girls' DKNY Hipster Shorts drop from $27 to $5.99, and this adorable Striped Dress by Carter's is marked down from $26 to $5.99. For the boys we like these Levi's Straight Fit Jeans for $17.99, originally $36, and this Ruff Hewn Long Sleeve Raglan Crew Neck Tee, available in tons of colors, which is marked down from $16 to $8.99. Use promo code FREESHIP75 for free shipping on all orders over $75.
Macy's
Macy's is having a hot ticket summer sale with up to 40 percent off select styles for the little ones in your life. We like this Epid Threads Little Boys' Cool Dog Tee for $3.99 (originally $14), these Carter's Little Boys' Active Joggers, and for the girls we love these Epic Threads Printed Leggings for $6.99 (originally $18) and this Beautees Girls' Raccoon T-Shirt, on sale for $10.99 from $16. Use promo code TICKET to get an extra 20 percent off your order and free shipping on orders over $75.
Claire's
With hundreds of accessories ranging from headbands and scarves to sparkly cellphone covers, this is definitely a stop for the girls. Luckily for them (and for your budget, mom and dad), Claire's has some amazing deals on back to school items. We like the Light Blue Springtime in Paris Backpack for $15 (originally $29.50), this Boho Geometric Knotted Headwrap for $5 (down from $7.50), this Panda Tote Bag for $4.25 (originally $8.50), and the super cute Rainbow Metallic Snakeskin iPhone Cover for $5 (originally $10).
Deals for High School and College
ASOS
Finding style bargains at ASOS can require a bit of digging, but they're having a 70 percent off sale right now that's pretty amazing. Our picks below are for the girls since men's fashion deals are harder to come by at ASOS, but the clearance section is worth a look. From left to right, we liked the spot-on-trend Metal Top Cat Eye Sunglasses for $10.75 (originally $21.50), the ASOS Skater Dress with Scooped Neck and Flared Sleeves for $15.23 (originally $44.79)--which I totally just ordered while putting together this post--the 80s-inspired Pull&Bear Denim Jacket for $22.39 (originally $46.56) and the so-cute-we-can-hardly-stand-it Park Lane Flat Lace Up Boots for $17.02 (originally $35.83).
Kohl's
Back to school style reaches far beyond apparel and accessories, especially when you're outfitting a dorm room in addition to your wardrobe. One of our favorite stops for dorm room essentials is the Kohl's Back to School sale. Study in comfort with this Memory Foam Butterfly Chair for $49.99 (originally $99.99) and gaze at all the pictures of your friends on the Marrone 18-Photo Fashion Collage Clipboard Frame while you're at it, priced at just $27 after a price drop from $59.99. Headed to the showers? Don't forget your Simple by Design 7-Pocket Mesh Shower Caddy for $8 (originally $19.99) and your Andis Hair Dryer for $16.99 (originally $18.99).