Black Friday Predictions: Best Buy Black Friday Ad for 2017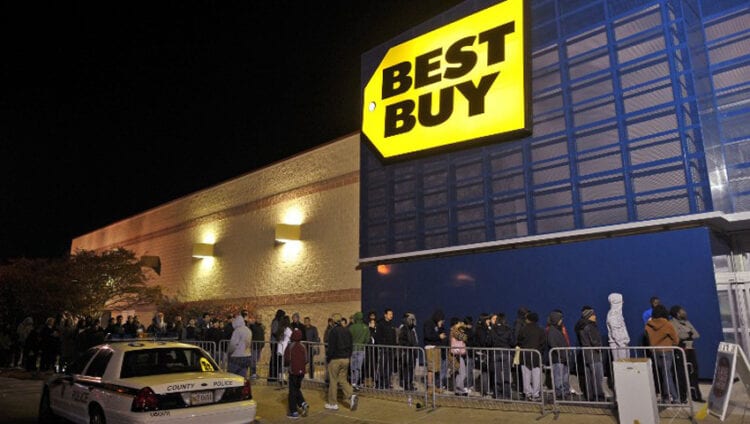 Every year, there's that one guy who makes the news for camping out in front of Best Buy for a month to secure his place in line for the Black Friday doorbusters. We may not advocate claiming your spot in line that early, but that doesn't change the fact that Best Buy's Black Friday doorbusters are always some of the best.
When will we see the 2017 Best Buy Black Friday Ad?
These were the publication dates for the Best Buy Black Friday ad for the last four years:
Wednesday November 12, 2013
Tuesday November 11, 2014
Tuesday November 10, 2015
Thursday November 10, 2016
Looking at this pattern, we think we'll see Best Buy's Black Friday ad arrive on Thursday November 9, 2017. That puts it just one day before Veteran's Day, the last big shopping holiday before Black Friday rolls around.
Once the Best Buy ad arrives, you'll find it in our 2017 Black Friday Shopping Guide.
What will Best Buy's Black Friday hours be?
Best Buy has stuck with 5 p.m. on Thanksgiving Day for the last few years. We're not expecting to see anything different for 2017. It may be worth noting that Best Buy only reluctantly crossed over into Thursday when the sales were still starting at midnight, but that was several years ago now and we doubt that Best Buy will be leading a retreat back to Friday.
What to Expect from Best Buy's Black Friday Doorbusters
Televisions
Those folks who make the news camping out in front of Best Buy for a month ahead of Black Friday? They're usually after the televisions, and while their campout strategy is pretty extreme, those TV doorbusters are definitely worth standing in line for if you have the time. For the past two years, Best Buy has featured a conventional LED HDTV and a 4K TV. We think this may be the year when we see a completely bonkers 4K TV doorbuster, say $299.99 for a 55" 4K TV. Best Buy had a Toshiba 55" 4K Smart TV for $400 in September, and we expect this year's crop of doorbuster TVs to push that price down even further on Black Friday.
Laptops
The $999.99 Macbook Air is another mainstay of Best Buy's Black Friday strategy, always the latest model with a 13.3" screen.
New Release Blu-ray Movies from $8.99
Select new release movies will get the doorbuster treatment, marked down to $9.99. In 2016, titles included Star Trek Beyond, The Hunger Games: Mockingjay Part 2, and Game of Thrones: The Complete Series. It's not a big leap to think we may see Finding Dory, Zootopia, X-Men: Apocalypse and Captain America: Civil War making the cut for Black Friday 2016.
Samsung Galaxy S8, Google Pixel 2, iPhone 8, iPhone 8 Plus, and iPhone X
Latest models of the most popular smartphones are another Black Friday mainstay, usually paired with gift cards and trade-in bonuses that bring the prices down to earth. Samsung often uses Black Friday to introduce new pricing on the latest model ahead of a Spring release of the next.
Audio Prices Stay in the Groove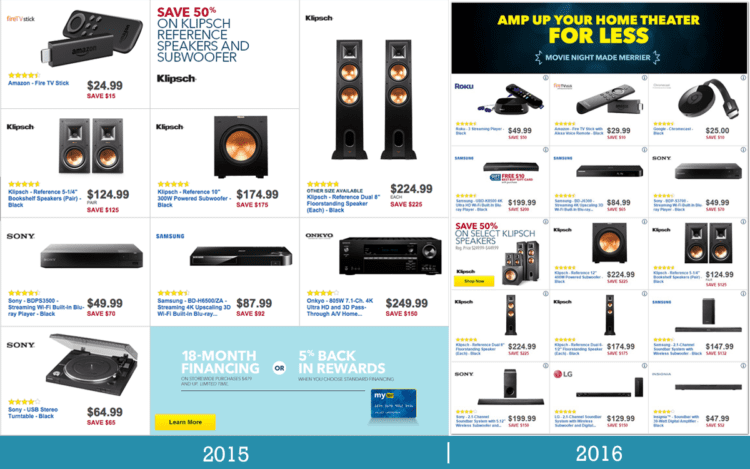 As rapidly as electronics evolve from one year to the next, audio seems to move at a much slower pace. Take Klipsch speakers and subwoofers, pictured above, as an example – the same models have featured the same Black Friday prices since at least 2014.
Also check out the selection of sound bars next to them in each ad. The brands and models are different, but the prices are in the same ballpark, albeit sometimes lower in 2015. It's not hard to guess that we'll see similar pricing on similar sound bars in the 2016 Black Friday ad.
More Black Friday Encore Deals at Best Buy
Insignia 6' HDMI Cable
2014: $9.99
2015: $9.99
2016: $9.99
2017 Prediction: $9.99
Klipsch Reference Bookshelf Speakers
2014: $124.99
2015: $124.99
2016: $124.99
2017 Prediction: $124.99
Seagate 2TB Backup Plus Portable Hard Drive
2014: $79.99
2015: $69.99
2016: $69.99
2017 Prediction: $69.99
Nest Learning Thermostat
2014: $199.99
2015: $249.99 + $50 Gift Card
2016: $199.99
2017 Prediction: Net $199*
* The effective cost after gift card in 2015 was $199.99, which was the listed price in 2014 without one. In 2016, the gift card was again dropped. It's netted out to $199.99 every time. Nest discounts are rare and predictable when they are, so the only surprise Best Buy is likely to have here is whether or not they'll pair it with a gift card again this year.
Samsung 25.5 Cu Ft. French Door Refrigerator - Stainless Steel
2015: $999.99
2016: $999.99
2017 Prediction: $999.99
Samsung Washer & Dryer 
2015: $749.99
2016: $749.99
2017 Prediction: $749.99
Ninja Mega Kitchen System 72-oz. Blender
2015: $129.99
2016: $129.99
2017 Prediction: $129.99
Canon PIXMA MX922 Network-Ready Wireless All-In-One Printer
2015: $69.99
2016: $69.99
2017 Prediction: $69.99
Logitech Harmony 708 8-Device Universal Remote
2015: $49.99
2016: $49.99
2017 Prediction: $49.99
Sony Dualshock 4 Wireless Controllers and XBOX One Controllers
2015: $39.99
2016: $39.99
2017 Prediction: $39.99
Amazon Fire 7" Tablet 8GB
2015: $34.99
2016: $33.33
2017 Prediction: $29.99
Samsung Wireless Charging Stands
2015: $29.99
2016: $29.99
2017 Prediction: $29.99
Compare for yourself!
Of course, this isn't meant to be every deal that we expect to come back for Best Buy's 2016 Black Friday sale. We've provided the last three years of Best Buy Black Friday ads below so you can compare for yourself. The more you know, the better you can plan, and the more you'll save!