What You Need to Know About the Graco Recall and Your Options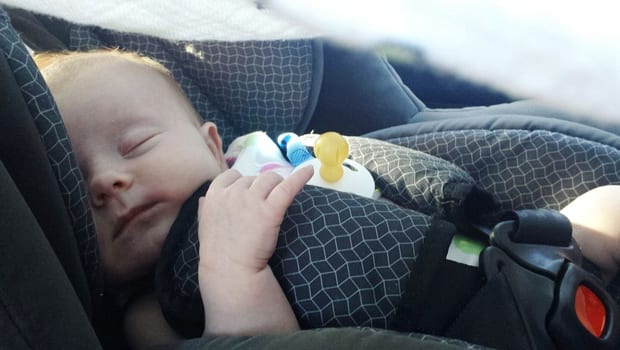 Baby equipment manufacturer Graco announced a massive recall of 3.7 million convertible car seats and child booster seats yesterday over concerns that the buckles may trap children in their seats. The National Highway Traffic Safety Administration (NHTSA) recommended recalling 18 seat models. Graco has agreed to recall 11 of those, all of which are for toddlers and older children. The seven other models that the NHTSA recommended for recall (and which Graco is contesting) are infant seats.
Recalled models include:
Cozy Cline
Comfort Sport
Classic Ride 50
My Ride 65
My Ride 65 with Safety Surround
My Ride 70
Size4Me 70
My Size 70
Head Wise 70
Smart Seat
Nautilus 3-in-1
Nautilus Elite
Argos
Models recommended for recall but for which an official recall has not been issued:

Snugride
Snugride 30
Snugride 32
Infant Safe Seat-Step 1
Snugride 35
Tuetonia 35
Snugride Click Connect 40
A statement from Graco notes that the recall affects "harness buckles used on all toddler convertible car seats and harnessed booster seats manufactured from 2009 to July 2013." The company also points out that "that food and dried liquids can make some harness buckles progressively more difficult to open over time or become stuck in the latched position." As for the infant seats they declined to recall, Graco points out that infant seats are designed to quickly detach from the base when needed, which provides an alternative mode of exit in an emergency situation.
"This does not, in any way, affect the performance of the car seat or the effectiveness of the buckle to restrain a child," the company said. The free kits are also available for the seven unrecalled seats mentioned above. But the kit may take up several weeks to arrive, and that may not sit well with safety-minded parents. As Graco notes, the issue is not that the buckle isn't restraining children properly - it's that it can be difficult to unlatch in an emergency.
The NHTSA, on the other hand, accuses Graco of downplaying the seriousness of the situation and is threatening the company with civil penalties. The NHTSA recommends that parents and caregivers of small children should consider getting an alternative car seat until their Graco seat can be repaired.
Options for affected consumers:
1) Get a free repair kit from Graco
Affected consumers can order a free replacement harness by calling 800-345-4109 or emailing consumerservices@gracobaby.com. Graco recommends that parents continue to use the recalled buckles until their repair kit arrives.
2) Replace your recalled Graco car seat with another brand.
These are a few deals we've found recently on convertible car seats and child booster seats.
Amazon is also a decent option for car seats available at some of the lowest prices online, and Prime members can get free 2-day shipping. Two days without a car seat may be less than ideal, but it's a far sight better than waiting a full week for in-store pickup at Walmart or Target.
3) Trade it in for a 25% discount at Toys R Us
If waiting for a repair kit isn't going to work for you, check out The Great Trade-In event at Toys R Us. Take your recalled Graco booster seat in to your local Toys R Us or Babies R Us by February 17th and you'll get a 25% discount on a replacement. There's no limit to the number of seats you can trade in. (You'll also get a booklet with $100 of coupons savings.) This deal is available in-store only and must be used the same day as the trade-in. Maxi-Cosi car seats and most sale items are excluded.
If you're considering the Toys R Us trade-in option, be sure to check out the store's selection of car seats before you trade anything in. The Great Trade-In promo was not a response to the recall, and if our quest for same-day pickup options elsewhere is any indication then TRU's stock already may be overrun. If so, consider ordering online at Amazon, then trading your car seat in at Toys R Us to buy something else with that 25% discount.
You should also be sure to check out these lists to find the best safety-rated car seats on the market today:
Insurance Institute for Highway Safety Booster Evaluations for 2013
Good Housekeeping Research Institute Convertible Car Seat Reviews
Note that several recalled Graco models are still on these lists, both of which were published before the recall.
You can read the full text of the Graco Harness Buckle Recall here.
Take the best online coupons and deals with you on the go! Download the newly updated Brad's Deals iPhone app today.