Brad's Tech Tuesdays: Top 10 Tech Deals for 4/10/12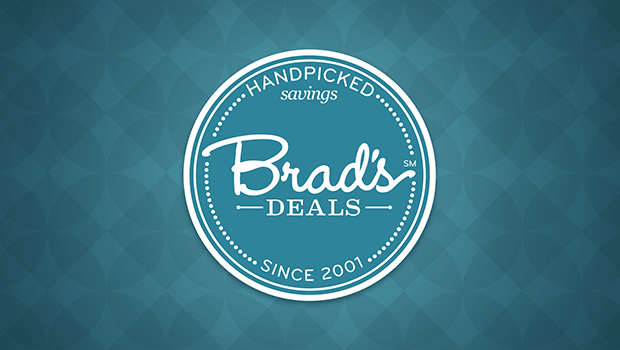 What did I do with my iPod charging cable? Why do photographs come out all boxy from my dot matrix printer? Why doesn't my laptop have a subwoofer? What is the coefficient of friction of water? Read on for answers to most of these questions in the latest edition of Brad's Tech Tuesdays.
Top Tech Deals:
1) iPhone/iPad/iPod Charging Kit $9 Shipped: Remember the good old days when Apple actually gave you a charger for your device? And no, not a must-be-plugged-into-my-laptop charger, but an actual wall charger? Yeah, we don't either. That was too long ago. Solve your charger woes with this deal.
2) Viore 24" 1080p Ultra-Slim LED HDTV $150: "Televisions in the bedroom? Now I've seen everything!" says the old man who just moved out of his cave. Make the old man shake his head with this LED gem for 150 bucks!
3) Canon PIXMA Inkjet Printer $47 Shipped: Can't find any more boxes of the printer paper with tear-off holes on the side for your old printer? (remember how good those things were at printing banners though?) Well, trade up for less than $50!
4) HP dm4t Beats Edition Laptop $700: "A subwoofer in a laptop? Now I've seen everything!" says the 40-something guy who still uses Prodigy to access the web. Blow his mind, without blowing your budget, with this audiophile's dream.
5) 7" New Android 4.0 Tablet $130 Shipped: "A moving picture frame? Now I've seen..." Ok, ok, we get it. Too many variations on a theme. Anywho, this tablet uses the latest Android OS, and at 130 smackers, it's waaaay more affordable than an iPad.
Top Tech Coupons:
1) HP: $350 off Customized HP Pavilion dm4t Beats Laptops via code NBC1386
2) Lenovo: $500 off + Free Shipping on IdeaPad Y470P Laptop via code DOORBUSTER0405
3) Newegg: $20 off HP Pavilion w185e 18.5" LCD Monitor via code CVPTGKUDL
4) Dell: $498 off XPS 8300 Desktop via code VJNKKGKWZXNZFF
5) Adobe: 10% off $375 via code SPRING10
Have a great rest of your week!
Want to see more tech deals like these? Sign up for Brad's Daily Alerts today to get the best daily deals delivered to your inbox!