The Best Things to Buy in August 2019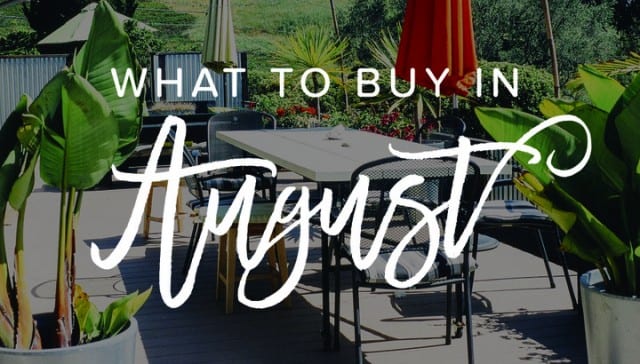 August is what some call the Sunday of summer. But don't worry, we're here to help you find the best money-saving deals that will certainly help you get through these dog days of summer. Check out our list below to find out how your dollar can be stretched the furthest this month.
Back-to-School Supplies
Although many school supply lists are available to parents before their kiddos even begin summer break, August is the month retailers really get the ball rolling. It's by far the best time to stock up on everything from backpacks, binders, lunch totes, and even some kids' apparel. Some of your best stores to look for sales include Target, PBteen, Walmart, Bed Bath and Beyond, and Office Depot.
And don't forget, back to school sales can be for everybody. Even if you're child-free or your kids are beyond the school-age years, now is the time to catch a great deal on office supplies, twin bedding, storage containers, and compact appliances. Look out especially for the sales promoting college- or dorm-related items. Check out our collection of the best back-to-school deals for more ideas.
Laptops
Just like bedding and appliances, even if you're not sending someone off to school, this is a good time to buy if you're looking to replace your old, slow laptop. Retailers like Best Buy, Dell, and HP are great places to get deals on laptops right now, and Apple's Education Discount is worth a look as well. And if tech-savvy is not something you've ever been accused of, check out our article on how to get the best laptop discount for your school-bound kids.
Warm-Weather Apparel
In order to make room for their cold-weather couture, retailers are often selling their summer stock at a fraction of the cost. Some of your best bets include swimwear, summer dresses, and sandals. So even if summer is winding down, if you have plans for a beachy vacation this winter, now's the time to buy your getaway gear.
Summer Outdoor Essentials
Even if you feel like time is running out to enjoy a new patio set or to break in new gardening tools, it would still be wise to invest now while the deals are hot. That way you'll be ready to go the first day the temps rise above 60 degrees come next spring. Other summer essentials getting their prices slashed? Outdoor planters, outdoor rugs, and patio umbrellas.
Labor Day Sales
We know, we know, Labor Day is in September. But like with most holidays, retailers get their big sales started sometimes well before the actual holiday. Look for early Labor Day sales to start during the last week of August.
What deals do you always look for in August? Let us know in the comments below. Happy shopping!
Related coupons: