The Best Time to Buy Everything: A Year-Round Guide to Staying Fabulous on a Budget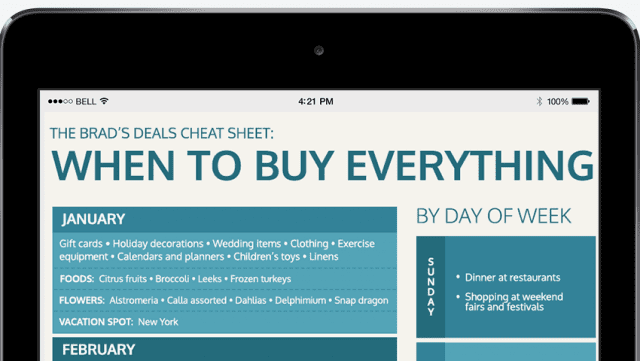 If you're reading this, you're probably a deal-seeker. A sale-warrior. A champion of the noble coupon.  You're the kind of person who scours thrift stores for vintage hidden gems, who scores the hottest bag of the year in the clearance section, the kind of person who gets up at 4am every Black Friday and heads to the mall armed with a game plan and the knowledge that you're the best gosh-darn deal shopper this world has ever seen. It's not that you can't afford retail prices, it's that you know you can beat them. And you revel in thrill of the bargain hunt. Every time you go shopping, be it for toys, TVs or taffeta tablecloths, whether it's Black Friday or a Tuesday in June, you come home with enough saved cash to make it rain dollars for miles around.
You're already an expert at the seasonal sales, the digital deals, and the exclusive promo codes, but deep down you feel like something is missing. You feel like you could be doing more, like you could be shopping even smarter. Your friends might say you're crazy, but I'm here to tell you that you're right. Because saving money is a full-time, year-round job, a job that you've proved you're up for. So it's time, young grasshoppers of gold, come gather round and we at Brad's Deals will walk you through a year of big savings.
Let's get started. As a well-seasoned sale-sniffer, you probably already know the basics: certain things, like plane tickets and restaurant meals, are cheaper when you buy them on specific days. But what you might not know is that this concept extends to pretty much everything you've ever wanted to buy, from flowers and foods to vacations and home goods. With our printable, handy-dandy savings infographic, which breaks up the year by month, day of the week and even time of day, you'll soon be ready to take on every day like it's Black Friday:

As your year-round deal-spotting guru, I now pronounce you an official Brad's Deals shopping ninja! Go forth into the world and turn all this extra knowledge into extra cash. And if this chart is too long for you to memorize (but all ninjas have photographic memories, right?) print out a copy and stick it on your fridge. That way, you'll never forget the best time to buy anything!