Best Ways to Spend Your Gift Cards (And What to Watch Out For)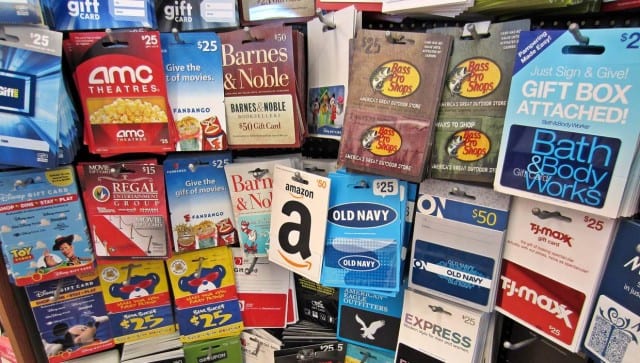 It's no secret that gift cards are among the most popular gifts during the holiday season. Now that the holidays are nearly behind us, it's time to take a look at how to get the most out of your stack of gift cards.
According to the National Retail Federation, more than 61 percent of people surveyed said they'd like to get gift cards or certificates this season, with clothing and clothing accessories next on the list at 55 percent. There's a good chance you've either given someone a gift card this year or you've received one.
However, although popular gift ideas, getting the most value out of your gift cards requires takes more than just filling up your shopping cart.
What's the Most Effective Way to Spend Gift Cards?
While it might be tempting to hold on to your stash of gift cards until you've saved up enough to use them later, you might get more for your money if you take advantage of post-Christmas clearance sales. Now is a great time to purchase things like exercise equipment, linens, and other items on our What to Buy in January list, that are drastically marked down. Make sure you check out the clearance and sale departments before you stuff your gift cards away in a dresser for later.
Watch Out for Potential Catches and Pitfalls
It's crucial with gift cards that you read through the fine print and make sure there aren't expiration dates or other details that could end up costing you. For instance, some gift cards can add inactivity fees, maintenance or monthly fees that can eat up your balance and even cost you later. Also check to see if you need to use the gift card within a specific amount of time. Don't lose the funds on your gift card simply because you waited too long to use it. In most cases, it's best to use the card within 12 months. Other pitfalls to watch out for:
It's difficult if not impossible to replace if lost or stolen
If the card issuer goes out of business, you likely won't get any value out of the card
Most people leave a small amount on the card and toss it but those dollars add up – keep track of your balance and make sure you spend the full amount
Where Can You Use Your Store Gift Card?
If you have a store gift card, you should find out if you can use the gift card for online purchases, or if it's only valid for in-store purchases. Plus, there are stores with partners or owned by the same company, like Gap, Old Navy and Banana Republic, that might allow you to use the gift card at partner stores as well.
Take Your Cards with You Everywhere You Go
If you have restaurant cards or cards you can only use in-store, it's important to make sure you actually have them with you. There's nothing worse than checking out and realizing your $50 gift card is at home on your kitchen table. Also, consider using mobile wallets like GoWallet, Apple Passbook or Google Wallet, so you can use your smartphone to pay. Sometimes, it's a lot easier than stuffing your wallet with plastic gift cards.
What to Do with Gift Cards You Don't Want
As with any gift, it's possible you've received a card or certificate for a retailer you aren't particularly fond of. Fortunately, those unwanted gift cards aren't a total waste. You can sell or swap your cards online with various services for a card you will actually use, or sometimes for cash you can spend however you choose. You can also donate your unwanted gift cards to your favorite charity. Make sure you call and ask if they accept gift cards. If not, you can check out sites like CharityGiftCertificates.org to choose a different charity or nonprofit.
Did you get gift cards this year? What do you plan to do with them? Let us know in the comments below!