6 Places to Grab a Cheap Slice on National Pizza Day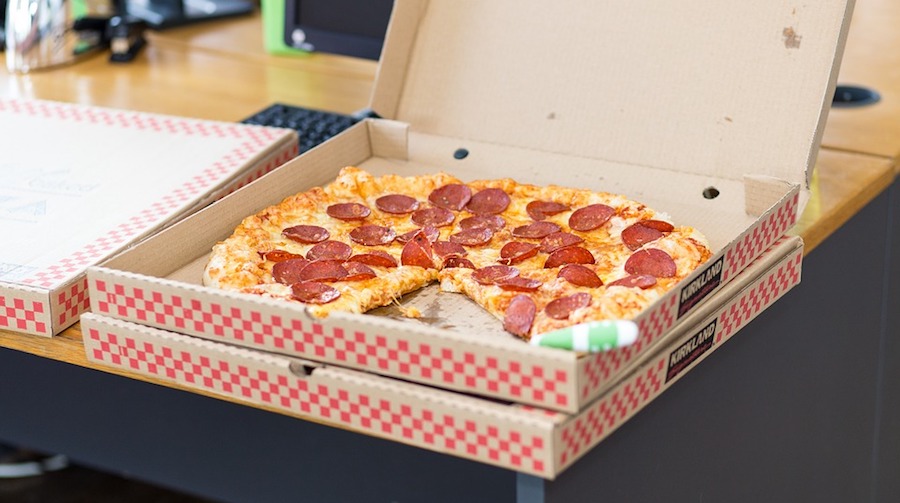 Need an excuse to order in? Tomorrow, February 9 is National Pizza Day, and your favorite pizza chains are coming in hot with some tasty deals in honor of this joyous occasion. 
While pizza has been around since the first century AD, it really picked up steam in the late 19th century when Italian immigrants to the U.S. started selling it on the mean, cheese-hungry American streets in New York, Chicago and Philadelphia. After World War II, the popularity of the pie exploded, and today, you can't walk two blocks in any major city without passing at least two pizza parlors.
Pizza is a staple of virtually every American's diet. East-coasters like their slices floppy and foldable, Chicagoans like 'em deep dish, and even vegans find creative ways to eat pizza without cheese. No matter what kind of 'za floats your boat, I think we can all agree that National Pizza Day is an essential American holiday. Here are six retailers offering deals and coupons to help you celebrate your love of pizza without breaking the bank:
According to a press release, the global pizza chain is partnering with Amazon Alexa to "give pizza lovers more than just one day dedicated to pizza." Starting Wednesday, February 9, pizza lovers with Alexa-enabled devices using the Pizza Hut skill will receive 30 percent off voice orders of select menu items for both pickup and delivery. Just say "Alexa, ask Pizza Hut for a pizza," or "Alexa, open Pizza Hut," and the discount will be automatically applied and shown on your receipt. This offer is good through February 16th, 2017, and applicable menu options include:
Pepperoni Pizza
Cheese Pizza
Veggie Lover's Pizza
Meat Lover's Pizza
Supreme Pizza
Breadsticks
Cinnamon Sticks
Soft Drinks
Through February 12, Pilot Flying J customers can snatch up a free slice of pizza at any participating location when they show this coupon at checkout.
Through March 5, use offer code 40PIZZA to take 40 percent off any regular-priced pizza. This offer is redeemable online, and can be used more than once per order! You know what that means? Extra garlic sauce for everyone!
Online orderers can get a large, three-topping pizza for $7.99, and get any two medium two-topping pizzas, stuffed cheese bread, eight-piece chicken wings, or dish of pasta for just $5.99 each.
Want to prove just how much you love pizza? Through February 14th, Lou Malnati's is offering pizza lovers the chance to order a heart-shaped pie. Sure, this promotion might be tailor-made for Valentine's Day, but let's be real. We all know pizza is the true love of your life.
Customers who sign up for the Kum & Go &Rewards Program will get a free slice of pizza at participating locations tomorrow (February 9) only!
The hot 'n' ready pizza chain recently began offering a new family-sized value menu, pricing five tasty items at just $5 each. For a National Pizza Day on a budget, head over to your nearest Little Caesars and grab Cinnamon Loaded Crazy Bites, Bacon Cheddar Loaded Crazy Bites, Caesar Wings, Four 20 oz Pepsi products, or a Large Classic Pizza for just $5 each.