Cuisinart is Recalling its Popular Food Processors. Here's What to do if You Have One.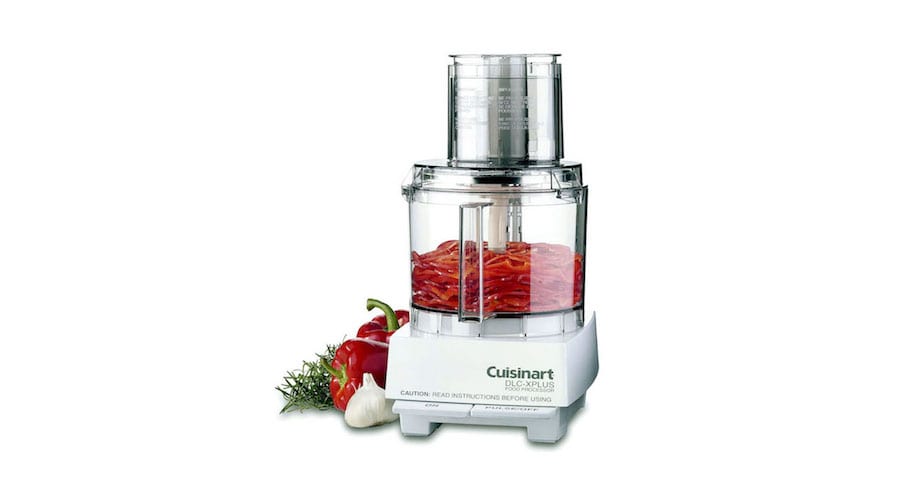 A Cuisinart food processor is a kitchen staple, but the popular appliance is being recalled due to reports of a malfunctioning blade. Here's what you need to know to get a replacement blade, and keep yourself and your family safe from finding unexpected shards of razor-sharp metal in your next batch of salsa. 
Which models are being recalled?
Every Cuisinart food processor with four rivets in the blade sold at department, gourmet and specialty stores nationwide between July 1996 and December 2015 is included in the recall. If you can't remember when you bought yours, check for the model number, located on the bottom of the unit. The recall affects food processors with model numbers that begin with: CFP-9, CFP-11, DFP-7, DFP-11, DFP-14, DLC-5, DLC-7, DLC-8, DLC-10, DLC-XP, DLC-2007, DLC-2009, DLC-2011, DLC-2014, DLC-3011, DLC-3014, EV-7, EV-10, EV-11, EV-14, KFP-7 and MP-14.
What's the reason for the recall?
According to the U.S. Consumer Product Safety Commission, "Conair [Cuisinart's parent company] has received 69 reports of consumers finding broken pieces of the blade in processed food, including 30 reports of mouth lacerations or tooth injuries."
While this has only happened to 69 of the estimated 8 million Cuisinart food processors sold during the 10-year recall window, biting down on a small piece of a food processor's blade while trying to enjoy a meal isn't a risk we'd bet most Cuisinart owners want to take.
What should I do if I have one?
Stop using the food processor immediately, and contact Cuisinart to receive a free replacement blade. You can contact Cuisinart in a few different ways:
Call 1-877-339-2534 between 

7 a.m. and 11 p.m. (EST) Monday-Friday

and between 

9 a.m. to 5 p.m. Saturday and Sunday. 

Go online to cuisinart.com/recall, and click on 'Product Recalls' at the bottom of the page.
EDITOR'S NOTE: The number above, while provided by Cuisinart, is not currently working -- possibly due to the influx of customers calling for replacement blades. We will update this article when it's back in service, but if you want to put in your request before that happens, use the online form and file your complaint that way.
Do you have a Cuisinart food processor that's affected by this recall? Let us know in the comments!