5 Cheap, Thoughtful & Easy DIY Gifts People Will Actually Like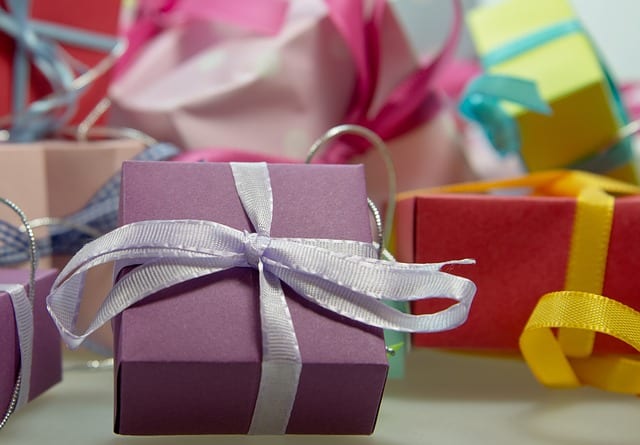 If you're pinching pennies this holiday season, you may be tempted to go craft crazy on some overly complicated Pinterest projects to avoid spending too much on presents for your friends and family. The thing is, while those DIY lotion bars, colorful clipboards and candy cane sugar scrubs might seem super easy in theory, what you don't see in those pretty pictures are the hours of sweat, blood and tears behind every aspiring Martha Stewart's craft projects. Plus, who do you know who actually uses lotion bars? If I'm being honest, most of the DIY gifts I've ever received are currently collecting dust in my parent's attic.
That being said, I have gotten a few over the years that I actually liked and still use to this day. I scoured Pinterest (and my memories) and came up with this handy list of 5 cheap and easy-to-assemble DIY gifts that even snobby, overly picky people like myself will actually appreciate.
1. Sparkly Fridge Magnets
These bad boys are cheap, easy to make and extremely useful. A particularly crafty friend of mine made my roommate and I a set last year, and in the months since, the outside of our fridge has transformed from a barren wasteland into an adorable art gallery that displays every Christmas card, wedding invitation and drunken photobooth picture that makes its way into our apartment.
All you need to make these are some round, flat magnets (the stronger the better), glass stones with flat bottoms, glitter and a bit of tacky glue. I'm pretty sure you can get all this at Michaels for under $10 and make enough magnets for everyone you know. I mean, if you know, like, less than 8 people.
Check out Thrive 360 Living for detailed directions.
2. Pop Art Pet Portraits
Chances are you've got a friend who's completely obsessed with their pet. I'm OK with admitting that I am totally one of those people. My Facebook, Twitter and Instagram pages are pretty much nothing but digital shrines to my cats, and it's rare for me to go an hour without somehow dropping them into a completely unrelated conversation. My boyfriend is an artist, and while I love everything he paints, I COMPLETELY FREAK OUT when he does portraits of my cats. It's unreasonable how much I love those stupid fluff balls.
You don't need to be a professional painter to impress the pet lover in your life, just follow the awesomely easy instructions in this post on A Beautiful Mess. All you need is some colored paper, a good picture of your friend's animal, a copy machine and a glue stick. You could do this in 5 minutes at the office and create a picture your friend will seriously treasure for the rest of their life. Obviously this method isn't exclusive to pictures of pets--you could definitely make a pop art portrait of a baby, a kid or your narcissistic friend's own face using the exact same method. Be creative!
3. Fringe Earrings
These look like something I would buy at Anthropologie for $65 and somehow manage to ruin 3 hours later. With $65 you could probably make 200 pairs of these earrings, which would be perfect for...no occasion ever. Maybe instead just spend a couple bucks and make one or two pairs as a gift for an eclectically fashionable friend, yeah?
Directions at The Alison Show.
4. Chalkboard Serving Platter
I would geek out so hard over this gift. I love having fancy dinner parties, and I love buying obscure fancy cheeses to serve at said dinner parties. This serving platter allows you to label your cheeses, or crackers, or jams, or whatever, by WRITING ON THE PLATE! It's genius, adorable and such a great gift for the born entertainer in your life, especially if you pair it with a few pretty chalk colors. It doesn't look too difficult or expensive to throw together, so why not try it out?
Learn how to make it over at Wit & Whistle!
5. High-Knee Boot Legwarmers
These are so incredibly easy to make that I feel like posting them here is cheating, but the fact of the matter is I would be totally stoked to get these as a gift. I'm a big fan of the skirt/tights/boots combo, but even with a thick pair of tights, my legs tend to get chilly in the winter. I'll layer on knee-high or thigh-high socks to try and solve the problem, but the thicker the sock, the harder it is to fit 'em inside my boots. If only there were such a thing as socks without feet! Oh wait, legwarmers are a thing, aren't they?
Basically all you need to make these faux socks is an old sweater and a pair of scissors. You can hem the bottom if you're feeling extra fancy, but depending on the way the sweater is knit, they should hold up for a good while without unraveling. If you don't have any sweaters or long-sleeved shirts that you'd be willing to mangle to make these, just head to Goodwill or the Salvation Army and pick up a few dollar sweaters with cool designs on the arms!
You can find a full tutorial at Scissortail Silk.
Will you be making any DIY gifts this year? If you are, let us know how they turn out in the comments!