7 DIY Projects for a Picture-Perfect Prom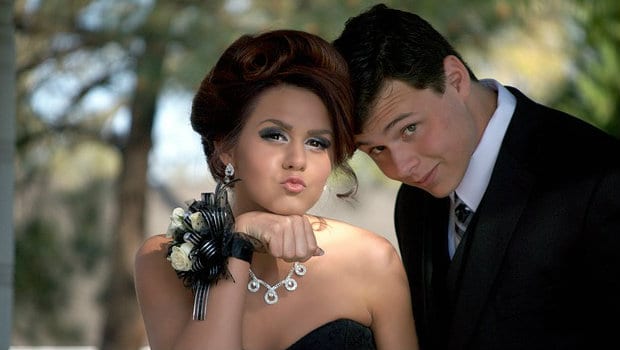 Prom season has arrived, and as we've mentioned before, if you're not careful, this night to remember can get more than a little bit pricey. With the average American family spending upwards of $978 on prom in 2014, you might be looking for ways to cut corners this year without sacrificing style. Here are our DIY suggestions. 
1. Revamp a thrift store dress
Every girl wants a gown for prom that makes her look and feel like a princess, but dreamy dresses can cost a small fortune, especially when you consider the fact that you're only going to wear it once. Plus, no matter how fashion-forward you think you're being, most adults think back on their prom attire and cringe at how dated they look.
When I was faced with these very issues wayyy back 2007, I did something a little crazy. Instead of following in my friends' footsteps and blowing all my money on a designer dress from Nordstrom, I hit up a local thrift shop. While meticulously digging through rack after rack of terrifying '80s monstrosities, I found something. A red satin, knee-length dress with a beautiful deep-cut neckline. It was gorgeous, and it fit me like a glove--the one problem: giant puffy sleeves that made me look like something out of an early Madonna music video. Still, it was only $15, so I bought it and brought it home to my mother--an accomplished seamstress--who told me she could make me presentable with minimal effort.
Two hours later, the sleeves had been transformed into delicate spaghetti straps, and I added a black sash for good measure. I spent a grand total of $15, and eight years later, that gorgeous vintage gown is still pretty fashionable--if not a little short for the prom styles of today. I actually still have it in the back of my closet, although god knows it wouldn't fit so well if I tried it on today. Still, a girl can dream!
TLDR: thrifting your prom dress is a frugal way to save money and keep your look cringe-free through the coming decades. If your mother (or father, or sister, or grandpa) is less inclined to alter it for you, take it to a tailor, or even your local dry-cleaner for cheap alterations.
2. Add some sparkle to your clutch
If there was ever an appropriate time to rock a glittery clutch bag, prom is it. Yeah, you could spend upwards of $300 on this little Kate Spade number, or you could buy a cheap pocketbook at your local thrift store (yes, thrift stores are amazing, OK?) and glitter it up yourself! All you need is some Mod Podge and a bunch of glitter and you're set. It'll take you 10 minutes at the most.
If you want some more detailed instructions, check out this post from I am Style-ish, which does a seamless walk-through of the entire process.
3. Make your own (perfectly matching) suspenders
We had to have at least one on this list for the boys, right? Since the hipsters of the day are all rocking styles from the 1890s, suspenders are a given for the prom attire of any dapper teen boy worth his salt. You could buy a pair, of course, but why not make some yourself? That way you can perfectly match the color of the suspenders to the dress, putting you two crazy kids in the running for cutest couple EVER.
Find quick and easy instructions at A Beautiful Mess, and keep those pants up high!
4. Rock a DIY tiara
Who cares about winning prom queen when you're already decked out in a crown? Granted this look might be less prom and more Coachella, but if you've got a bit of the indie spirit in you, I could totally see this working with a flowy (vintage!) evening gown.
My friend Brittany made one of these to wear at her birthday festivities last weekend, and while she always kind of looks like a princess, she was giving off a super elfin queen vibe that night.
She basically grabbed some wire from Michaels and made up her design as she went along, but if you need guidance, check out this 2012 Free People tutorial, or if you want something with more sparkle and traditional tiara feel, try this one from a 2009 Destination Weddings forum post.
5. Class up your comb
Dainty decorated hair combs are something from another era. They bring to mind old Hollywood and fur shawls and delicate little jewelry boxes that play music when you open them. Make your own, and you'll have something to give your granddaughter on the eve of HER prom, a family heirloom that's worth more than anything you could buy at the mall, because you made it!
All you need for this project is a metal comb, some rhinestones, pearls or other stones, and some super glue. You could even put on fresh (or fake) flowers for a more earthy, romantic feel. Pretty much the only barrier is your imagination, so go crazy and be creative!
6. Get glittery heels
If you've got a glittery clutch, why not match up your heels? Same easy recipe, even more sparkling style! Buy yourself a pair of cheap heels, paint on the Mod Podge/glitter mixture, wait until they're dry and then rock the heck out of them!
If you want to get extra funky, try playing around--maybe just add glitter to the heel, or put a glittery heart at the tip of your toes, or do both! It's all up to you.
7. Ditch the bra-bulge with a sew-in strapless
With so many pretty strapless and backless styles on the prom dress market this season, it can be hard to find a bra that keeps things in place without announcing itself to the whole world. Strapless bras might not have straps to hang out, but they're unsightly in a lower-back or backless dress. And sticky bras might seem like the best solution, but for low cut styles or bigger-chested girls, they just don't hold up. So what's a girl to do?
Sew in your own bra! I LOVE this idea so much I'll probably end up using it the next time I get invited to a fancy gala (cuz, you know, that happens all the time). This tutorial on Skunkboy shows exactly how to do it--basically just cut the back and straps off an old bra and stitch it to the front of your dress. That's it! Of course this wont work on a dress without lining, but most prom dresses are made of pretty sturdy stuff. If this is an option, I think it's one you should absolutely consider.
Would you DIY parts of your prom outfit? Let us know in the comments!