Does Your Credit Card Give You Secret Travel Insurance?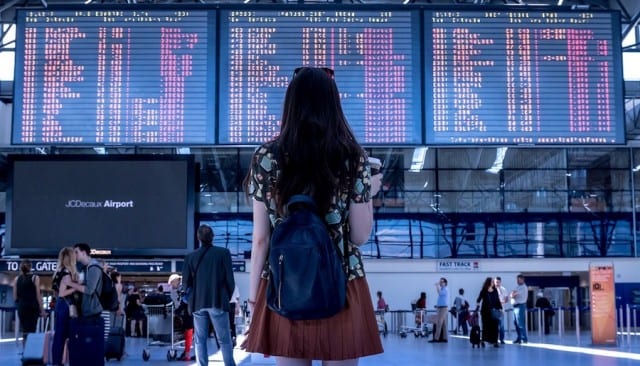 Editorial Disclaimer: Brad's Deals has partnered with CardRatings for our coverage of credit card products. Brad's Deals and CardRatings may receive a commission from card issuers. This content is not provided or commissioned by the issuer. Opinions expressed here are author's alone, not those of the issuer, and have not been reviewed, approved or otherwise endorsed by the issuer. This site may be compensated through the issuer's affiliate program. These user responses are not provided or commissioned by the bank advertiser. User responses have not been reviewed, approved or otherwise endorsed by the bank advertiser. It is not the bank advertiser's responsibility to ensure all posts and/or questions are answered. You can read our full advertiser disclosure:
click here
Traveling comes with risks. Your flight could be delayed for mechanical reasons, inclement weather could ground every flight at the airport, and your hotel could shut down due to a hurricane. How many times have you opted out of spending a few bucks on travel insurance, sure you won't need it? Sadly, sometimes you will. Note: Citi is a partner of Brad's Deals.
We all hope we never have to use travel insurance, but the reality is: things happen. The good news? Even if you didn't opt to buy insurance on your flight, you might already be covered by your credit card! We put together a handy guide to what's covered, what's not, and what little-known benefits might already be lurking in your wallet.
What is covered under my credit card's travel insurance plan?
Your credit card likely offers one of three main categories of coverage for your travels:
One is travel accident insurance, which in a nutshell, covers you and sometimes traveling members of your party from injuries sustained during travel.
Another category is trip delay insurance, which can cover you if your trip is delayed due to fault of the airline or hotel, or sometimes even bad weather conditions.
Finally, there's baggage loss and delay insurance, which can potentially cover you if the airline loses your baggage.
Not every credit card features all three protections, though many in our survey do. Each individual card product is different, and it's important to know when you qualify for insurance and when it kicks in. Most importantly, in order to reap the benefits of these cards' built-in insurance, you must pay for your trip with the credit card in question. If you pay for a flight in cash, even if you have a qualifying card in your wallet, you're out of luck!
Here are the important details, by brand and card product:
Chase
The Chase Sapphire Reserve card offers all three categories of trip insurance. Trip cancellation and trip interruption insurance is capped at $10,000 for each trip, if you can't make the trip due to injury, sickness, or weather. Plus, members of your immediate family (spouses or Domestic Partners and their children, including adopted children or step-children, legal guardians or wards, siblings or siblings-in-law, parents or parents-in-law, grandparents or grandchildren, aunts or uncles, nieces or nephews) are also covered, so long as you bought their tickets with this card as well. If your trip is delayed by six hours or more, you're entitled to $500 per purchased ticket for lodging and meals.
Baggage Loss insurance is offered at $3,000 per passenger, but you must have original receipts to claim items lost in the luggage to qualify. If your luggage is delayed by more than six hours, you're covered for essential purchases. Contact lenses, hearing aids, jewelry, and electronics (but not their charging cables) are exempt.
For travel accident insurance, you're covered if you have to be evacuated during your trip, but there are some exclusions. The trip has to be longer than five days but less than 60 days, more than 100 miles from home, and evacuations need to be pre-approved by a benefit advisor. However, the coverage is good for up to $100,000.
The Chase Sapphire Preferred card is very similar to the Reserve card in benefits, but for travel delays, you'll have to wait 12 hours before benefits kick in. There's also no travel evacuation insurance.
The Chase Freedom and Chase Freedom Unlimited cards offer only $5,000 per trip for travel cancellation or interruptions, and accidental death or dismemberment coverage of up to $250,000, as well as baggage loss insurance.
Other cards, like the United MileagePlus Card, and Hyatt card, offers all three benefits, though don't expect coverage to be as high as the Reserve card. The Southwest Premier Rewards Credit Card offers travel accident and luggage protections, but not trip interruption insurance.
Citi
The Citi Prestige Card is your best bet if you're looking for travel protections from a Citi card. This card offers trip delay protection on the first six hours of a delay, which is better than any card on the market. You'll receive $500 towards hotels, ground transport, meals, and necessities to carry out work. This applies to authorized users and immediate family. Delayed luggage insurance kicks in after three hours as well, for $500 worth of protection per passenger, but keep in mind that none of this applies for the return trip. Plus, you'll have a similar $3,000 per traveler benefit for lost luggage. And, trip cancellation or interruption insurance covers you up to $5,000 per person.
Other credit cards in their portfolio offer all three types of benefits, but at a lessened level, like the Citi AAdvantage Platinum Select World Elite MasterCard.
Overall, the important takeaway here is to know your benefits and pay with the card with the best insurance plan. Don't be stuck without coverage, or worse, paying for expenses that you thought would be reimbursed! You can always call the credit card company directly for them to explain benefits to you.
Has credit card travel insurance ever saved the day for you? Tell us your story in the comments!
Related travel credit card offers: