20 Things I'll Never Travel Abroad Without Ever Again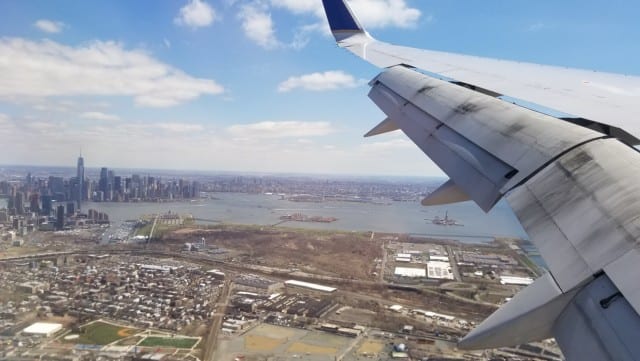 Editorial Disclaimer: Brad's Deals has partnered with CardRatings for our coverage of credit card products. Brad's Deals and CardRatings may receive a commission from card issuers. This content is not provided or commissioned by the issuer. Opinions expressed here are author's alone, not those of the issuer, and have not been reviewed, approved or otherwise endorsed by the issuer. This site may be compensated through the issuer's affiliate program. These user responses are not provided or commissioned by the bank advertiser. User responses have not been reviewed, approved or otherwise endorsed by the bank advertiser. It is not the bank advertiser's responsibility to ensure all posts and/or questions are answered. You can read our full advertiser disclosure:
click here
Friends, every time I go to Europe, I learn something new about saving money while traveling smarter. This time abroad, the lesson that really stuck with me was how much better travel is with certain services, items, and apps. Nothing on my list is exorbitant or fancy, and some of it isn't even travel gear, strictly speaking. But, will I ever travel without it again? Nope. Not a chance.
I was so excited about sharing this list with you that I started jotting things down one night after enjoying some fado in Lisbon's Alfama district.
Before you go:
Not everything on my list goes in your suitcase. Some of it just boils down to laying the groundwork for everything to run smoothly and effortlessly.
Global Entry
I got Global Entry a couple years ago, and I've used it for TSA Precheck many times, but this was the first time I've used it for an international trip.
When the flight attendants on my flight from Lisbon to Newark strolled down the aisle to hand out U.S. Customs forms, I got to drop mine into the seat pouch and forget about it. When you've got Global Entry, you don't need to fill it out.
Upon landing, I ducked into the restroom before clearing Customs and emerged to find the lines were painfully long. But as a Global Entry member, I skipped ahead to a self-serve kiosk that scanned my passport and asked me four questions. I said yes to the one asking about dairy products since I'd stashed a bit of Azeitão cheese in my luggage on the recommendation of a Portuguese sommelier. The machine spit out a receipt that said I should proceed to baggage control.
At baggage control, there was another monster line and a nearly empty Global Entry line. There was one Customs crew handling both in a fashion that's a lot like how gate agents handle priority boarding – they stopped taking people from the normal line and let the VIPs go through as the big line looked on. Total VIP treatment. The agent asked me about the dairy and waved me through when I told him about the cheese. (Most cheese is allowed.)
Newark was a connecting flight for me, so after clearing Customs, I stepped into the TSA Precheck line to clear security for my flight back to Chicago. I had about 45 minutes to relax at my gate before boarding began. I can't imagine how tight that connection would have been if I'd had to stand in the big line at Customs and then go through normal TSA.
Global Entry costs $100, lasts 5 years, and TSA Precheck is included. That works out to $20 per year. That's considerably less than my monthly yoga membership and at least as effective at stress reduction. It's absolutely worth it, and since it's only $15 more than TSA Precheck alone, there's really no good reason not to do it.
Travel Insurance
I very narrowly missed the Charlie Hebdo terrorist attack on my last trip to Paris – it was happening just as my flight was leaving Charles de Gaulle. In China, I got terrible food poisoning. I've also traveled to the Virgin Islands a couple times over the last few years, only to later watch from afar as my friends there scrambled to escape devastating back-to-back hurricanes.
While I was never personally in any danger, the impact that terrorism, unexpected illness, or inclement weather has on your vacation plans can be costly. Get the insurance, and if anything goes awry with your flights, your accommodations, or your health, you won't be stuck footing the bill for change fees, extra nights at the hotel, and so on.
I used InsureMyTrip to compare plans before buying. For my 8 day trip to Paris and Lisbon, it cost about $73 and gave me a lot of peace of mind.
Verizon Wireless TravelPass
Holy game changer, Batman! On previous trips abroad, I've made a point of keeping my data off because the cost was so high, even with an international roaming plan. This was my first trip out of the country since Verizon Wireless introduced TravelPass, which lets you take your existing minutes and data with you for $10 per day. If you don't use it, you don't get charged.
This is such an incredible deal compared to what the options used to be that I checked in with Brad's Deals travel editor, Mark Jackson, before my trip to make sure I was understanding it correctly. He assured me that's really how it works.
He rightly pointed out that T-Mobile offers free data, and it can be cheaper to add countries to your plan on AT&T, but Verizon's network is much faster. Plus, it's probably not worth the hassle of switching carriers just to save a few dollars for a single vacation.
And that is how, for the bargain price of $70, I was gleefully checking in everywhere and uploading bucketloads of photos and video to Facebook for my friends and family to enjoy in real time on the fly. I also relied on my data plan pretty heavily for turn-by-turn navigation, a real lifesaver on narrow twisty streets that pre-date modern city planning.
Always in my suitcase, carry-on, or purse:

These shoes took me from the Eiffel Tower's glass floor to the shores of the Tagus River.
Comfortable walking shoes
These Skechers were one of the heroes of my trip, particularly in Lisbon where the steep hills, long stairway passages seemingly into the sky, streets too narrow for cars, and ubiquitous wonky cobblestones made for a physically brutal walking experience. I chose this pair because they had the comfort of a sneaker but could pass at a glance for a loafer.
In Europe, wearing running shoes with everything is a telltale sign that you're an American tourist – something I try to avoid since I often travel solo and would rather not stand out. I wore them with and without socks. Find yourself some shoes that love you like these Skechers love me.
Black ballet flats
I also packed a pair of Lucky Brand Emmie ballet flats in black. They pack easily, dress up for a night out, dress down to wear with ripped up skinny jeans, and provided a bit of structure so the above mentioned cheese wasn't badly squashed on the trip home. Yes, that's right, I stashed my cheese in my shoes. When you're playing suitcase tetris the night before an early transatlantic flight, you get creative with whatever's on hand.
Washcloths
I arrived at my Airbnb rental in Paris to discover that my host had left me bath towels, but no washcloths. I ended up buying a couple cheap cotton cloths at a shop I just happened to walk past. It's not like they were expensive, but I could have saved myself the awkwardness of washing my face with the corner of a full-size bath towel if I'd thought to pack a couple of my own.
A portable phone charger with lots of juice
A bought my brick of a portable charger a few years ago specifically because it has a solar panel, handy for for the weekend I spend camping with my family every summer. It charges much faster when plugged into an outlet, of course, and it packs 4 full charges. I carried it with me everywhere I went through Paris and Lisbon, often using it to charge my phone while I had lunch or dinner. I never once had to worry about my phone battery dying. It also fit rather neatly into a special pocket in my underseat carry-on, which has a charging port for it to plug into.
Step-down power converter with USB ports
For your electronics, a power converter is probably not necessary. If charging your phone or a laptop, just buy a plug converter with a USB port and bon voyage. But, if you want to plug in a hair dryer or an electric razor, there are a few things to know before you do.
The standard European electrical current runs around 220V compared to 110V in the U.S., so it's not enough to just have a plug adapter. You'll need a step-down converter, which reduces the current to meet the standard for your American appliances.
I bought my single-port, step-down converter years ago before USB charging was common. I just plug a USB hub into it, et voila – I'm charging my phone, laptop, and portable charger all at once. I do have to unplug everything and move it to the bathroom if I want to use my curling iron, but whatever. It's not inconvenient enough to convince me to upgrade just yet, but if I were going to, I'd be looking at a model more like this one. For $36.90 at Amazon, it includes three outlets, four USB ports, and a range of plug adaptors so you can use it in nearly any country or continent.

My favorite travel scarf came in handy on a cool, rainy day in Lisbon.
A scarf that doubles as a shawl and fits in my purse
Several years ago on a chilly night in Barcelona, I ducked into a shop selling scarves. I picked out a black and gray print, wrapped it around my shoulders, and never looked back. That scarf goes everywhere (see the photographic evidence above.) It's my pillow on airplanes, a scarf when I have a jacket, and a shawl when I don't. It's also a handy top layer that obscures the contents of my purse when I'm traveling – nobody on the train needs to see that my DSLR camera is in there. Scarves that fit the bill aren't all that expensive. These plaid blanket scarves for $12.69 at Amazon would do nicely.
Ziploc freezer bags
Ok, hear me out. You don't need fancy travel bags for your toiletries. I pack anything that could possibly leak in freezer bags. On the trip from Paris to Lisbon, my conditioner leaked a bit. From Lisbon to the U.S., it was my toner's turn to leak. Both leaks were perfectly contained by the bags.
I also use smaller sandwich-sized, sealable bags to contain things like toothbrushes, Q-Tips, and round cotton pads.
A backup credit card
Once I landed in Paris, I needed to take the train into the city center, and my debit card was declined. Rather than panic, I simply handed the cashier my backup credit card instead, which worked perfectly.
As soon as I was settled in at my rental, I hopped on the wifi and launched a chat with my bank to sort out the card. Luckily, it turned out that nothing was wrong, but the terminal had just chosen the worst, most dramatic moment possible to have a connection timeout. Without the backup card, I might have been stuck.
If you're wondering which backup credit card to take on your next foreign adventure, check out our favorite credit cards for international travel for some guidance.
Important contact numbers written on an index card
Dear reader, this is one where I done screwed up and got myself into a spot of trouble. I had a beautiful, detailed itinerary document stored in Google Drive with dates, addresses, phone numbers, and everything I might need to get in touch with the right people should I need anything.
And then, on a day trip out of Lisbon, I left my phone in a tour guide's car.
I knew exactly where to find his phone number, but it required my phone.
If I could just borrow a computer from someone for a few minutes, I might be able to get into my email? Well no, because it would be a new device (and even if I remembered my password, which I didn't), Google would require 2-factor authentication to sign in and retrieving the verification code would require my phone.
Eventually, with the help of a very kind info desk guy at the train station, we were able to track down the tour operator's customer service phone number, and we sorted everything out. Two hours after I left my phone in my tour guide's car, he brought it back to me. So it all turned out okay, and honestly, Portugal is the kindest, friendliest country I have ever visited. Bless them forever.
You know what would have saved me two hours of panic and nausea? Having that phone number actually written down on an index card in my purse. Yep. Sometimes, technology is not an improvement over good old-fashioned pen and paper.
Indispensable Apps:
Truly, having unfettered access to data, as I would use it in the United States, opened up a whole slew of possibilities. These are some of the apps I found myself relying on the most.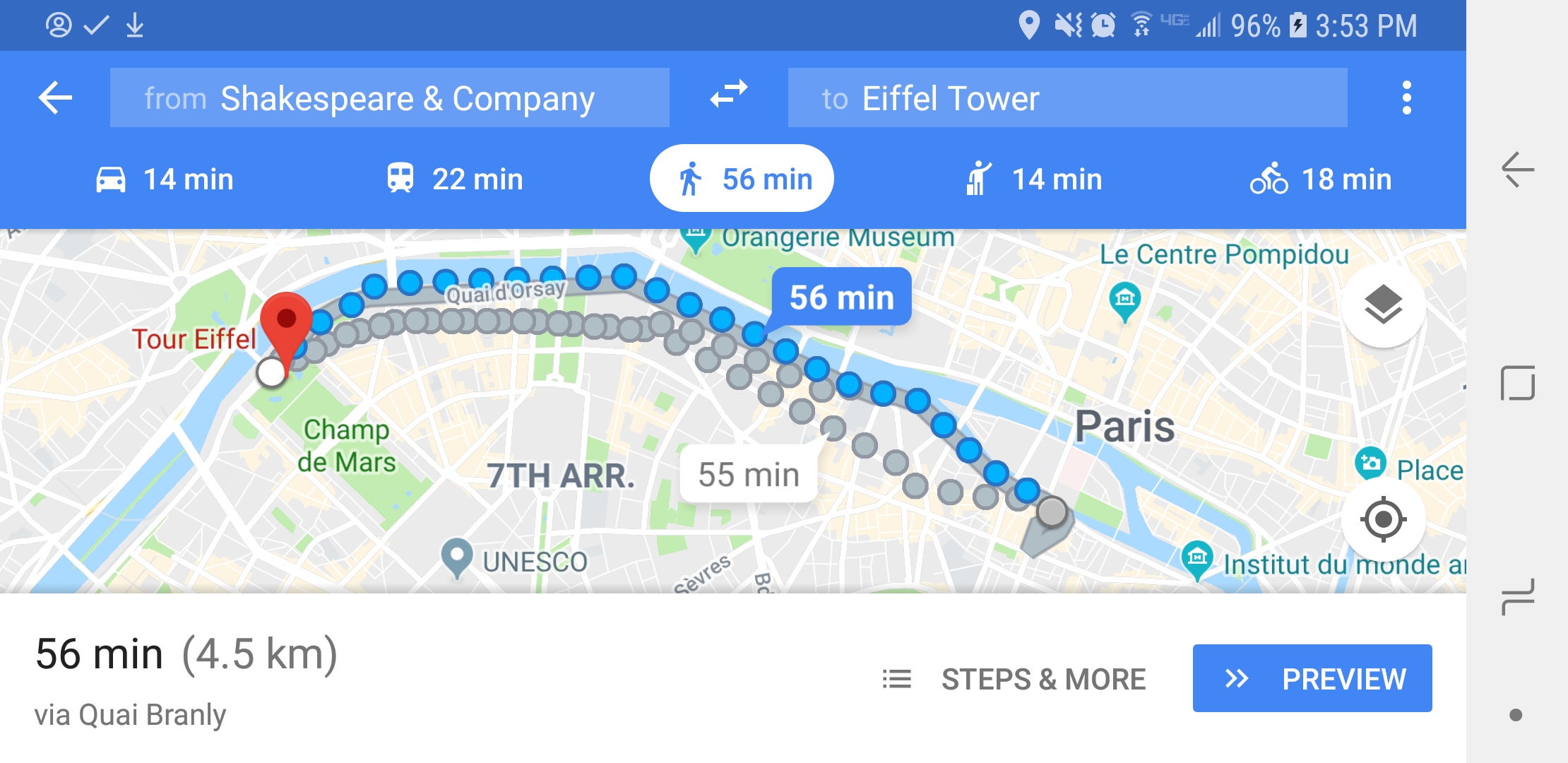 Google Maps
What's the best way to get from the Musee d'Orsay to Shakespeare and Company? Ask Google Maps. Trying to find your way through a dizzying maze of ruas, becos, and escadinhas in Lisbon? Launch turn-by-turn navigation. No problem. You've got this.

Sunrise at Charles de Gaulle Airport, waiting for my flight from Paris to Lisbon.
I like the way TripIt automatically collects all of your travel and booking confirmations from email and arranges it into a nice, user-friendly itinerary so you've got all the pertinent details at your fingertips. United never prompted me to check in for my flight to Newark, but TripIt did. And when I needed the confirmation number for my flights, I didn't have to go sifting through my email to find it since it was top of the page when I opened the app.

The Tower of Belem, an UNESCO World Heritage Site.
Free, self-guided walking tours of major cities, anyone? In Lisbon, I used the free version of GPS My City as a jumping off point to explore different parts of the city. I'd pick a 2-hour tour, use Google Maps to get to the next point of interest, and wander at my own pace. If a shop or a side street looked interesting, I'd pause the navigation to go check it out. A window display of pasteis de nata might prompt a pit stop for a tasty treat. And at actual points of interest, I pulled up the app to read a little bit about the history and significance. I never did complete a single walking tour, and it never mattered. Everything in between was too interesting.

A light lunch at a tea salon on the Left Bank in Paris.
Wherever I happened to be when hunger struck, I could simply pull up Yelp, find an affordable 5-star lunch nearby, and use Google Maps navigation to find it. After visiting the Marine Museum in Belém, I was ready for lunch. Yelp guided me to Pastéis de Belém, which has been making traditional pastéis de nata from the ancient Mosteiro dos Jerónimos recipe since 1837.

The impossibly narrow streets of Lisbon.
Everyone has an opinion or two about Uber these days. But let me tell you, however you feel about them, in a country where you don't speak the language, sidestepping the language barrier entirely by setting your pickup and destination points in the app are a real lifesaver. Several countries in Europe have their own local competitors, but if you already have Uber, there's no reason to give your personal and credit card info to an app you're only going to use for three days. Lyft is planning a similar European expansion soon as well.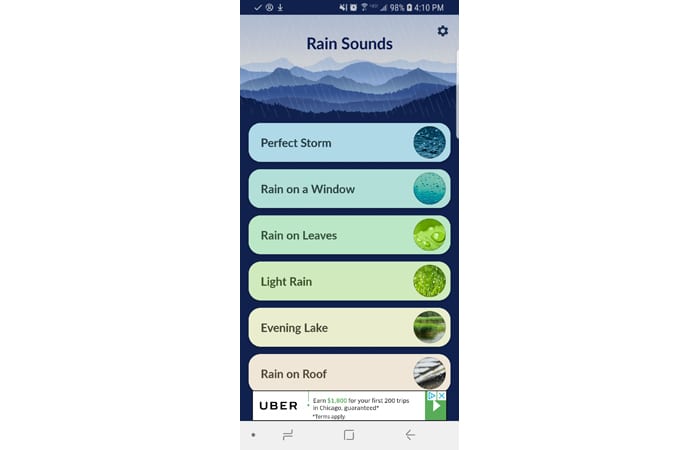 Between the jetlag and unfamiliar surroundings, it can be hard to fall asleep. Enter the soothing sound of rain and gentle rolling thunder. There are dozens, perhaps hundreds of free white noise apps out there, but I like this one in particular since you can choose your rain sounds. Do you prefer your rain on leaves? A window pane? A tent roof? Pick your preferred rain style! You can also use custom settings to layer in a number of other ambient sounds like thunder, birds, harp music, a crackling campfire, ocean waves... there's a lot to play with if you want to go beyond the presets.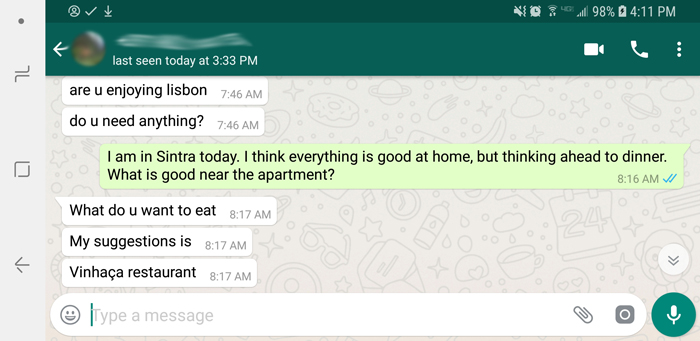 It's pretty common in Europe that Airbnb hosts and tour guides will prefer communicating on WhatsApp. All communication through WhatsApp is fully encrypted and doesn't eat your data if Wifi is available, making it ideal for getting in touch with your hosts and guides while you're still in different countries.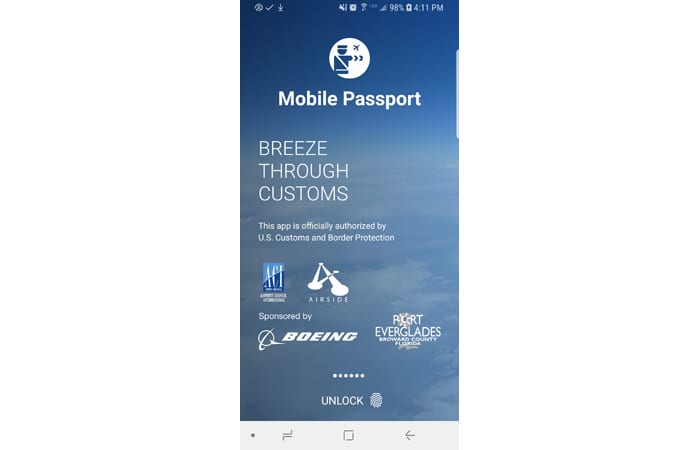 Folks, the government actually did something cool and techie! Mobile Passport is an official app from U.S. Customs that eliminates paper customs forms for those who have it. The idea is to expedite the process to clear everyone faster, but it's hard not to notice that it saves a ton on printing paper forms to make it pretty environmentally friendly as well.
How it works is pretty simple. You enter your passport info and answer the yes/no questions. Once your plane lands, you'll hit "Submit" at which point the app gives you a QR code to show the agent. The only catch is that you must go through customs within 4 hours of submitting. So while you can set everything up the night before your flight, you shouldn't hit the "Submit" button until you land at your port of entry.
I have no idea what happens after that since people with Global Entry don't actually use Mobile Passport (we have a separate but similar process with the line-skipping, self-serve kiosks). I assume they just scan it, ask about anything you might have said yes to, and that's that. You'll still be standing in the big line watching the Global Entry folks skip ahead (sorry!) Maybe that big line will move a bit faster the more people adopt Mobile Passport.
What I'm Throwing Away:
A few years ago, I bought an adorable Orla Kiely passport cover and felt like a proper world traveler.
What a joke. Every single gate agent, customs official, and TSA agent I encountered in the United States, France, Belgium, and Portugal, insisted it must be taken out of the cover for inspection. Many airlines put stickers on the back cover that indicate to subsequent security personnel that they've inspected it. Towards the end of my journey, I forgot to take it out as I sleepily handed it over to a TSA agent who snapped at me about not having time to go picking through it.
Constantly taking it in and out of the cover was an awkward, clumsy process that often slowed everything down unnecessarily. And it added bulk, which meant that it was a tight fit in my smallish, cross-body purse.
So if you find yourself wondering if you should buy a passport cover, don't bother with it unless you really enjoy irritating airport security.
What item will you never ever travel without? Chime in below!
All photos: © Rebecca Lehmann. All rights reserved.
Related coupons: