Don't Forget! Today is Small Business Saturday!

Don't forget!  Today is Amex's Small Business Saturday!
In case you missed our post a few weeks ago, today is Small Business Saturday, where you can save $30 per Amex card when you shop at small businesses.
And, if you have more than one American Express card, you can register those as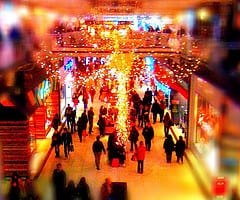 well, including additional account holders.  All in, I have three American Express cards, so I could potentially net $90 in free spending on that Saturday.  That'll take care of a fair bit of my holiday shopping!  If you have others in your family, and they don't already have a card linked to your account, sign them up (as long as it's free to do so, some Amex cards charge for additional cardholders).
Furthermore, you can use these credits at any small business, so restaurants count as well.  Keep in mind, a $30 purchase isn't the same as three $10 statement credits.  You can ask politely if they'll split your purchase into three $10 increments in order to trigger the statement credits on your card.  I think you could get away with this more easily at restaurants than at shops, but the answer is no if you don't ask!
All in all, this is an easy way to save some money on holiday shopping during a busy weekend for sales (it is the day after Black Friday, after all).  If you don't already have an American Express card, take a look at Bluebird, which is a fee-free banking service and qualifies for this promotion.