Why Emirates First & Business Class is Awesome | Brad's Deals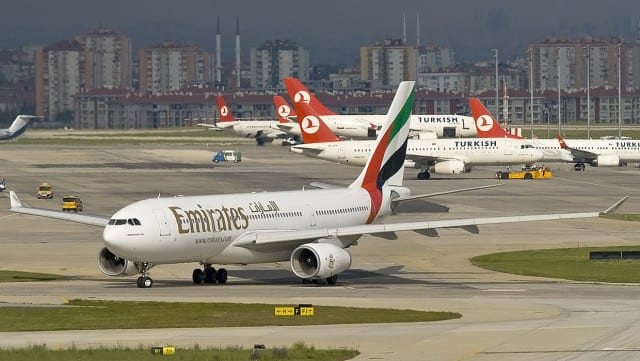 Last month, I had the chance to fly Emirates Airlines from Cairo to Hong Kong, taking advantage of ultra-low premium cabin fares from Egypt. Emirates is famous for its high-end in-air product, including showers in first class and an on-board bar for first and business classes on its A380s. Here are my thoughts on the experience of a lifetime!
Why Egypt?
I positioned myself to start my trip in Cairo because of how low prices are for airfare starting from Egypt nowadays. They devalued their currency recently, and tourism has taken a hit since the Arab Spring, so business and first class flights can be incredibly reasonable.
I found a business class fare from Cairo to Hong Kong, with one-night stopovers in Dubai, Hong Kong, Bangkok, and Dubai again, for a little over $1,000. Then, at booking, Emirates was promoting an upgrade for my outbound flights to First Class for about $800. To me, that was a small price to pay to experience one of the most premium products in the sky, so I bought it! Right before my trip, Emirates downgraded my Cairo to Dubai flight from First down to business class, so I'm still in the process of getting a refund for that leg of the journey through my Citi Prestige card.
It's not totally insane to do this, especially if you credit your miles correctly. I credited my Emirates flights to their partner Alaska Airlines, and earned 39,751 award miles for my flights. That's nearly enough for two round trips in the US, or a one-way flight to Asia on Cathay Pacific or Japan Airlines in business class! I'm confident I can get the value back of the flight I flew when I redeem my miles for my next flight.
Emirates Ground Experience
Emirates' first and business class experience starts on the ground. Based in Dubai, you'll experience all that the airline has to offer at Dubai's international airport, but other airports around the world have special perks for flying Emirates as well.
If you thought that your experience starts at the airport, you'd be wrong. Most origins and destinations offer free chauffeur service for first and business class customers (not on award flights). Unfortunately, Cairo isn't one of them, but I was staying at the attached airport hotel Le Méridien so I didn't need it anyway. However, on my four stopover nights, I had chauffeurs pick me up and drop me off at my selected hotels. Depending on the itinerary you book, you may even qualify for a free hotel in Dubai, courtesy of Emirates.
First Class passengers seemed to have upgraded cards in Dubai (think Mercedes), while Business Class passengers had Volvos or BMWs. In Hong Kong, I had a luxury van take me to my hotel. In Bangkok, I was picked up and dropped off in a Mercedes.
Once you arrive at the airport, you won't have to wait with the economy class passengers. I began my journey in Cairo, which unfortunately does not have a Emirates-branded lounge. Instead, all premium cabin passengers from all airlines use one contract lounge.
In Dubai, you get the full experience as a first or business class passenger. Your chauffeur drops you off at the dedicated first and business class check-in area. To me, it felt pretty large for what should be an intimate experience, but you do get a private security and customs area that I never waited in line for. I did appreciate the red carpet rolled out, just for me…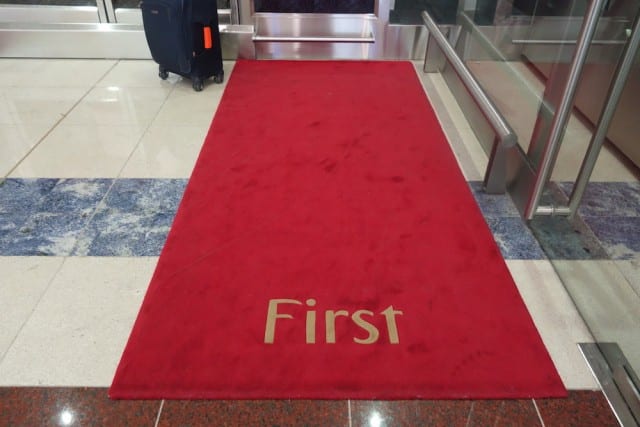 First Class Lounge
Once you clear security and take the train to the main terminal, there are separate "lounges" for first and business class in Dubai. I use quotations around the word "lounge" because the lounges are each on their own separate floors of the terminal, stretching its entire length. There are even maps to help you find your way. You know, like your local mall or Disneyland.
Inside the first-class lounge in Dubai, you'll find showers, a complimentary cigar bar, free shoe shine services, and a sit-down restaurant with waiter service. I headed there first, making my way past the duty-free shops that are inside the lounge.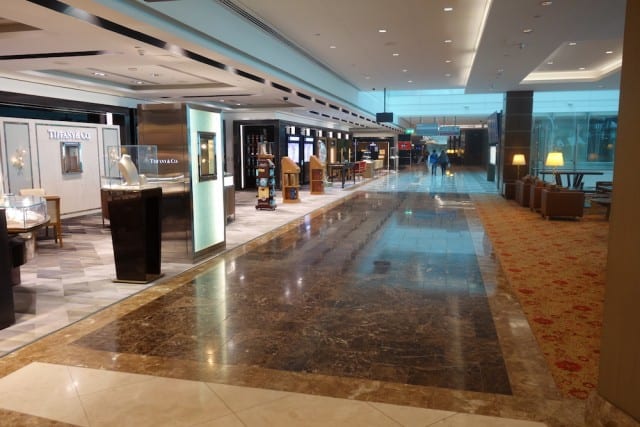 I was seated immediately, and was offered a menu of the offerings that day.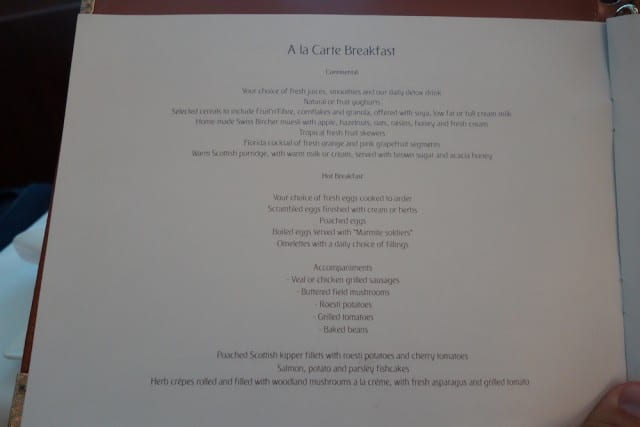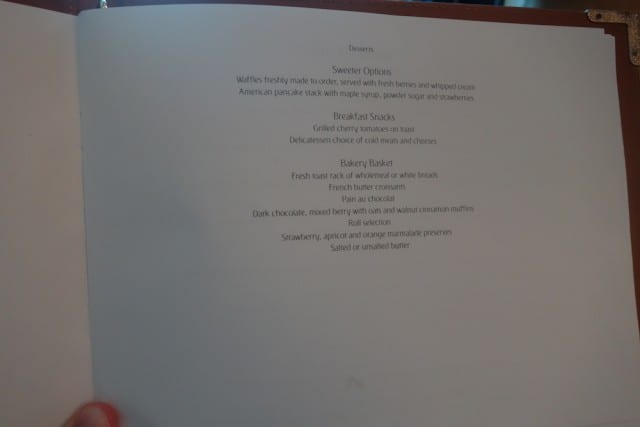 I ordered the crepes, and a glass of champagne.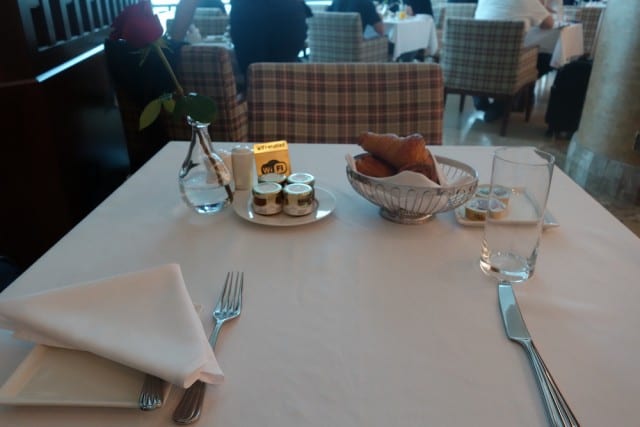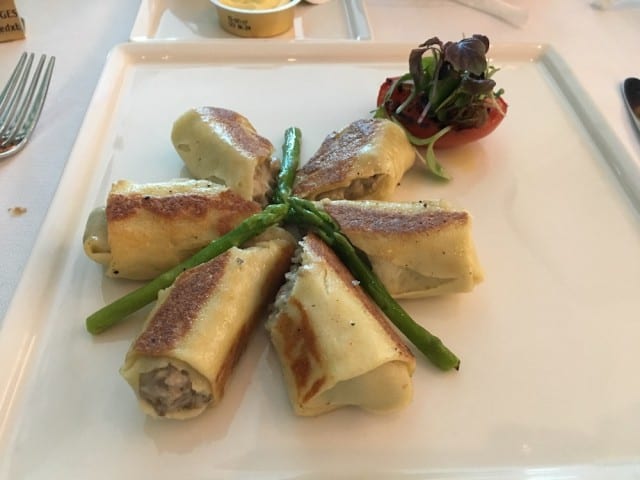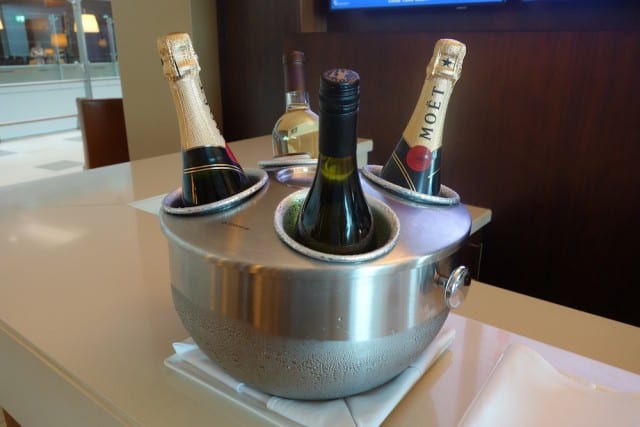 They were delicious. Then, off to the spa. Yes, Emirates has a spa for first and business class passengers. First Class passengers get one service complimentary, business class has to pay. I chose the back massage.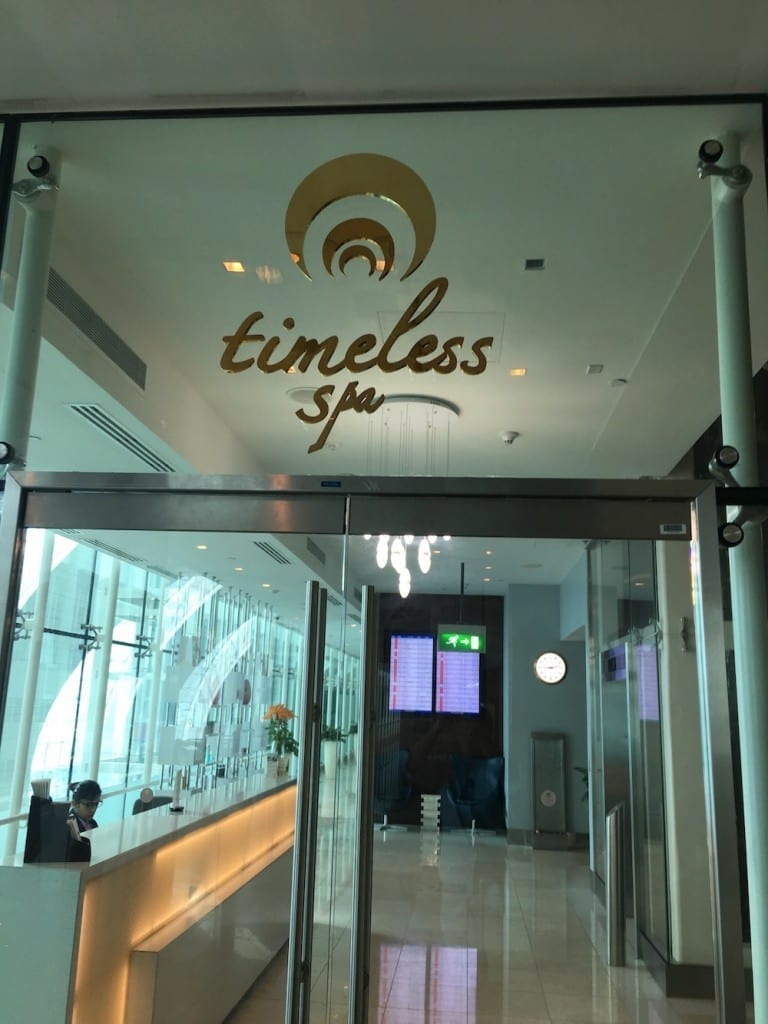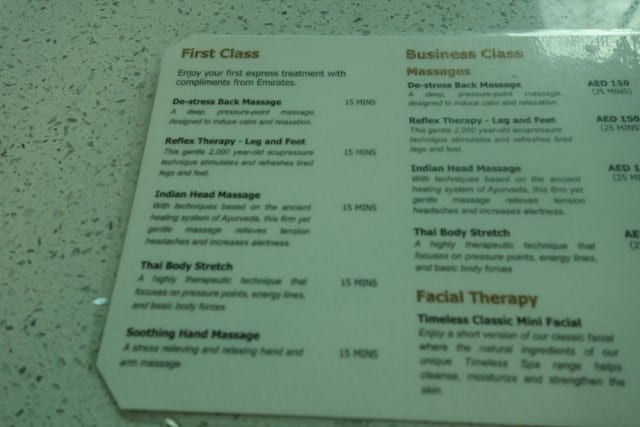 After my spa treatment, I walked around the lounge a bit. The lounge is so large because Emirates chose to have passengers board each gate directly from the lounge. So, you have individual gate areas every so often, which are complete with their own individual buffet areas, in case you didn't get enough food. I saw areas for cold cuts, as well as sushi. There was also bar service.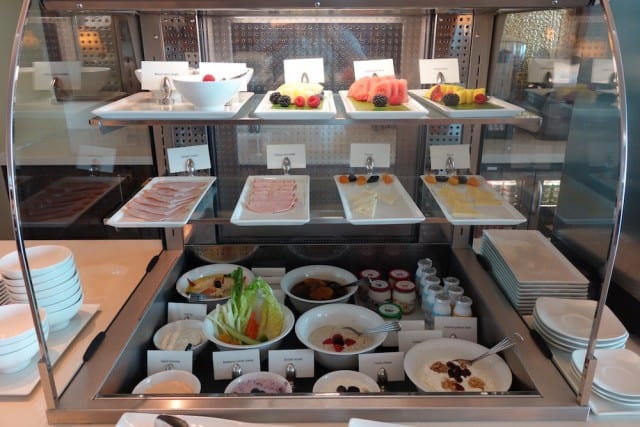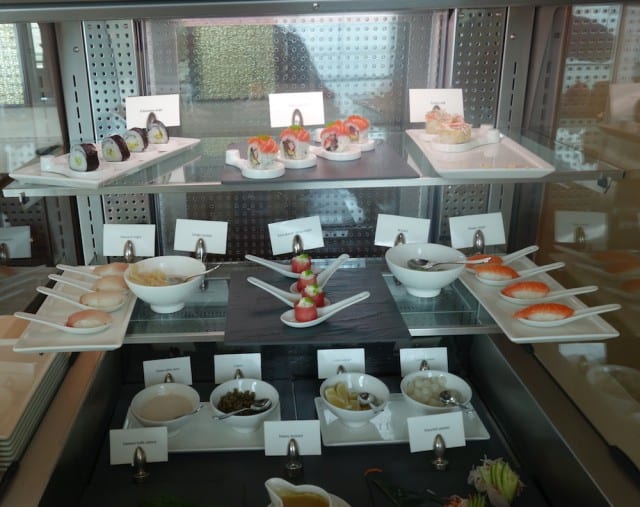 When it was time to board, I found my gate, and took an elevator straight down to my waiting A380. First class and business class passengers had their own boarding bridge.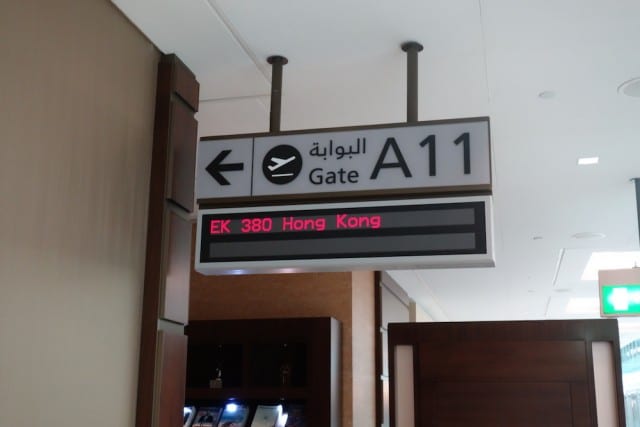 Business Class Lounge
When I flew back through Dubai on my way to Cairo, I was only in lowly business class. It, too, had its own floor of the terminal dedicated to the lounge, and offerings were honestly pretty similar.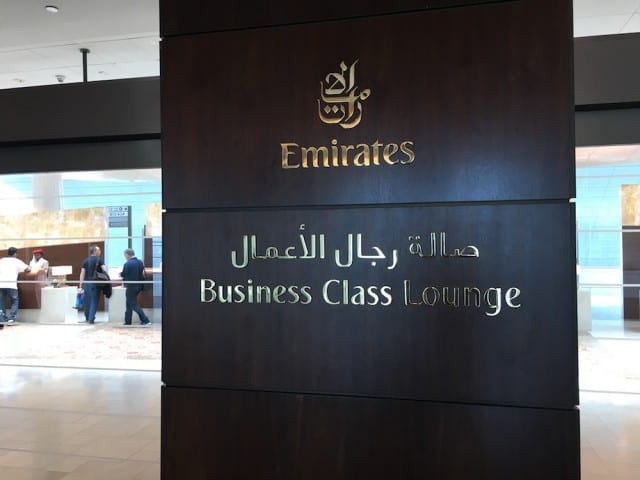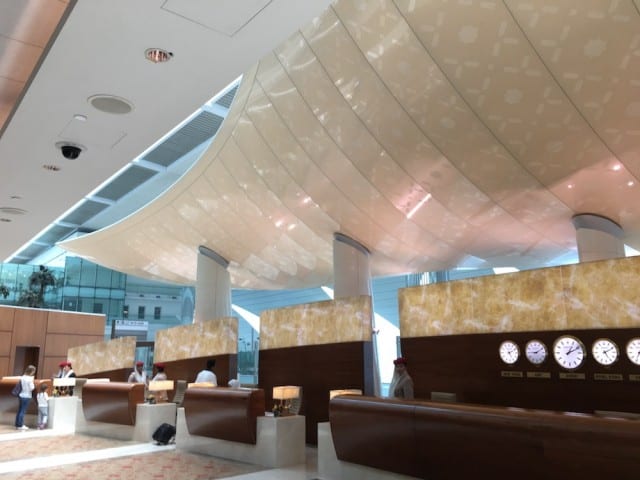 You had access to the spa, but you'd have to pay for treatments. There was still a cigar lounge with complimentary cigars. Shoe shines cost money but were still offered. There was even a restaurant area, but it was buffet only. There were still plenty of smaller buffet areas spread out through the lounge near individual gates. Of course, you still were able to board directly from the lounge to your plane.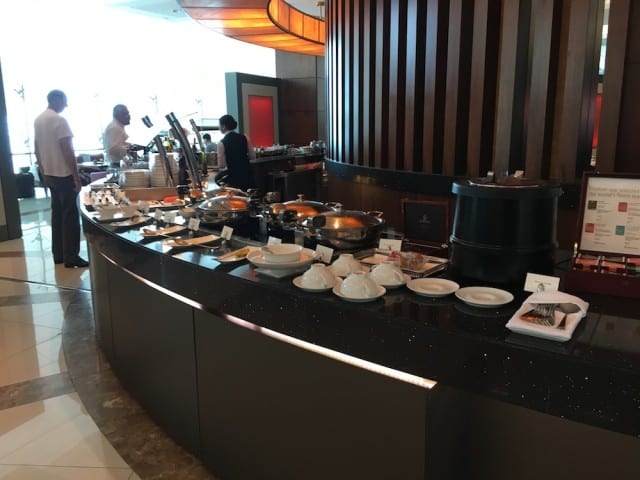 Other Airports
In other airports, Emirates often has its own lounges for its premium passengers. First and business class passengers don't have separation in these lounges. I was able to use the Emirates Lounges in Hong Kong and Dubai on my trip, and they were excellent. Both featured full buffets, with full bar service. I even had a chance to shower in the Hong Kong lounge, which was a nice perk to have after a hot day in the city. Cairo's airport, unfortunately, does not have a dedicated Emirates lounge, though you still get lounge access as a passenger.
In The Air
Flying Emirates was incredible, both in business and in first class. I had the chance to try out both Emirates' A380 and 777 products in business class, and first class on the A380.
First Class on the A380
After boarding directly from the lounge in Dubai, I was greeted by several flight attendants, who escorted me to my seat. First class on the A380 has 14 seats, but there were only two of us in the cabin today. With my co-passenger sleeping the entire time, it felt like my own private jet to Hong Kong!
There's no luggage storage bins above your head in first class, so the cabin felt very airy and nice. Instead, there's storage areas in your suite, or in my case, I just used another suite to hold my roll-aboard.
Both the A380 and the 777 have full suites for first class passengers. That means lie-flat beds, motorized doors, and luxurious amenities.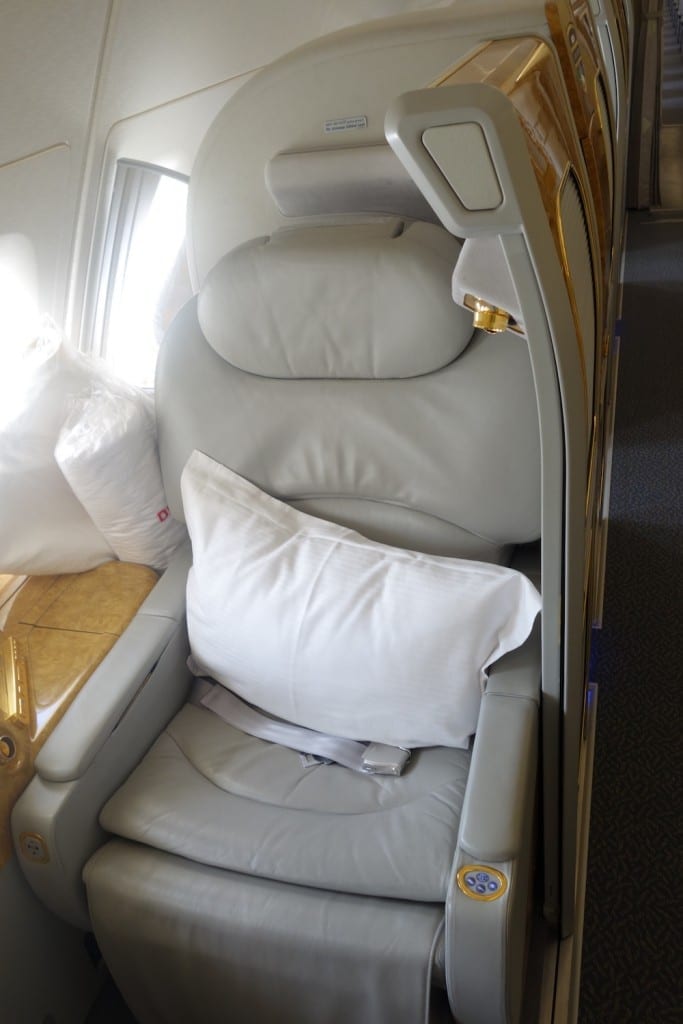 There's an absolutely gigantic television screen, with Emirates' ICE entertainment system. In all my travels, I haven't had a better in-flight selection of movies and television shows. There are literally thousands of options. Also notice the stylish lamp and fresh orchid.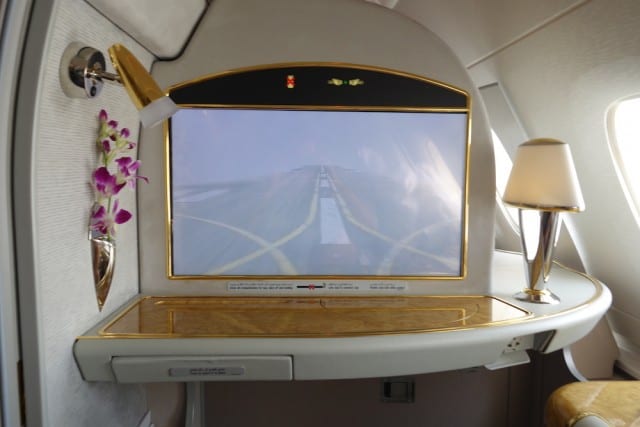 For instance, despite having access to your own crew of dedicated flight attendants, who can bring you a drink at any time, you have a mini bar at your seat. It's also motorized, which seems entirely excessive, but hey, why not?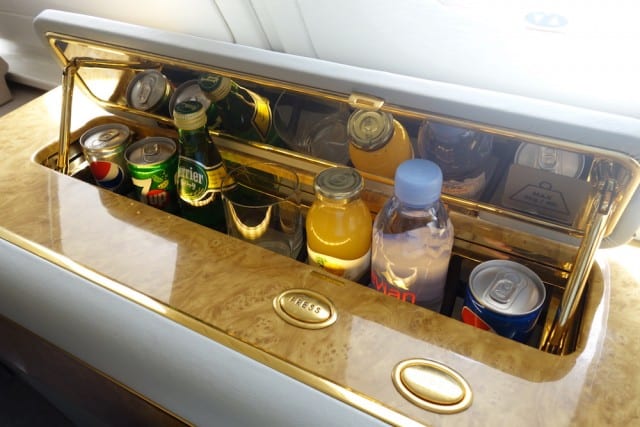 Also included is a snack basket. I actually really loved the hydration tablets to keep me refreshed while in the air.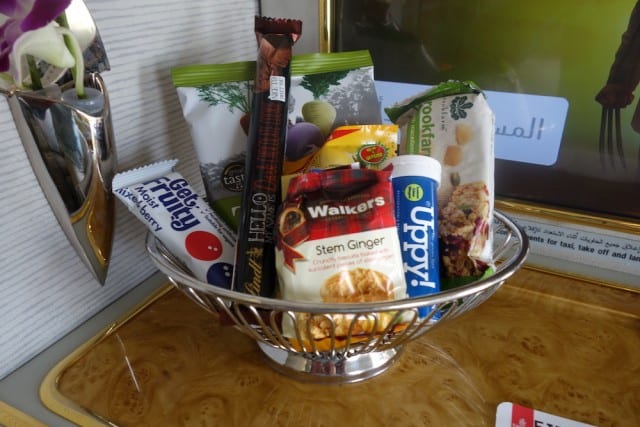 There is a makeup mirror, with some amenities to keep your face refreshed during travel.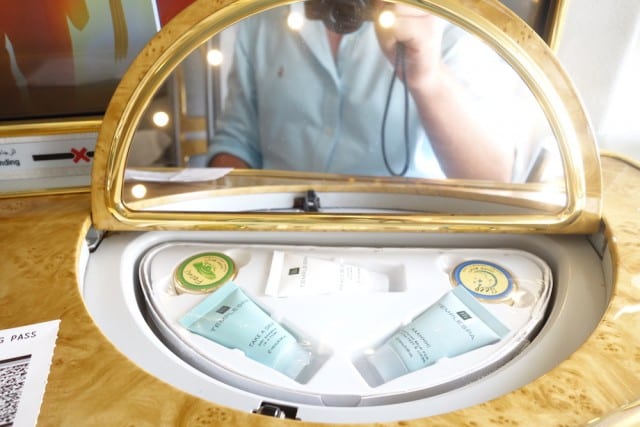 Also included is a writing kit, with pen, paper, and envelopes for writing notes to your friends about how much cooler you are than them at the moment.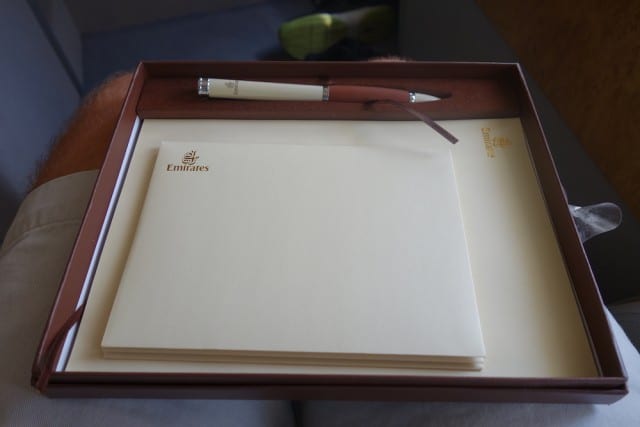 Before takeoff, my flight attendant poured me a glass of Dom Pérignon, which I loved. I may or may not have polished off a bottle to myself (hey, it was a long flight)!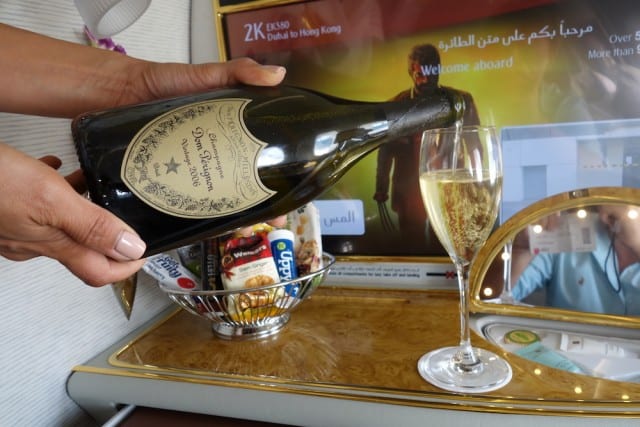 She also showed me where I could find my noise-cancelling headphones…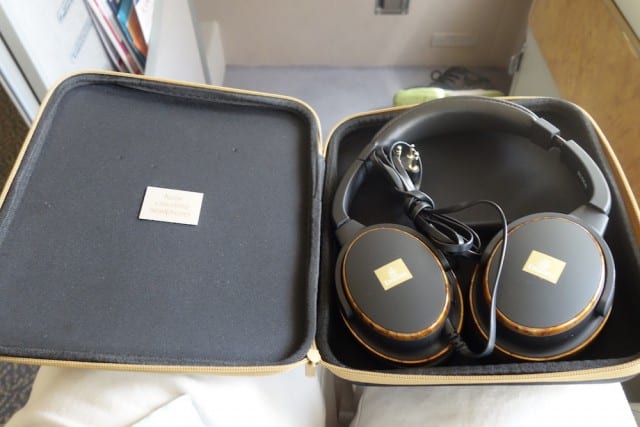 …as well as gave me my amenity kit. It's Bulgari-branded, and very stylish.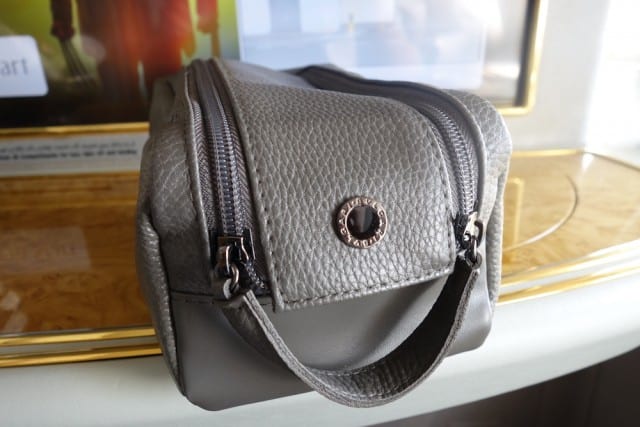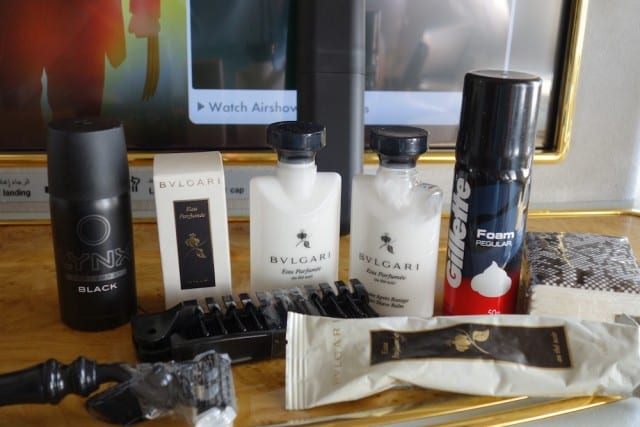 After take off, showtime began! Emirates First Class offers a multi-course meal for its first class passengers. After take off, I received another glass of Dom with some warmed nuts.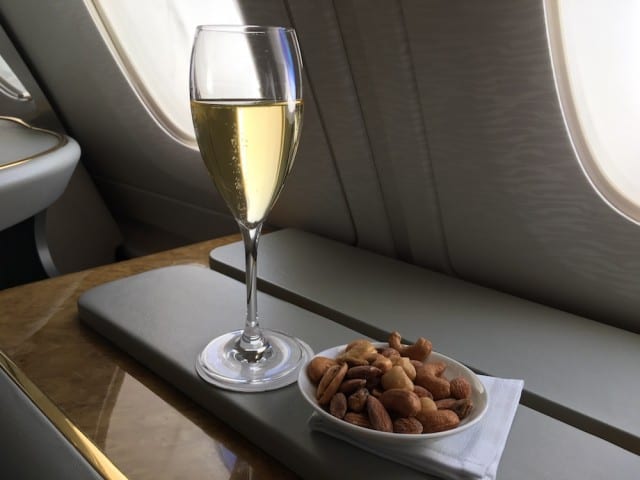 Then, my canapés arrived. They were sesame tun teppo gushi with togarashi spice, foie gras on gingerbread with smoked salt, and steamed chicken and mushroom siu mai. Oh, and I of course wanted a glass of my favorite scotch whisky, Johnnie Walker Blue.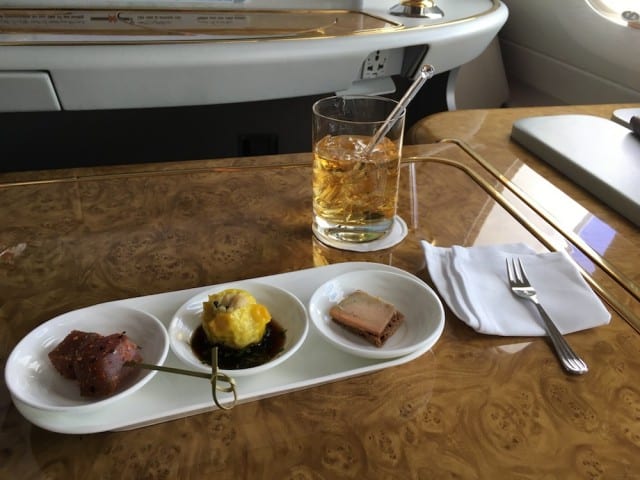 My table was then set for the big show.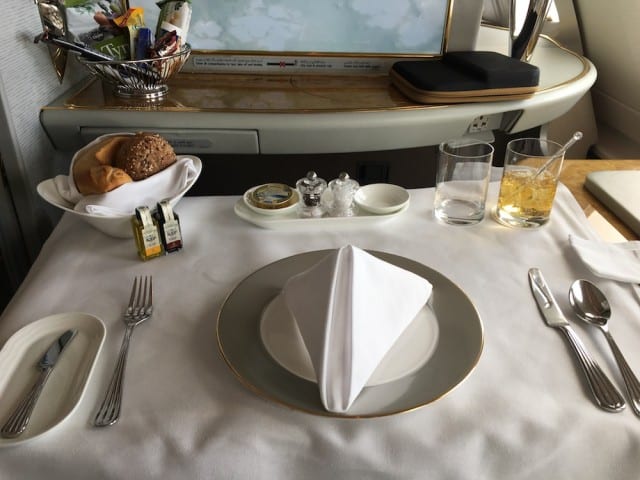 Next, a simple appetizer of caviar, with chopped onion, grated egg, sour cream and lemon, served with melba toast and blinis.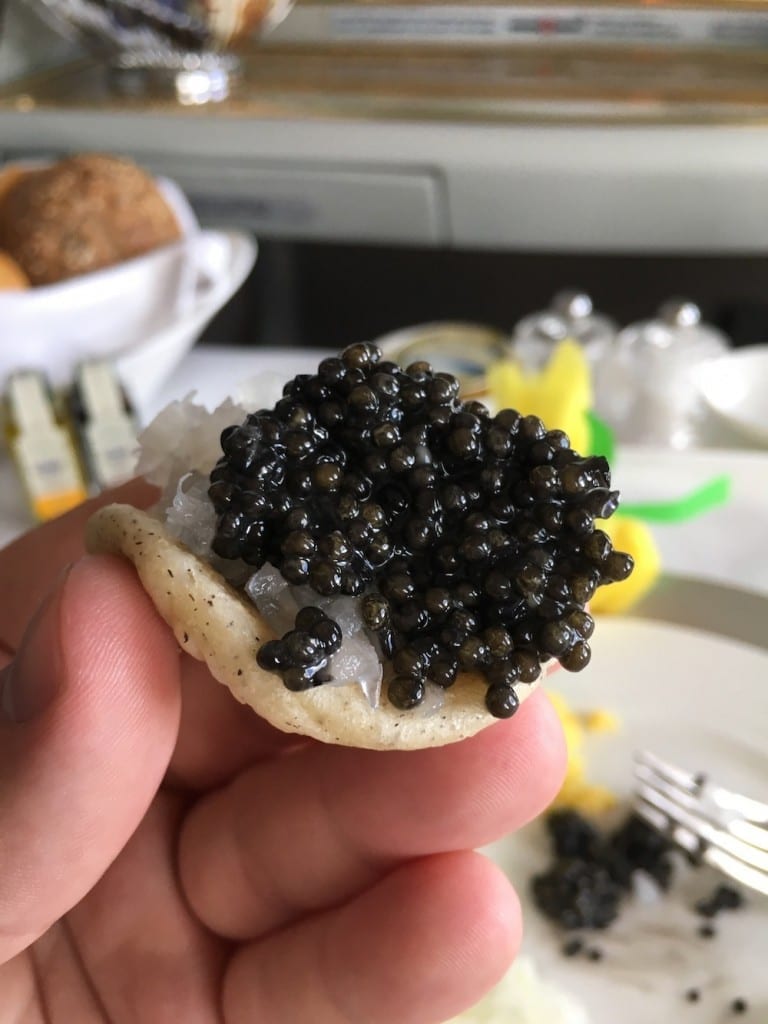 I was happy to not miss my daily caviar dose while traveling on Emirates.
And now, the main course, a grilled beef tenderloin which honestly could have been better.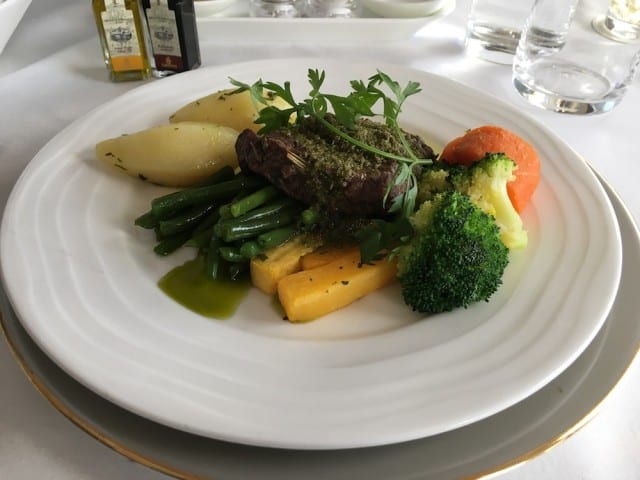 I skipped dessert, instead opting for a glass of Hennessy Paradis, which is $800 a bottle and the most expensive drink in the sky. It was served with some Godiva chocolates.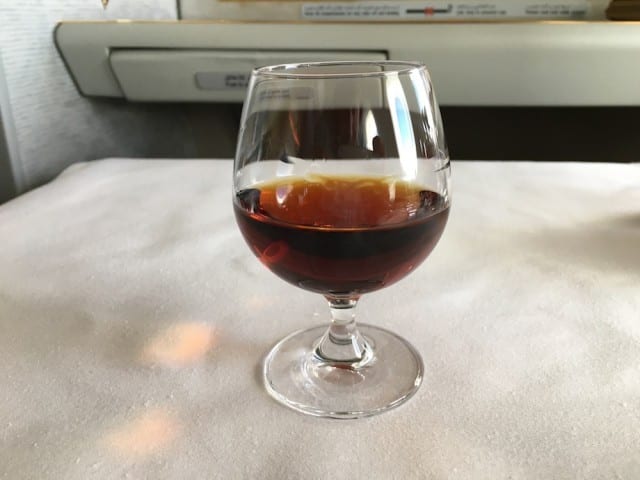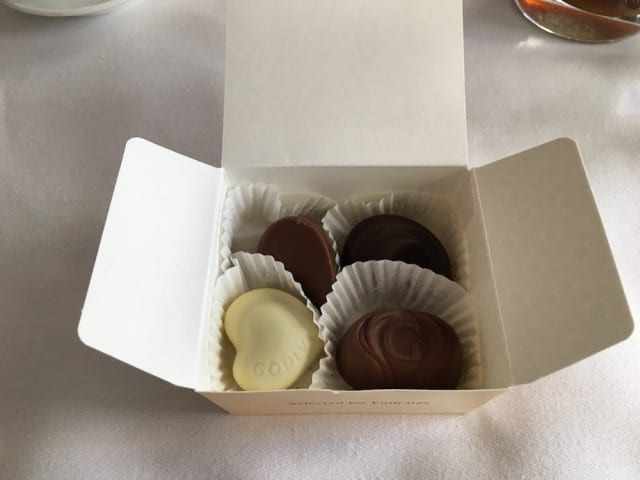 Then, I had my flight attendant make my bed for a nap. I've flown business class numerous times, but I've never slept as well on a plane as I did in this bed.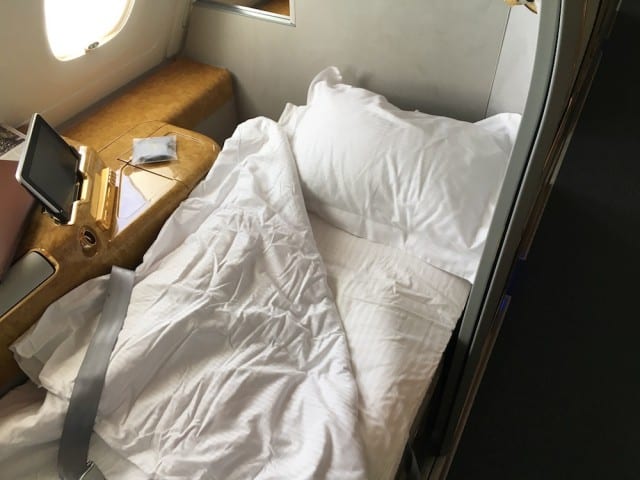 After awaking, I figured, hey, might as well take a shower! Yes, one of the big draws of Emirates' A380s are its shower suites. You get 5 minutes of water, but 30 minutes inside of the suite to get ready for bed, or get ready for your destination. The A380 has two of these for 14 passengers. Emirates even has a dedicated spa attendant, who cleans and refreshes the shower after each use.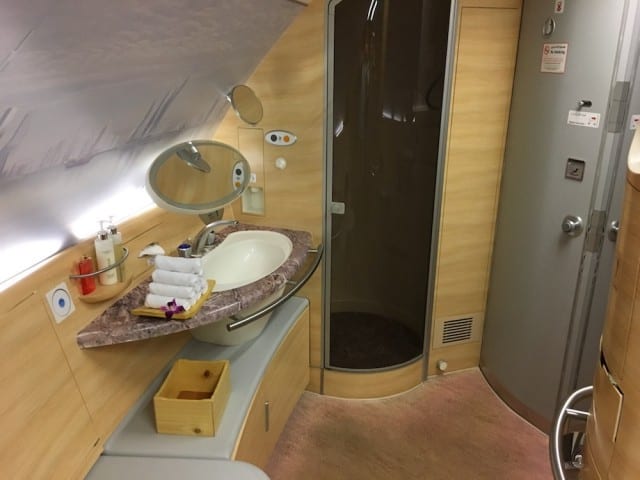 After I stepped out of the shower suite, the spa attendant had turned the first class bar area into a rejuvenation corner. I had a bit of tea.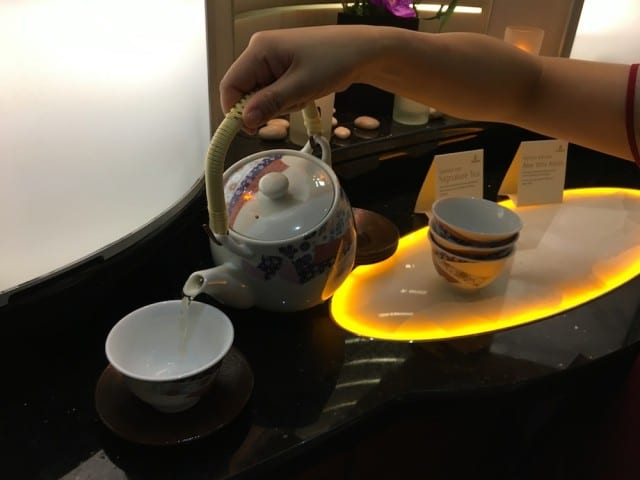 Then, when I returned to my seat, my bed had disappeared, and some fresh fruit and honey awaited me.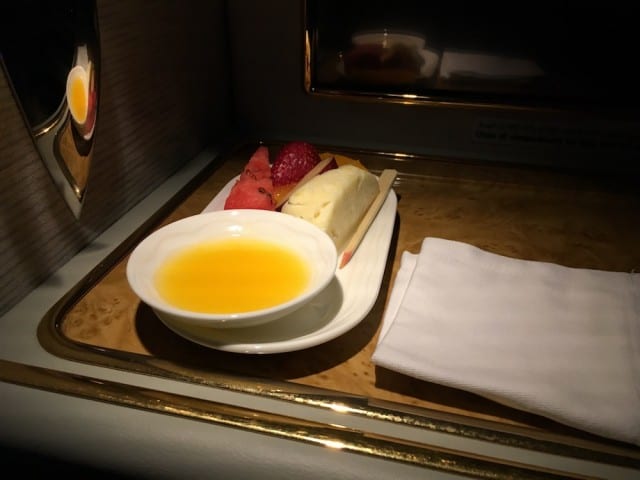 Later on, I ordered some more tea, and some Nasi Goreng.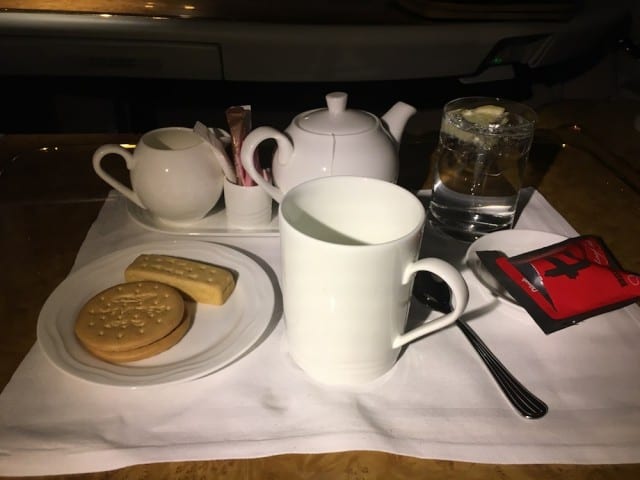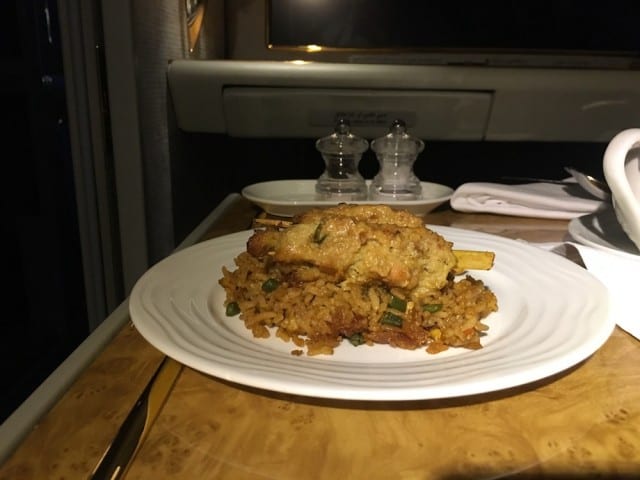 Overall, first class was absolutely worth it!
Business Class on the A380
While first class was decadent, business class on the A380 was no slouch! I had a shorter flight from Hong Kong to Bangkok to try out everything, but luckily there weren't many other passengers in the cabin.
My biggest excitement came from trying out the onboard bar. I elected not to try it out on my first class flight to enjoy the first class experience more. It features a seating area on either side of the bar, and has snacks and drinks for passengers to enjoy. A bartender will make you cocktails, just like on the ground.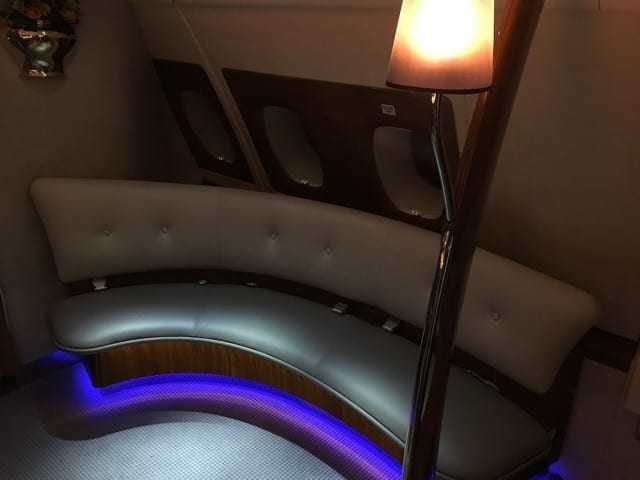 I even got a chance to bartend!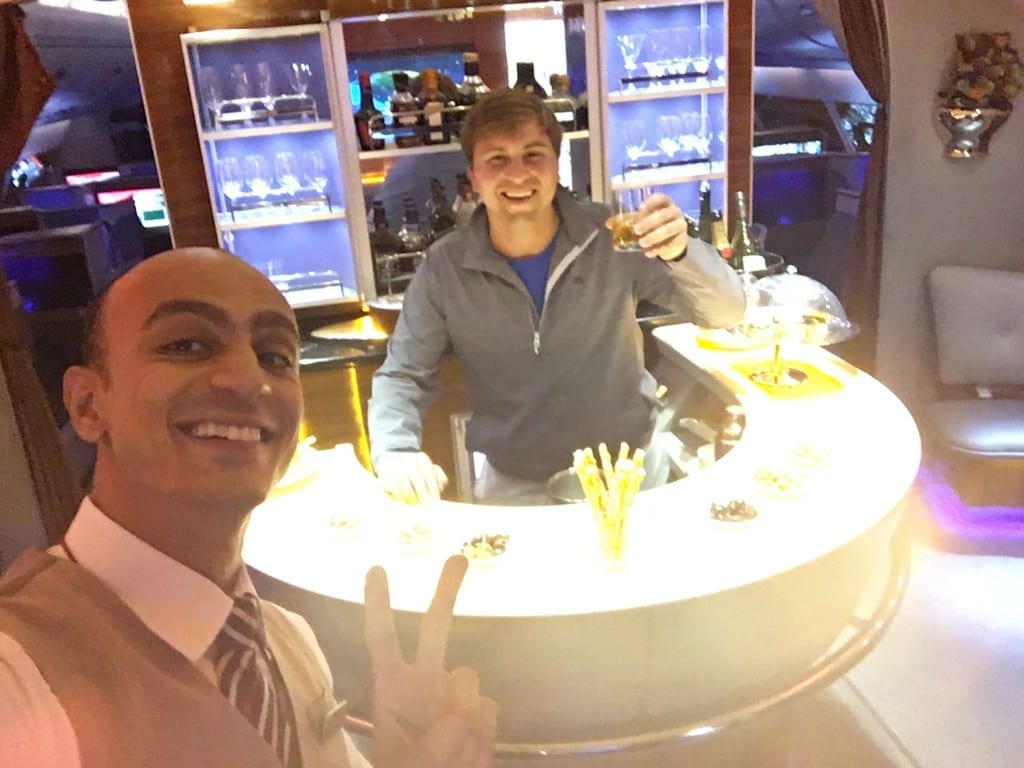 Back at my seat, you could see that it was almost as spacious as the first class seats, just without the doors.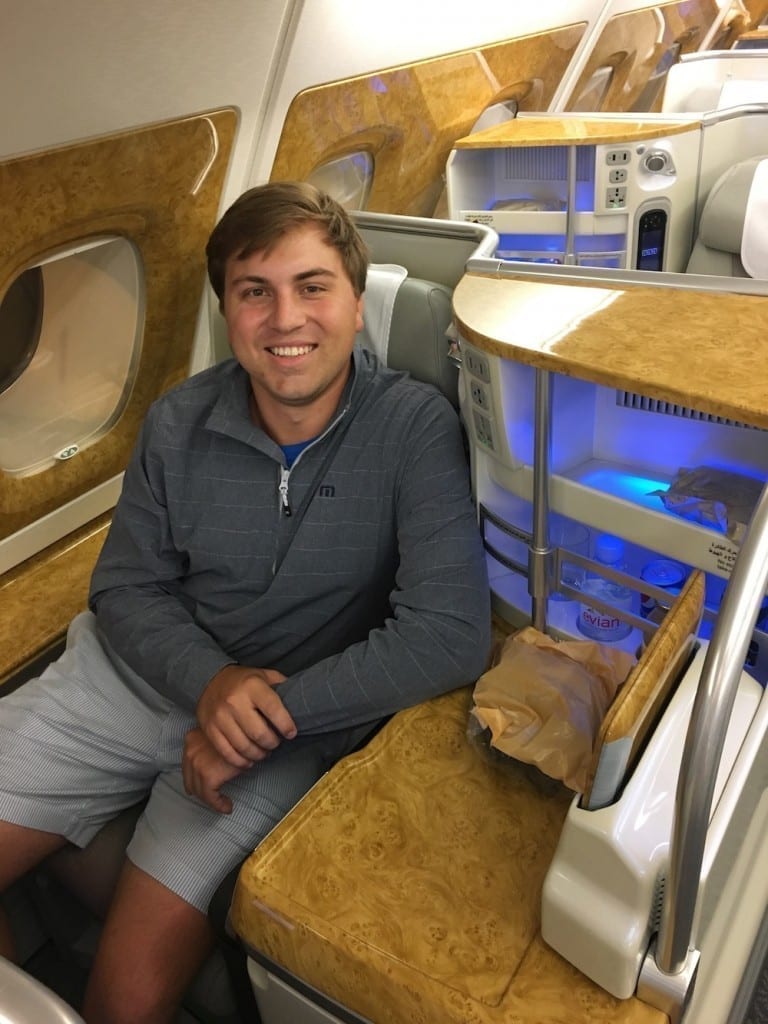 You still had your own mini bar, but smaller. Noise cancelling headphones, but less luxurious. And you still got a great meal, but served all at once.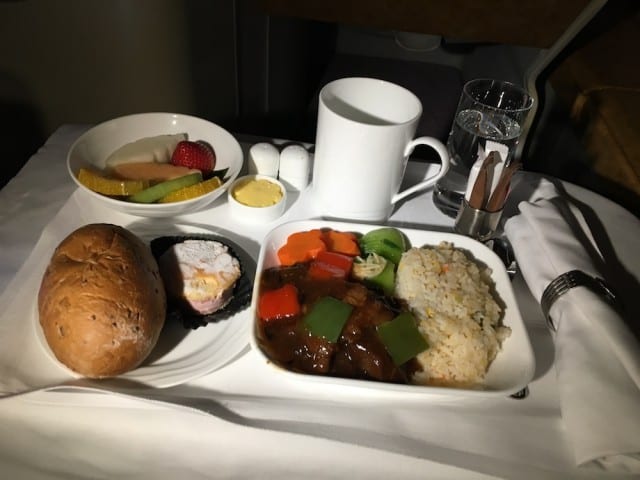 Business Class on the 777
Business class on the 777 is similar in ways to the A380, with one key difference- no bar. You also do not have a fully lie-flat bed, but is instead "angled flat." Food and drink service, though, are identical.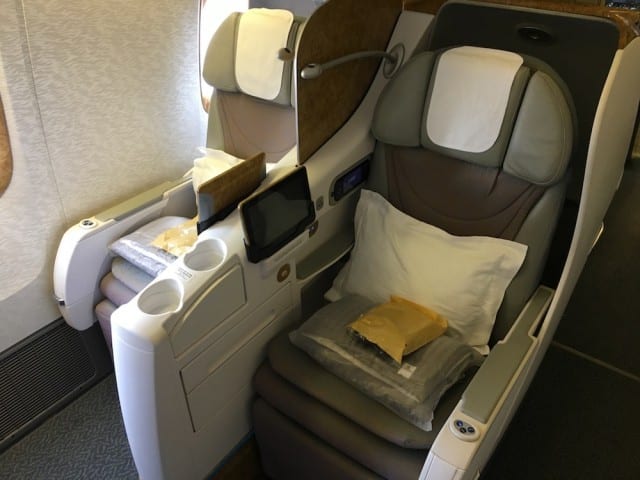 Overall
Overall, Emirates is an outstanding airline. I can't compare the experience to other first class products in the sky, since I haven't flown them (yet), but I was very pleased with my experience. I think that I would be content in business class on the A380 if flying again, but first class was certainly a worthy splurge to say I've taken a shower in the sky.