6 Things Every Frugal Couple Should do After Getting Engaged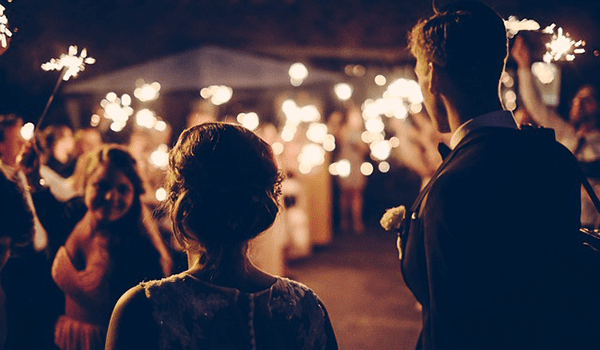 It seems like the snow brings out the romantic everyone, because it's officially engagement season. So many of my friends got engaged over these past two holiday weekends, and I just love looking at the giddy pictures they're posting on Facebook, because I know just how they feel. After nine years together, my husband and I tied the knot in October!
There were a few reasons for we waited so long to get married -- we were quite young when we met and neither of us were in a rush, but we were also on a tight budget after paying for college and his PhD program. Even with some help from our families, we still had to be very smart with our money.
During the wedding planning process, there were a lot of hard decisions and a lot of There "we just can't have this" moments. But in the end, our wedding was an amazing day, and probably the only time in our entire lives that all our friends and family will be in the same room together. Not a single person noticed that I didn't have the chairs I wanted or that I decided not to pay for a photographer for the entire reception.
So trust me: I totally understand the dual excitement and dread of being engaged and wondering how the heck you're gonna pay for everything! And I've got a few tips for the next steps you should take if you're trying to plan on a budget.
Pick three wedding must-haves.
Both you and your fiancé should grab a pen and paper and each pick three wedding-related things that you don't want to go without. These are the things you can allow yourself to spend a little more on if necessary. For example, my husband was picky about the booze we offered and I was picky about the location, so we knew we'd need to set aside extra money to get that hometown venue and to serve the drinks on my hub's list.
Once you've established your main priorities (it's even easier if you both have matching items!), you can start working on your budget with your must-haves in mind. As long as you're OK with spending less or cutting some expenses out totally, you can have the things that truly matter to you without breaking the bank.
Set a budget.
This might come as a shock, but if you immediately set a "reasonable" budget the moment you get engaged, you'll end up blowing way past it by the time you're walking down the aisle. The thing is, it's really hard to think of every single thing you're going to be spending money on when you first start planning a wedding.
So do your homework. You can find budget checklists online, which are a great place to start. And if you're crazy frugal like me, Excel spreadsheets will soon become your best friend. You can either give each broad category of your wedding its own budget (think: ceremony, reception, attire, transportation) or you can get itemized right from the start. I chose to do the latter, and it helped me feel more in control of my spending from the start. Knowing I'd already budgeted for smaller items like the cake plate and the aisle runner meant fewer surprises on my post-wedding credit card bill.
Once you're comfortable with your list, it's time to start that math. Allocate funds from your total budget to certain items on the list and just start tweaking until you've got a rough budget set up. I highly recommend budgeting out parts of your wedding before you start booking any venues or vendors. Have a budget for each piece of the day, rather than focusing on one big number, and stick to it for everything you book or buy.
Pick a month (and two backup months).
If you already have a non-negotiable exact date for your wedding, you're going to have a difficult time booking a venue. We found that going into it with a few different options was a great way to negotiate the price down. Booking a winter wedding can save you big time, because many wedding venues and vendors offer discounts during the winter. Do a little research online for local venues to see if they have off-season pricing December through March, then ask yourself if you'd be okay with having snow on your big day. Before you dismiss the idea, go look at Pinterest. You might change your mind!
Create a rough draft of your guest list.
If you want to stay inside your budget, you'll need a rough estimate of how many people will be attending. Not only do some venues have guest limits due to fire codes, some also charge per head and you won't get a true sense of your wedding's cost without an idea of how many people will be there. Always estimate high. We told our venue 150, although we thought it would be more like 125, but with that extra per-head left over at the end, we didn't go as far over budget as expected.
Start researching venues, pick one, and book it ASAP.
We were engaged in July and started looking at venues in August. We found one we really liked and asked about availability and the earliest date was the following October. This was a barn venue, in rural Michigan, and it was already booked a year out. I was blown away that all the dates had been filled already, but talking with friends I found out that this was common. If you have your heart set on a certain type of venue, please make this one of the first things you do. You'll want to get your deposit in as quickly as possible as well. As I mention in the next step with photographers, venue pricing can change at any moment. It happens the most in January to start the new year, so jump on the quoted price as quickly as you can.
Venue tips:
Ask about discounts for Friday weddings or weekday weddings.
Ask if they have preferred vendors or caterers for the venue and if a discount is provided for booking with them.
If they do not have preferred vendors, ask if you can hire vendors on your own or if they need licensing (your aunt that offered to cook for your wedding may save you thousands, but you have to be sure a home cook is allowed to provide the food).
See if you are able to have the ceremony and reception in the same spot and if there is an additional fee.
Choose a venue that fits the theme of your wedding. We chose a barn because there would be no need for extra decor to give the 'rustic' vibe, it was already rustic!
Book your photographer. NOW.
I put this on the list because while planning I realized that photographers truly know their worth -- as they should! Once they start getting popular and building their portfolio, their prices go up fast. Some that I was looking at went up thousands of dollars over the course of a few months. I was able to snag a wonderful photographer through a recommendation from a friend and she was the first person I booked for our wedding. I'd seen her portfolio and getting her for my budget felt like a miracle. Looking at her rates now, they've gone up nearly $1,000. I was married less than three months ago! If you find the person you like, scoop them up quickly.
Once booked, talk to them about their schedule options. I was able to pay a little less for six hours of coverage, rather than nine or 10. As the big day got closer, I didn't feel like six hours was enough (and I had some wiggle room in my budget), so I asked if I could add an hour to my package and she worked with me on it. Talk to them in your first meeting about scheduling, changes to the contract, etc. and then if you feel like they're the right fit, book immediately.
A few more resources for the budget bride that I found really helpful:
WeddingWire.com - A great, free planning tool for your budget, checklist, style inspiration and everything between.
Azazie.com - Wedding gowns from $200 and bridesmaids dresses from $99.
PreOwnedWeddingDresses.com - The name says it all! Some dresses have been worn once, or not even at all.
Craigslist and Facebook - There are local groups of newlywed brides selling (or giving away!) their wedding decor.
A final note: A wedding is very personal. These tips will not work for everyone and ultimately what you decided to do after getting engaged is up to you and your new fiancé! Keep that in mind throughout the planning process. It's about the two of you and what you can afford and what you want. Cut things you find frivolous and don't listen to opinions that shouldn't matter to you. There will always be someone who can find something to dislike about your wedding (because it's your style, not theirs!), but are they really the ones that matter on your big day?
What are your best tips for frugal wedding planning? Let us know in the comments!