The Top 15 Black Friday Ads We're Looking Forward To in 2018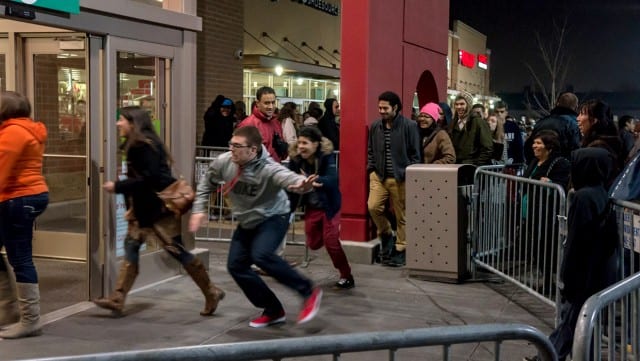 We're so excited for the imminent arrival of the 2018 Black Friday ads and the sales that follow that we've decided to rank our favorite ads, counting down from #15 to #1.
15 Top Black Friday Ads to Watch

The rest of the world may be waiting on pins and needles for Walmart, but those crafty souls who actually use pins and needles on the regular are really waiting to get their hands on the JOANN Black Friday Ad. Last year's highlights included Black Friday deals like 70% off flannel and fleece, 40% off sewing machines, 50% off any one regular-priced item, and an ultra-rare 25% off coupon that applied to both regular- and most sale-priced items.

While it historically hasn't been the most exciting sale, the Sears Black Friday ad has been known to serve up a deal on a washer/dryer combo that often earns a spot on our annual list of the best Black Friday deals. Despite their recent bankruptcy news, Sears has vowed to remain open through the holidays, so we're interested to see how that may affect the content of their ad this year.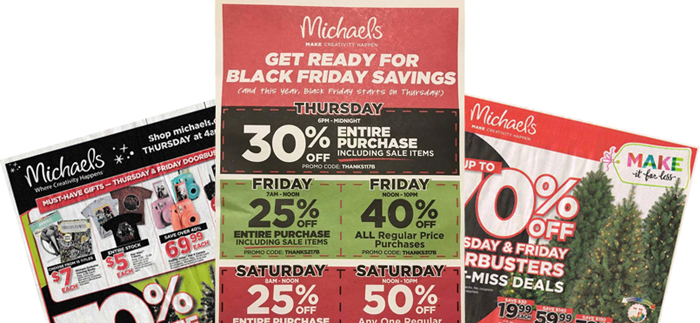 If you're a fan of Michaels coupons, then you're probably a superfan of the Michaels Black Friday ad, which is so self-aware that they put all of their best coupons right on the cover every year. Last year, they took 30% off everything including sale items on Thursday, 40% off all regular-price purchases on Friday, 25% off everything include sale items on Friday and Saturday... basically, this is the Michaels sale to shop.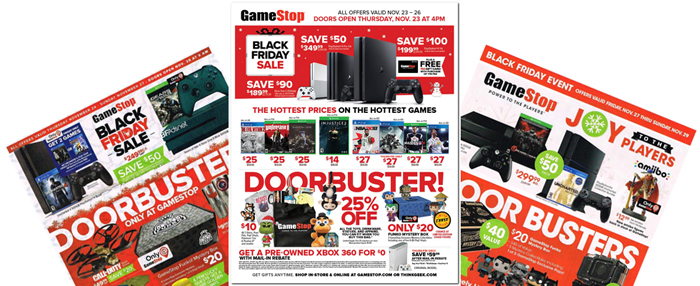 Gamers stalk the internet pretty hard for the GameStop Black Friday ad, and we can't blame them. Even though most of the gaming bundles we see here are pretty evenly matched with big box players like Best Buy, they're often paired with gift cards that can be used to load up on games for your sweet new console. Last year, the cover featured a pre-owned Xbox 360 that ended up being free with a mail-in rebate. That's free, as in $0 free. Amazing.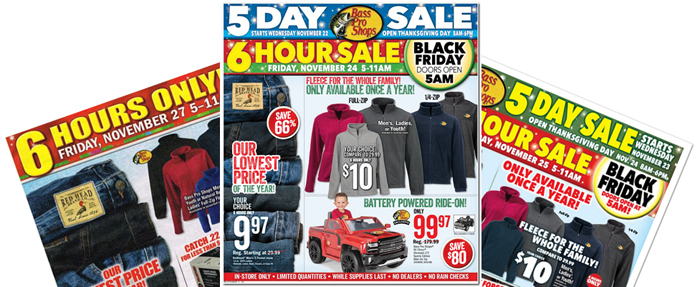 Our reasons for loving the Bass Pro Shops Black Friday sale are largely sentimental. First of all, Wonderland is a really cool place to see Santa, do free crafts and games, and get the kids into the the holiday spirit. Second, they've been known to pass out hot chocolate to Black Friday shoppers lined up outside before the store opens, which is frankly just awesome. On the strictly practical side, the Bass Pro Shops Black Friday ad is good for some solid discounts on denim, fleece jackets, work boots, and ALLLLLL the camo gear.

It's really, really hard to overlook a deal like 40% off Anastasia Beverly Hills. Or $10 Redken shampoos. Or $10 mascaras. If you're a card carrying member of the beauty cult, then the ULTA Black Friday ad is not to be missed. Ever.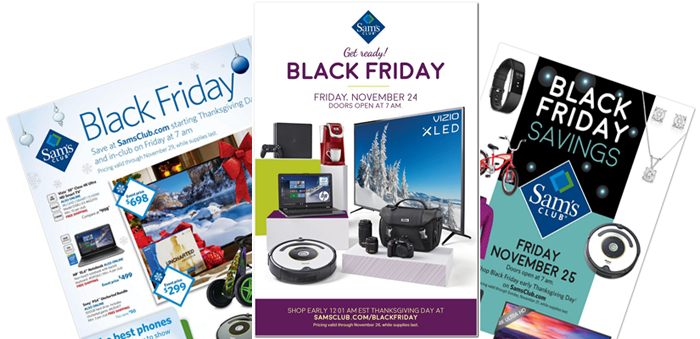 Okay, so it's members only. But look carefully at the Sam's Club Black Friday ad and you'll find deals that justify shelling out for a membership. While the prices you'll find on electronics are definitely good, we also liked the $10 Eddie Bauer flannel shirts and $20 lightweight down jackets that we saw last year, and their deals on new iPhones are nearly always worth the price of admission.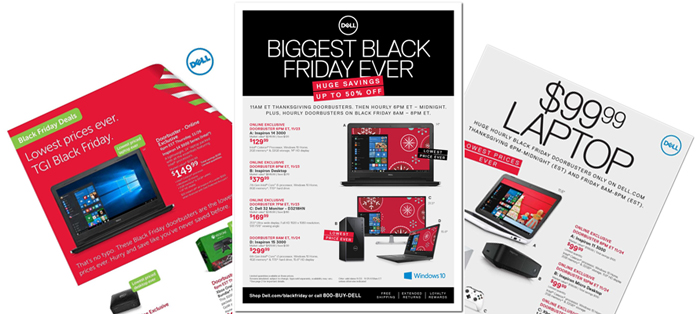 If you've got a new TV on your list this year, then you can't afford to miss the Dell Black Friday ad. As Brad's Deals tech editor David Dritsas writes, "For many years now, Dell has posted a weekly HDTV deal that not only often matches the best prices online at the time it is published, but also includes a gift card we've seen go as high as $500. For TVs in the 50" range, the cards are usually around $150 to $200. This is especially handy around the holidays, when you may be in the market for more than just one tech deal."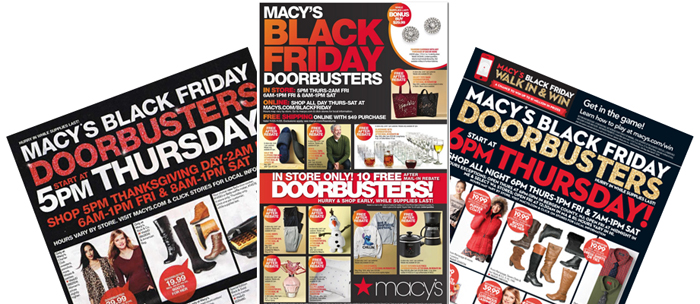 There's plenty to love in the Macy's Black Friday ad, but our go-tos are the highly giftable (or keepable) $40 cashmere sweaters, $10 beauty gift sets, and incredibly affordable kitchen electrics.

We totally miss the collectible Disney snowglobes, but the in-store coupon giveaways ranging from $10 off $10 to $500 off $500 go a long way towards making it up to us. Last year's $20 air fryer was a big winner that solidified the JCPenney Black Friday ad's place amongst our favorites. We also appreciate that they've been opening their doors on Thursday afternoon lately, giving shoppers plenty of time to snag the best doorbusters before heading home for Thanksgiving dinner.

Okay, so Amazon doesn't exactly publish a Black Friday ad in the traditional glossy newspaper insert sense. However, they have a history of issuing a press release with a long laundry list of sample deals so we have an idea of what to expect. The somewhat complicated sale format is not our favorite, but they run one of the largest Black Friday sales – possibly the only one to truly challenge Walmart – and there are tons of great deals to be found if you're patient enough.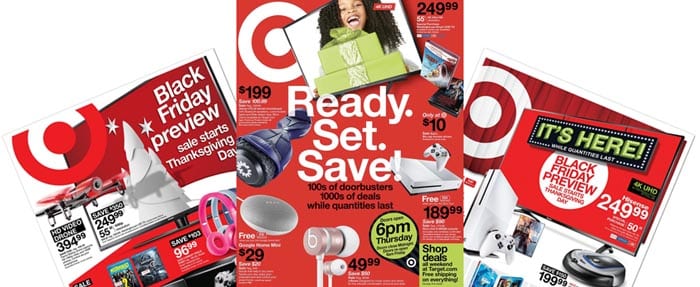 While Target's Black Friday sale will be largely on par with all of its fellow big box retailers, using a REDcard to get an extra 5% off is a killer competitive advantage. Look for electronics and gaming bundles that are packaged with Target gift cards.

There's a reason why Best Buy attracts campers – actual tent-pitching campers – weeks ahead of their Black Friday sale. Simply put, the TV doorbusters are best of class, even if you'll need to be in line early to get one. The rest of the ad is pretty great, too, always turning up with one of our favorite deals of the year on Macbooks, plenty of audio equipment, blu-ray movies, and tons of accessories.

Ahh yes, for us as online deal hunters, Kohl's has always the sleeper pick – though we think that the cat is out of the bag at this point. The key to unlocking the magic of the Kohl's Black Friday sale is to stack coupons onto the sale prices, then collect $15 Kohl's Cash for every $50 spent, which is better than the $10 per $50 that we normally see in Kohl's Cash promotions. It all adds up to some of the best savings online on everything from housewares to apparel. This year, Kohl's is doubling down on toys, hoping to capitalize on the void left by Toys R Us, so this should be even more fun than usual!

Look, if you're shocked by this pick, where have you been hiding? There is simply no other choice. The Walmart Black Friday ad is the undisputed king of all Black Friday ads, the one that shoppers want more than any other. Why is it so popular? The answer is pretty simple: There's a Walmart in every little town dotting the American landscape. And when Walmart is the only game in town, and the nearest Target is an hour away by car, well, that's where you go. It really is that simple.
Sheer market saturation is just one aspect of Walmart's wild popularity on Black Friday, however, because the sales are legitimately good. Walmart does compete in small town America with online retailers like Amazon, with both stores aggressively price-matching each other online. So you'll still find great TV doorbusters, excellent deals on Apple (often bundled with gift cards), one of the best toy selections around, and apparel deals right on down to kids pajamas for under $5. Basically, everything you could possibly want to find a deal on will find its way into the Walmart Black Friday sale, making it worth a stop even when you have other shopping alternatives to choose from.