Flying and Surviving American Airlines Economy As A Family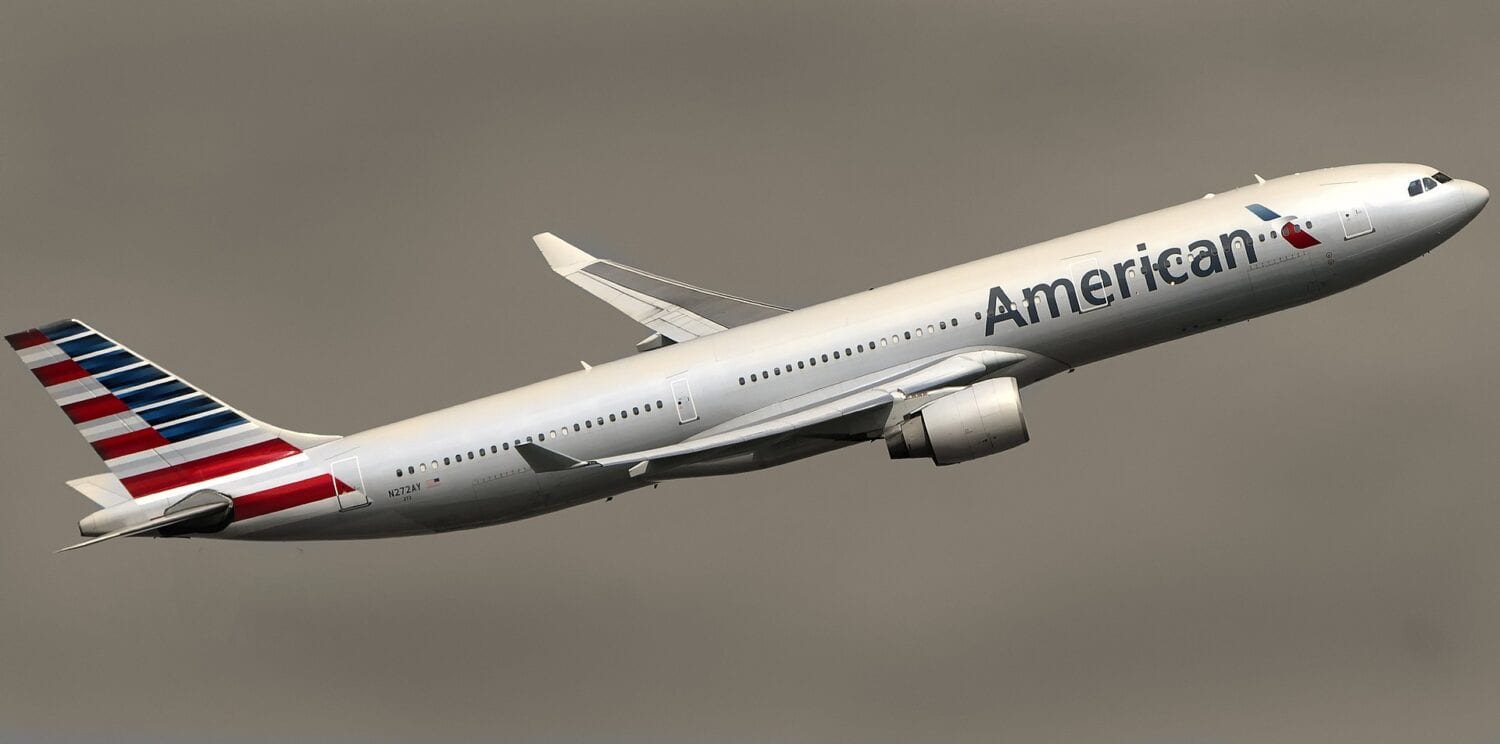 Editorial Disclaimer: Brad's Deals has partnered with CardRatings for our coverage of credit card products. Brad's Deals and CardRatings may receive a commission from card issuers. This content is not provided or commissioned by the issuer. Opinions expressed here are author's alone, not those of the issuer, and have not been reviewed, approved or otherwise endorsed by the issuer. This site may be compensated through the issuer's affiliate program. These user responses are not provided or commissioned by the bank advertiser. User responses have not been reviewed, approved or otherwise endorsed by the bank advertiser. It is not the bank advertiser's responsibility to ensure all posts and/or questions are answered. You can read our full advertiser disclosure:
click here
I love flying, that's no surprise. And while I try to use my points and miles to fly in business or first class for long-haul flights, I'm often in economy on domestic legs. My preferred airline is American Airlines, being a Phoenix-based hub, so I wanted to put together a handy guide for traveling families that are (let's face it) stuck in economy.
What Are The Best Seats in American Economy For Families?
First, it's important to note that many seats are not free on American Airlines when you fly economy. I'll try to detail each and every situation that you may find yourself or your family in when it comes to flying on American.
Economy Seating Options When You Fly A Basic Economy Fare on American
American Airlines, like many of its competitors, began selling Basic Economy fares a number of years ago. Basic Economy is sold as the cheapest fare on a particular flight that American can provide. Seats, checked bags, and changes all have a fee associated with them. As an elite, you won't be eligible for upgrades but will be able to check bags and get access to early boarding, based on your elite status level.
American now lets fliers pay for seats at the time of booking, rather than 7 days in advance of your flight for North American itineraries. So, it is possible for you or your family to select specific seats, but it will cost you. Families may be able to get assigned together, based on the following official policy:
If you're a family traveling with children under 15 and do not already have seats assigned, our system will search for seats together automatically before the day of departure. We'll try our best to keep you together, but if seats are limited, we'll assign seats so children under 15 are next to at least 1 adult.
When you pay for a seat assignment while flying Basic Economy, your seat won't be any different or special compared to other seats on the plane. It'll just be a paid seat assignment.
Finally, I'll say that it may be worthwhile to wait to select your seats when flying Basic Economy on American Airlines. You may score an aisle or window seat, or an unsold Main Cabin Extra seat, instead of a middle seat at check-in. There may also be a marginal difference between the fare cost of a Basic Economy fare and Main Cabin fare. Your experience may vary.
Economy Seating Options When You Fly A Main Cabin Fare on American
If you've elected for main cabin fare on your American Airlines flight, either because there was no Basic Economy fare on sale or you chose the fare over Basic Economy, you may be able to select some seats for free at booking. I say "may" because depending on when you book, free seating may be spoken for. If that's the case, and you don't want to pay to select a seat, wait until check-in, where more free options will be available.
I ran a dummy booking to pull up a seating chart for a flight from Phoenix to Dallas this summer.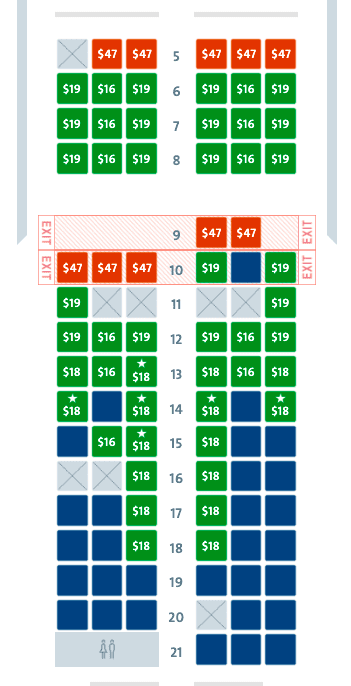 The blue seats are standard seats, which are up for grabs for any non-elite fliers. That means that if you're paying for main cabin, you'll be able to select any of the aisle, window, or middle seats for yourself or your family for free.
The next color you'll notice are the green seats with prices listed on the seat. These are "Preferred Seats." A Preferred Seat is no different in terms of legroom or passenger experience. It's simply a seat closer to the front of the cabin, or an aisle or window seat in a better location on the plane. Prices vary based on your seat chosen and route. For example, just look at the green-seat prices for this flight from Dallas to London: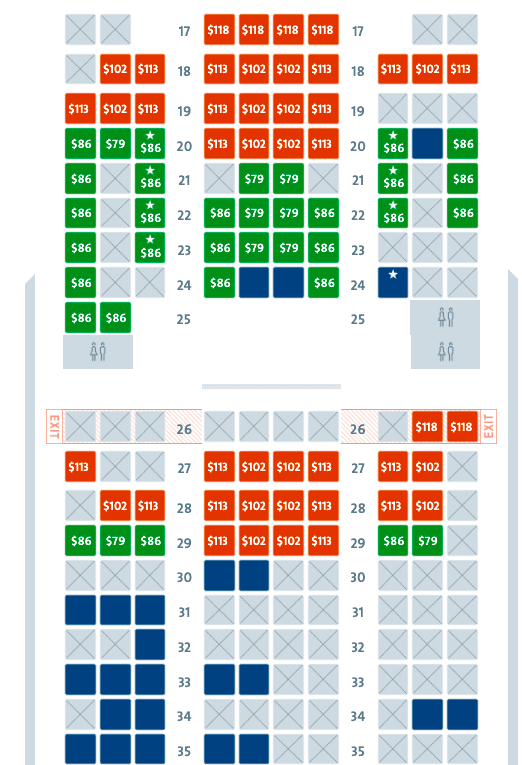 Middle seat prices jump from as low as $16 on the domestic flight to $79 on the international flight!
You may also notice that some seats have stars on them. Those are reserved for elites. AAdvantage Gold, Platinum, Platinum Pros, Executive Platinum, and Concierge Key members can select Preferred Seats at booking for free for themselves and up to 8 (!) companions. So, if you're a traveling family, it saves a lot of money if even one member of the family has status. Some corporate travelers with AA contracts also can select these seats for free.
The final color you'll notice are the reddish-orange seats. Those are "Main Cabin Extra" seats, which offer more benefits and more legroom for fliers. Note, this isn't "Premium Economy," which is treated as a separate fare class. Rather, these are seats anyone can purchase, or if you're an elite member, be assigned for free.
The "extra" legroom you get varies wildly. You could get 33 inches, which isn't much more than a regular seat, or over 43 inches in some seats on the Airbus A321neo. You'll also get boarding in Group 5, which is right before the rest of the economy cabin. That's important for bin space, which Main Cabin Extra does have some reserved for the seats, but it's not strictly enforced in my experience.
Finally, and most importantly, Main Cabin Extra features complimentary beer, wine, and spirits for your flight. So, depending on the route, it may make sense to spread your legs a bit, and knock a few back before arriving at your destination.
Main Cabin Extra seats are free at booking for Platinum, Platinum Pro, Executive Platinum, and Concierge Key passengers, for them and up to 8 passengers on their same reservation. Gold members can select Main Cabin Extra seats at check-in (24 hours from departure) for free as well. As noted above, Basic Economy ticket holders with elite status won't get this benefit.
Which Aircraft Have the Best Economy Seats?
Not every seat is created equal, and with over 29 variations of their aircraft, it's hard to tell which seat is best on the plane. After all, you could be paying for what you think is a window seat, but no window is there when you board. That's why I recommend using SeatGuru, which can help you select which seats are best on your flight. Just enter your airline and flight number, as well as your date of travel, and the site will do the rest.
Priority Boarding in American Economy
If you're traveling with young kids, or simply want to be on the plane first, priority boarding matters. Regrettably, American's boarding system is bonkers, with over 10 groups. You'll board the plane in this order:
ConciergeKey
Group 1: First Class/Active Duty with Military ID
Group 2: Executive Platinum/oneworld Emerald/Business Class on a 3-Cabin Plane
Group 3: Platinum Pro/Platinum/oneworld Sapphire
Group 4: Gold/oneworld Ruby/AirPass holders/Premium Economy/Citi AAdvantage Executive Card Holders/Those Who Bought Priority Boarding/Some Corporate Travelers
Group 5: Main Cabin Extra (but not those that have a Basic Economy ticket)/AAdvantage credit card holders
Group 6: Economy
Group 7: Economy
Group 8: Economy/Basic Economy to/from Europe
Basic Economy
If you have children under two, you can ask to board early at the gate. Otherwise, it's by group number. If you can earn status, that's the easiest way to guarantee your family boards as early as possible, for the cheapest price. You could also elect to sign up for the Citi/AAdvantage Executive Card, which offers Group 4 boarding. Or sign up for many of the other AAdvantage cards issued by Citi and Barclays, which offer Group 5 boarding. Otherwise, you can pay for Priority Access, which boards with Group 4 and offers faster security screening if your airport offers it. That costs between $9 and $74, depending on your route.
Inflight Entertainment
American offers free entertainment on every flight that features wifi (some American Eagle flights don't offer that,) even if you don't purchase a wifi plan. That's great for families that forgot to bring entertainment on board. You can see what movies, tv shows, and live TV American offers each month on their website before you board.
However, I'll note that while other competitors offer plenty of planes with seatback entertainment, American is actively removing these options to save money, despite being a popular feature for fliers. Be sure to also charge your electronics before you get on board, because there are still lots of planes without in-seat power, as well. This is where SeatGuru can help you again, as they'll note which seats have in-seat entertainment and power.
Finally, if you're on a flight with ViaSat wifi (American also uses Gogo Wifi,) and you have an Apple Music subscription, you can access that service for free without paying for wifi.
Conclusion
Hopefully, this guide will help your family fly American Airlines in economy. If you have any follow up questions, we're always available in the comments section!