Fly First Class to Hawaii for $285! (or How the European Banking Crisis Will Pay For Your Vacation!)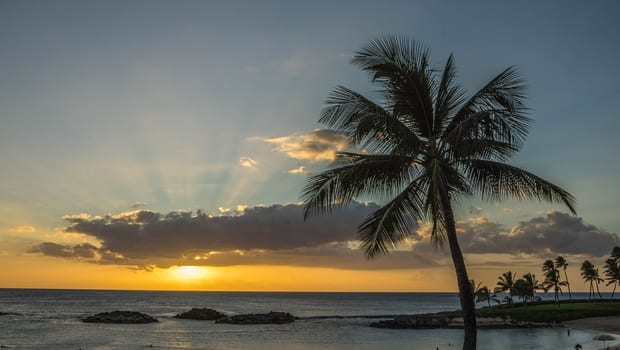 Update: Iceland Air has confirmed that they will stop booking Alaska Air flights at 8pm EST 8/31/12. There is plenty of availability but you only have until then to take advantage of this incredible deal.
What if I told you that you could buy frequent flyer miles from Iceland Airlines incredibly cheaply (as low as $285) because their currency has collapsed and you could redeem those miles for a roundtrip First Class flight to Hawaii via non other than Alaska Airlines. Would you believe me?
You should. I couldn't make that up if I tried! This is real and it is one of the all-time greatest travel deals.
This all starts in an obscure corner of the global collapse financial collapse.
Imagine a small country the size of Kentucky with 300,000 citizens. Now imagine if this small country wanted to be a big player in the global financial markets but was the least sophisticated country at the party, and the last to arrive. They grew quickly but then in 2008 all of Iceland's major banks collapsed. The size of this collapse, relative to Iceland's modest size, is greater than any other collapse in economic history. Their stock market, which had grown an outrageous 9x from 2003 to 2007, fell 90%. More importantly, the Icelandic Krona collapsed. Where it once cost 60 Krona to buy a U.S. dollar, it now costs over 120. That is where this deal was born.
You see, Iceland Air sells 25,000 of their frequent flyer miles for 39,500 Iceland Krona. This used to cost over $660 but now costs only $328. Plus, you can get a 20% bonus through 9/28 so for each 25,000 miles you buy, so you'll actually get 30,000. That's perfect because Iceland Air is partners with Alaska Air and 30,000 miles is exactly how many you need to fly First Class on Alaska Air to Hawaii.
That alone is incredible and is the other big piece here. There is no other U.S. domestic airline that flies First Class to Hawaii from the mainland for less than 70,000 miles. The terms of the partnership between Iceland Air and Alaska Airlines are extremely generous in that there is one price for the entire Alaska Airlines network, rather than varying prices by destination.
The Five Steps to Flying First Class to Hawaii for Under $300:
1)    Sign up for the Iceland Air Saga Club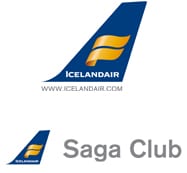 2)    Identify Your Destination
You can fly to Hawaii or anywhere in the US or Canada that Alaska flies to. See all Alaska Airlines destinations or their route map.
Hawaiian destinations serviced by Alaska Airlines include:
Honolulu (airport code HNL)
Kona (KOA)
Kauai (LIH)
Maui (OGG)
3)    Find Award Availability
Note: Flights are easiest from Los Angeles (LAX), San Jose (SJC), Portland (PDX) and Seattle (SEA) as they are non-stops. Interior cities like Chicago, St. Louis, Denver, Minneapolis and Texas (Houston, Dallas, Austin, San Antonio) require a connection to the West Coast so are less easy simply because you need to find seats on two flights, but there is currently some availability. The East Coast is much harder.
Go to AlaskaAir.com, select your cities. Make sure to check off "use miles," "award calendar" and to select "First / Business Class."
On the results page, you are looking for flights that Alaska Airlines lists as 37.5k miles one way. They call these their "Super Saver First Class" and these are what is bookable for 30,000 Iceland Air miles round trip. Yes, Alaska Air would charge 75,000 miles round trip for the same flight that Iceland Air will only charge you 30,000 miles for! This a big part of why the deal is so good.
Any day that has these seats available will show as green: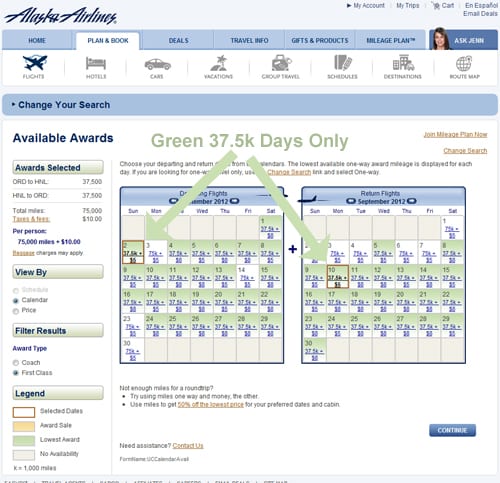 As an example, ORD-SEA-HNL (Chicago to Seattle to Honolulu) and back is available 9/2 returning 9/10, as of the time I write this. If I paid cash for that ticket, it would be $1,673 in First Class or $854 in Coach so we're talking about over 80% off!
Flights open up for award bookings 330 days out, so you can currently book into next July.
You are allowed one stop over, meaning you could fly from Chicago to Seattle and stop there for as long as you would like before you continue your flight. This adds flexibility when trying to find award seats because you can find one leg one day and the second leg on a future day. The only issue this presents is that you need to keep an eye on your connection. Iceland Air will not be able to ticket a round trip flight that has two connections longer than four hours, even if they are on the same day, because both will count as stopovers.
This works for coach seats, as well. They cost 20,000 miles rather than 30,000 so work out to be 1/3 less.
4)    Purchase Your Miles
If you are doing this for just yourself or one other person, keep it simple.
Buy 25,000 miles plus a 5,000 bonus for 39,500 Krona or approximately $328.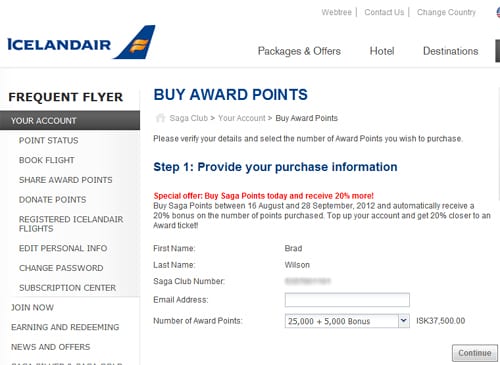 If you are trying to take the family, add a stop in and you'll save a few hundred extra:
Buy 42,000 miles (plus an 8,400 bonus) for 65,000 Krona or approximately $540.
Then do that again. You'll have a little over 100,000 miles in your account.
Then share 50,000 miles with a friend or relative. What is great about this is that the charge is a flat fee of 3,000 Krona or $25 USD regardless of the number of miles shared, plus you will still get a 20% bonus.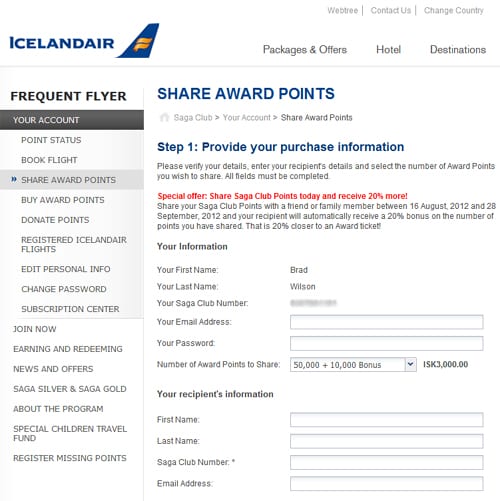 Then do that again, too.
You'll have 120,000 miles in the account, enough for a family of four to fly First Class to Hawaii, and the miles will only have cost you $1,140 total, or $285 each! You could also do it in Coach and get 6 tickets for about $190 each!
Remember to use a credit card that doesn't have a foreign transaction fee. You'll save as much as 3% of this purchase. Chase Sapphire, the British Airways Visa that many of us got recently and the American Express Platinum are all examples.
5)    Call Iceland Air to Book
Their number is 1-800-223-5500 and hit 2 on the prompt to book award travel. You will be charged about $40 in taxes for each ticket, so your net price will be $325 per ticket if you did the sharing double-dip or about $368 if you did not.
There is a change fee of about $80 if you have to alter the ticket in the future.
-- -- --
Great, you say. I just got an incredible deal on a flight to Hawaii. Now I have to spend a small fortune to stay there. Not so fast!
I'm a big Hawaii fan, and as you know, am not one to pay dearly for the privilege of a visit. Check out what you and a significant other or friend can get if you sign up for the following hotel credit card offers:
You could stay free for a week via four free nights at the Grand Hyatt and three at the St. Regis Princeville (a Starwood Hotel), both in Kauai and both absolutely gorgeous. Take my word for it! 😉
Enjoy! I hope this helps you take a great trip. Chime in with any questions below.
For more great travel deals, see our sister site TravelHacks.com!
[HT: OnlineTravelReview]

Follow BradsDeals on Facebook

Follow @BradsDeals on Twitter

Subscribe to Brad's Daily Alerts for the latest deals, shopping tips and more!