How ANYONE Can Get a Year's Worth of Free Wendy's Frostys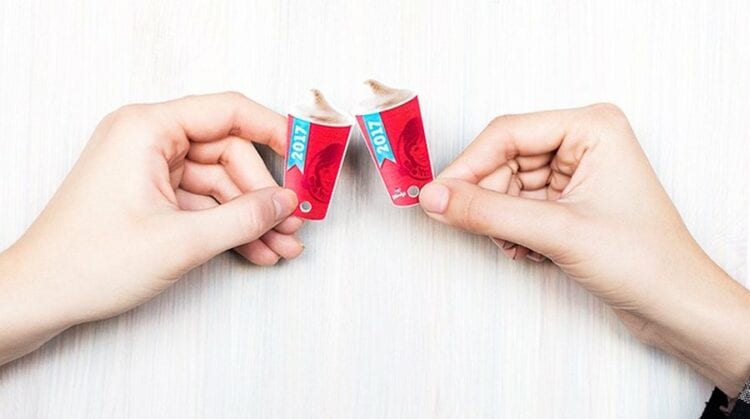 Come December, people are often taken to proclaiming how much better things are gonna be at the start of the next year. Usually, this makes me roll my eyes. Changing the date on your calendar from 2016 to 2017 isn't going to magically turn you into a fitness buff, it's not going to stop beloved celebrities from dying, and it's definitely not going to spark an enlightened bought of world peace. But there is one thing in my life that WILL be drastically improved come 2017: I'll be able to get a free Wendy's Jr. Frosty any time I want. 
This deliciousness is made possible through Wendy's 'Key Tag' program. Right now through January 31, 2017,  you can purchase a cute, Frosty-shaped key tag for $2 that will become a free Jr. Frosty pass, valid from January 1, 2017 to December 31, 2017. Having a bad day? Maybe a free Frosty will brighten it up! Babysitting a bratty kid who won't stop screaming? Maybe she'll change around her attitude at the promise of an ice cold treat!
What's the catch? Well, you have to buy something else in order to get the free Frosty, but what's a Frosty without fries to dip in it, am I right? Plus, the proceeds from the key tag sale go to the Dave Thomas Foundation for Adoption, a non-profit started by Wendy's founder Dave Thomas, which helps foster children to find their forever homes.
They've been doing this for a few years now, so key tag fangirls and boys might be quick to point out that the price has been raised this year, from $1 to $2. Before you complain about that, please remember what the proceeds are going towards, and how little $2 is in the grand scheme of your life. If you can afford to spend $2 on ONE Frosty, you can also afford to spend it on UNLIMITED FROSTYS FOR A YEAR.
So, with a one-time $2 purchase, you'll get an adorable Frosty-shaped key tag that will make your keychain the envy of your friends, you'll be helping provide foster kids with a loving family, AND you'll get a free sweet treat every time you head to Wendy's. Bring on 2017!
Will you be snapping up a Frosty key tag this holiday season? Let us know in the comments!