Watch the Chicago Cubs Make History for the Cost of a Half-Price Frosty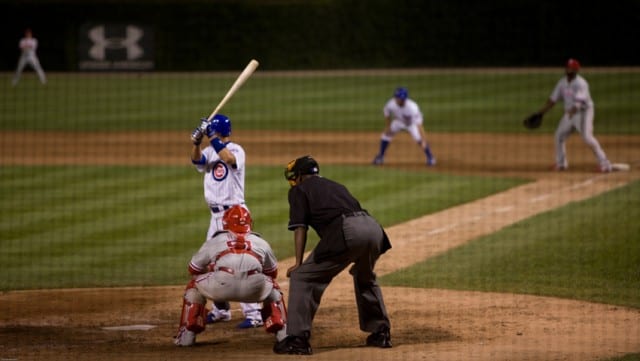 The Chicago Cubs are on an absolute tear, sitting in first place in the National League's Central Division, an astounding 12.5 games ahead of the St. Louis Cardinals. Even as a life long Cardinals fan, I have to admit that this is Chicago's year and it's been a lot of fun to watch their fans go from the lovable losers who show up to Opening Day toting signs that say "Wait Until Next Year" to a fan base that actually believes they can do it.
If you're not in the greater Chicago area, however, you're missing out on a lot of the fun unless you stream the games on MLB.tv. If that $24.99/month subscription was a little out of your price range, though, today is basically your best day ever.
How to get MLB.TV for 50¢
From now through August 31, Wendy's is pairing up with Major League Baseball to get you a free subscription to MLB.tv through the end of the regular season on October 2.
Here's how it works:
Get thee to a Wendy's and buy a 50¢ Frosty (they're even on sale!)
Snap a selfie with your Frosty and post it to Twitter or Instagram with the hashtag #50CentFrostyMLB
Wait for MLB or Wendy's to get in touch with activation instructions.
Note that you should follow @mlbtv on Twitter or @wendysmlb on Instagram to be sure they can DM you with the details.
There is some fine print to contend with. Your Twitter or Instagram accounts must be public, the offer is limited to the first 34,000 Frosty-toting baseball fans to claim it (we think your chances are pretty good), and, of course, blackout restrictions apply.
If you're already a month-to-month MLB.tv subscriber, I see nothing in that fine print that limits it to new subscribers. I take that to mean that nothing should keep you from swapping your usual $24.99 September subscription for the Frosty offer. I recommend giving it a try - the worst that could happen is that you enjoy a cheap Frosty while resubscribing.
Check the offer's official page at MLB for complete details.
So, to recap, 1 discounted Frosty = just over 1 month of free MLB.tv and a whole lot of Cubs baseball. Or there are a whole bunch of other teams playing too, I guess.
Go crazy, folks, go crazy!
P.S. As a cordcutting Cardinals fan in Chicago, MLB.tv is the only way I can watch my team every summer, so I can say I honestly love it as a service. I've even watched my beloved birds play while beachside in the Caribbean, though most of the time I'm watching on my Roku.