Friday the 13th Movie Night: Shaun of the Dead and Chocolate Cherry Grill Pies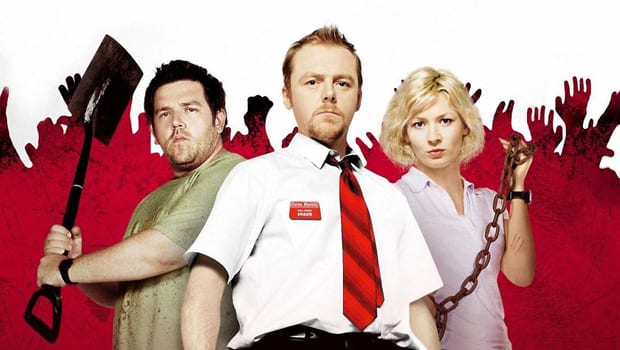 Can you believe that we've had two months in a row with a Friday the 13th? Is it a sign of the apocalypse? Or maybe... a zombie apocalypse?? 
What we're watching: Shaun of the Dead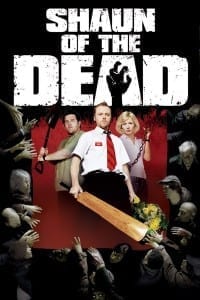 Shaun of the Dead is a horror comedy classic, and it's the vehicle that really launched Simon Pegg's career. Watching slackers Shaun and Ed moving obliviously though their own mind-numbingly boring existence as the zombie infestation takes hold is comedy gold. Every choice the movie makes, from Shaun's cricket paddle to agonizing over which records to throw at an attacking zombie, is creative and hilarious. Poking more fun at its loser heroes than at the zombies themselves, the movie successfully leverages them as a metaphor for the way in which Shaun has drifted through his humdrum life.
You can rent Shaun of the Dead in HD via Amazon Instant Video for $3.99.
What we're eating: Chocolate Cherry Grill Pies
It's not exactly zombie fare, but if you're celebrating Pi Day on Saturday, this week's recipe is for you! Our nod to 3.14 is a recipe I improvised a few years ago when I had a bunch of fresh cherries on hand and wanted a quick dessert.
You'll need:
1-2 cups of pitted fresh cherries
a handful of chocolate chips
a handful of mini marshmallows
2-3 mini graham cracker pie crusts
whipped topping (Cool Whip, Reddi-wip, etc.)
aluminum foil
Put the cherries, chocolate chips and marshmallows in a foil packet and add it to the grill while you cook up some meat for dinner. Leave a small opening at the top of the foil just large enough so you can see what's happening inside. It's done when the mixture is bubbling. Then pour your cherry chocolate mixture into pie crusts and top with whipped cream. Congratulations, you've just made the world's fastest and easiest cherry pie!
Though I prefer making these on the grill, you could also do it in a small sauce pan on your stove top. Combine the cherries and marshmallows in a small sauce pan and cook until the marshmallows melt and the cherries break down, stirring as needed. Add the chocolate chips and stir until they've melted. Voila.
A few movie-night must haves:
Today we're doing this a little differently, focusing exclusively on Target since they've got a promotion going right now where if you spend $50 on select home goods and decor, then applying promo code DECORATE will take an extra $10 off your total. The end result is four must-haves instead of our usual three. Despite a cart total of $53.19, the actual cost before tax is $43.19 for the lot thanks to the promo code, and shipping is free.
Libbey Craft Pub Beer Glass Set - $12.77
Shaun's neighborhood pub, The Winchester, figures prominently into the story, so it seemed appropriate to pour ourselves a beer using one of these Libbey pub beer glasses.
Wall Mounted Bottle Opener - $14.24
Of course, if you're pouring that beer from a bottle, you're going to need a bottle opener, too. We liked the decorative touches on this cool wall-mounted model.
Contigo AUTOSPOUT Addison 24 oz. Water Bottle in Citron - $12.19
If the zombie genre has taught us anything, it's that we'll all be doing a lot of running when the shambling horde arrives. Don't forget to keep a bottle of water at the ready. Staying hydrated while on the run is very important! (Note: Citron is the only color available at this price.)
Mercury Midnight Orchid Candle - $13.99
The power grid is likely to fail at some point, too, so be sure to stock up on candles! Mercury glass is very popular at the moment, so this scented jar candle is a trendy decoration that becomes a functional light source once the lights go out.