Frugal Fitness: Get Into Your Skinny Jeans Without Spending a Small Fortune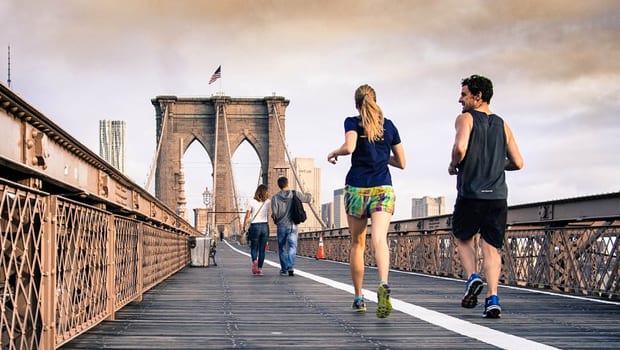 Let's face it, getting healthy can be expensive! But this is BradsDeals, where we show you how you can do it all for less. Or, in some cases, for free! Here's how you can skip the hefty monthly fees and finally fit into your skinny jeans without spending a small fortune. Use the money you saved to buy yourself a new glamorous wardrobe to fit your new healthy body.
Choosing a Plan
First, I will say that weight loss services like Weight Watchers and Jenny Craig really do work. I have personal experience with one of them and was quite successful during my time in their program. However, unless you're really committed to going to the meetings, online programs like these don't provide anything that you can't find elsewhere for free. MyFitnessPal provides all of the same meal and exercise tracking as Weight Watchers Online without the rigmarole of converting all of your meals to points. Their food database is by far the most extensive I've seen (they know how many calories are in a slice of Lou Malnati's sausage pizza!) and the online community is vibrant and supportive. Check out their free smart phone app for tracking on the go.
Buying Healthy Food
It's a common myth that healthy food is more expensive than food that's starchy and super-processed. It may be true sometimes, but honestly, I don't spend a lot on groceries. You can get a massive bundle of kale for dirt cheap. I make my own popsicles with frozen fruit, almond milk and cinnamon - they're cheaper, have fewer calories, and are 100 times tastier than anything you can buy in the store.  I splurge on boxes of sweet and caramelly medjool dates, but the cost per snack works out to be cheaper than a candy bar, not to mention that they're higher in fiber. A bag of frozen young chicken breasts is reasonably priced, and the young variety is a more suitable size for dieters. Other low cost grocery staples? Eggs, instant oatmeal, bananas, fresh cut pineapple, cottage cheese, fresh baby spinach, grape tomatoes, orange juice, fresh mushrooms and black seedless grapes.
If your favorite local grocery store has a loyalty program, check to see if they offer additional savings on their website or through an app. If they do, then you should never leave the house to go grocery shopping without logging on to grab personalized deals, online exclusive coupons, and deal matching from other stores. I regularly score $3 off when I spend $15 on produce and often shave more than 20% off my grocery bill with all of the extra discounts that aren't available unless you grab them online before you hit the store.
Brittni, a former Brad's Deals team member, notes that NYC-area grocery chain D'agostino also offers a lot of rewards and freebies. "I have their key card and every time I go, more than one of my veggies is free. Last time, I got two free packages of organic spinach!"
The savings available vary from store to store, but many grocery chains offer fantastic loyalty programs like these. Check your favorite local grocery store's website to see if there are extra savings waiting for you there.
Finding Healthy Recipes
Now that you've stocked up on affordable healthy groceries, what should you do with them? You could subscribe to magazines and buy expensive cookbooks that focus on low calorie meals, of course, but my favorite secret method of tracking down tasty low cal fare is to dust off the old library card and check out some low calorie cook books. I bet you never thought about looking for cookbooks at the library! Now that you're in on the secret, just copy the recipes you want to try. Of course, in the internet age finding healthy recipes online is also easy to do. My favorite healthy recipe websites are Hungry Girl, Eating Well and Skinnytaste. Tip: get a 3-ring binder, stash the recipes you find in there, and create your own personalized cookbook as an update on your mom's box full of recipe cards.
Not sure what the nutritional breakdown is on your favorite recipes? Check out the SparkRecipes Nutrition Calculator to get a full analysis. Just put in the ingredients, divide by the number of servings, and voila! Mystery solved.
Working Out
No cash for a gym membership? No problem! Make a list of all of the fitness studios you want to check out and hit any that offer a first class free. If you've exhausted your freebies, many studios offer a discount rate for your first month's membership. The free first classes are hard to come by in Chicago, but I'm more than happy to bounce from studio to studio cashing in on first month discounts. Added bonus? I get to check out everything from ashtanga yoga to zumba. With exposure to so many types of workouts I'm bound to find one that I love.
Many cities have free workouts that you can join if you know where to look. We found a great round up from Guest of a Guest for New Yorkers, this one from Chicago Loopster for those who live in the Windy City, and this list of free workout ideas from Refinery29 for Los Angeles residents. Try searching for "free workouts in [your city]" in your favorite search engine and see what comes up.
If you absolutely must workout in a gym - and let's face it, running in the rain and snow is no fun at all - then you may be eligible for discounts. Many gyms offer a student rate well below their normal monthly rate, and some employers even will chip in to cover some or all of your membership. Check with your company's HR department to see if yours will. Got a favorite workout buddy? Sign up for a family membership together and split the fee to save money over an individual membership, no actual family ties necessary. Finally, when choosing a gym, pick one with a variety of free classes available  - diversifying your workout will help prevent burnout.
Outside of the gym, I really like Couch to 5K, a free running program which promises to have couch potatoes running a 5K with a ten week running schedule. I spent my summer working my way through and I've got to say that I'm impressed with the program. I did spring for the C25K Pro smartphone app, and it was worth every penny of its $1.99 price tag. Once I'm finished with C25K, I'll be timing my mile splits with Runtastic or RunKeeper. Fitocracy is also worth a mention as a great way to motivate yourself. A sort of social network for fitness buffs, Fitocracy gamifies your workouts by giving you points and letting you "level up".
Need to burn 100 calories? Go for a 30 minute walk. Grab your sweetie, your kids, your dog or whoever is around and go for a stroll around the neighborhood. Need to pick up some milk? Walk to the grocery store instead of driving. One of my favorite "workouts" is walking to my Tuesday night knitting group, which is a 3/4 mile hike each way. If I want a cupcake from Dinkel's, I make myself walk there to earn it. If the destination is fun, then a walking workout is no longer a chore to be endured. Bonus points for running errands on foot and saving money on gas in the process.
Other Frugal Fitness Tips
My workout clothes are almost exclusively from the Kohl's clearance rack. Lululemon may be trendy, but when your legs are shaking enough in barre class to register as seismic activity, no one cares if you spent $80 on your pants.
Do not skimp on your shoes. Get properly fitted at a running store. Then take their recommendation and find a discount on those shoes online.
Keep a carton of hard boiled eggs on hand. They're a great cheap, high protein snack.
If you're a Jimmy John's fan, get the unwich. A Hunter's Club Unwich with no mayo, add dijon, cucumber and hot peppers, is just 300 calories. I don't miss the bread and I can eat the whole thing, guilt free.
Need a place to stash your house key while you're running? Skip the $20 running belt. Put it on a long ribbon that you can wear under your shirt or tie them to your shoelaces.
Do you have a frugal fitness tip to share? Tell us about it in the comments!

Follow BradsDeals on Facebook

Follow @BradsDeals on Twitter

Subscribe to Brad's Daily Alerts for the latest deals, shopping tips and more!