Frugal Friday Movie Night: BoJack Horseman and a Piping Hot Bowl of Chili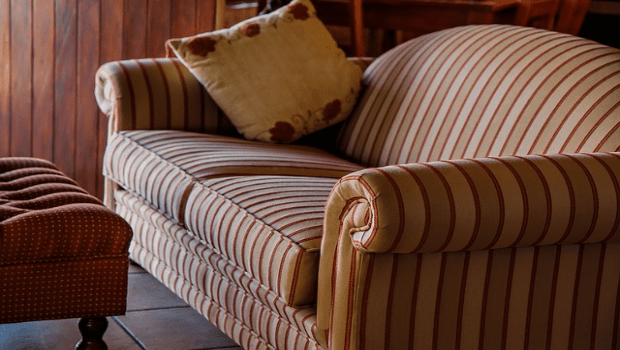 It's Friday night, and if you're anything like me, chances are you've got some big choices to make.
Option #1: You could go out for some drinks with friends, end up spending way too much money, and wake up tomorrow with a headache, an overdrawn checking account, and no desire to do the pile of laundry you've been putting off all week.
Option #2: You could cancel all your plans, put on your comfiest PJ set and settle into the couch for a night of good TV, good food and a glass (or 3!) of wine.
Clearly this isn't much of a choice. Luckily, I just invested in a pair of fleece PJs, so let the couch games begin!
What We're Watching Tonight
BoJack Horseman. This Netflix original series has flown under the radar since its premiere in August, which is a shame because it's seriously amazing. I call it "a mixture of 'Entourage' and 'Archer' that packs the emotional punch of your favorite cable drama" when feverishly talking it up to my friends, but it's so much more than that.
On its surface, Bojack Horseman is an animated comedy about a Bob Saget-type actor whose career has flat-lined since his popular '90s sitcom, 'Horsin' Around,' ended. While the show is hilarious, with layers upon layers of in-jokes (some which run throughout the entire season, perhaps in homage to 'Arrested Development'), its real genius comes out in its darkness. BoJack suffers from debilitating depression, and the show's irreverent exploration of this theme pushes viewers to think about life's deeper issues—an unexpected side effect for a cartoon about an anthropomorphic horse. And of course, the cast is pure gold, stuffed full of big-name comedians and actors like Will Arnett (who voices BoJack), Amy Sedaris, Alison Brie, Olivia Wilde, Kristen Schaal, Breaking Bad alum Aaron Paul and many more.
Seriously, it's Friday night and you've already cancelled your plans, there's no reason not to knock out half of the first season tonight. I promise that come tomorrow you'll be in my world, frantically begging everyone you know to watch it too.
What's For Dinner
As the weather cools down, our Frugal Friday meals have to heat up to compensate, and what's hotter than a steaming bowl of spicy chili? Believe it or not, October is National Chili Month, so lots of grocery stores have sales on chili's essential ingredients and I believe it is our patriotic duty to this country to whip up a pot of the good stuff. My boyfriend is kind of a chili-making genius, so I've adapted his (super easy) recipe for you. Believe me, if he can do it, so can you.
Snuggle-Time Chili
INGREDIENTS
1 large white onion
1-3 diced bell peppers
1-3 chopped jalapenos
5-6 diced garlic cloves
¼ cup chili powder
2 cinnamon sticks
1 tablespoon cumin
Salt as needed
2 pounds lean ground beef
2 (15 oz) cans kidney beans (drained/rinsed)
1 (28 oz) can diced tomatoes
1 (14 oz) can tomato sauce
2 cups water
DIRECTIONS
Sautee the onion and bell peppers in a large frying pan for 8-10 minutes, salt to taste.
Stir in the garlic, cumin and chili powder, then add the ground beef and cook, stirring constantly with a wooden spoon, until the beef is brown, about 7-9 minutes. Salt to taste.
Drain excess fat, move mixture to large pot and add tomatoes, tomato sauce, beans, cinnamon sticks and water. Bring to a boil, and then reduce the heat to low and let it cook until thick and fragrant—about 45 minutes to 1 hour. (Pro tip: the longer you cook this, the more the flavors pop.)
I like to top off my bowl with a big dollop of sour cream and some shredded cheddar cheese. This is comfort food at its finest, and it's the perfect way to stay warm through even the "chilliest" fall weather.
Other Night in Must-Haves
Obviously any night on the couch requires the presence of at least one super cozy blanket. If your blanket supply is running low, check out this adorable and super soft Sherpa Blanket from Target. It's only $29.99, and Target's got a free shipping promotion going on right now, so that's all you'll pay.
My apartment complex doesn't turn on our heat until November (don't even get me started), so even with a blanket, my living room often feels like it belongs in Elsa's ice palace. Layering is usually the key to my comfort, and nothing layers better than a North Face fleece. 6pm's got women's ¼ zip fleece pullovers for as low as $30, which is a steal for North Face.
I may not live in the lap of luxury, but one thing I take great pains to have on hand at all times is a good wine selection. The Virgin Wine Explorers Club is offering 15 bottles of wine, a $220 value, for just $69.99 plus shipping and handling. It comes out to about 6 bucks per bottle, and you can mix and match red and white wines. It's a great deal, and a good way to make sure you always have a bottle (or two!) saved for "treat yo-self" nights in.