Frugal Friday Movie Night: Romy, Michele and the "Business Woman Special"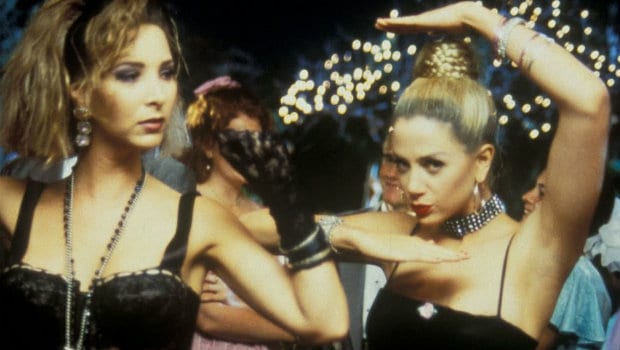 Today's Frugal Friday Movie Night is brought to you by Nicole, a Brad's Deals editor with a love of comfort food and classic '90s flicks. 
What We're Watching
"You know, even though I've watched Romy and Michele's High School Reunion, like, 36 times, I never get tired of making fun of it."
Fans of this classic Clueless-meets-Mean Girls comedy will know that I totally stole that line straight from the movie (sub Pretty Woman, of course), but even if you haven't seen it, you're probably familiar with the story line: A pair of lovable dorks are tortured in high school by the quintessential mean girls, only to exact their revenge 10 years later at their class reunion.
So, why do you need to see it (again)? Because Mira Sorvino, Lisa Kudrow and Janeane Garofalo are pure satirical perfection as vapid L.A. 20-somethings struggling to prove to their classmates (and themselves!) that there's more to them than big hair and amazing '90s ensembles. Plus, the totally '80s soundtrack makes for a heartwarming rush of nostalgia.
What We're Eating: 
Pasta with meat sauce (or, in a nod to our buxom blonde frineds Romy and Michele, the "Business Woman Special")
Since moving in with my boyfriend this fall, I've been slowwwwwllllly making the transition from cooking dunce to culinary goddess. While there have been some misses (note to self: broiling pans are a good idea when using a broiler, lest your fire alarm might go off;) the one dish I've managed to consistently prepare without incident is this classic Martha Stewart Meatball recipe.
While you can certainly prepare the meatballs as suggested, I've also taken the lazy woman's route and used this same recipe as a pasta sauce to pour over your basic rotini/macaroni/noodle of your choice. The ingredients are all things I usually have on hand (beef, eggs, pasta, pasta sauce, parsley, salt/pepper, bread crumbs, olive oil, grated parmesan and milk -- I make mine without pork), but those starting from scratch can buy the whole shebang for roughly $20, give or take. That's the same price as your typical GrubHub delivery, and you'll have plenty of leftovers to boot!
Other Essentials for Your Big Night In:
 Trader Joe's Charles Shaw Wine (find your nearest store here) - they don't call it "Two-Buck Chuck" for nothing!
 A Furry Friend to Cuddle Up With - I have no shame in admitting that I am a total cat lady. Everyone needs a snuggle buddy for Netflix nights, and there's no better time to adopt one than now, when freezing temperatures are overcrowding shelters with rescued cats and dogs. Check out this recent posting from Chicago's Tree House Humane Society for felines you can foster now or give a pet a more permanent home with these cats and dogs at Felines and Canines!
A Cozy Throw - This one is pretty self-explanatory. We like this Sparkly Knit Throw from Nordstrom, now $32.18.