Frugal Friday Movie Night: Spooks and Sweet Potatoes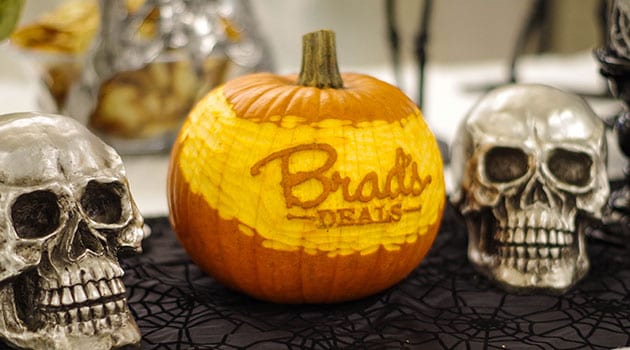 This week, Frugal Friday Movie Night is hosted by Keith C., a Brad's Deals graphic designer and true Halloween connoiseur. 
Today is Halloween, and it's by far my favorite holiday. I don't even blog about stuff, but I'm doing it today because Halloween. And every year on this day, after my friends and I have raided any baskets of candy left unattended, after we've scared our quota of children and parents on the city streets, I sit back and watch the same movie as I did the year before.
What's on the Tube: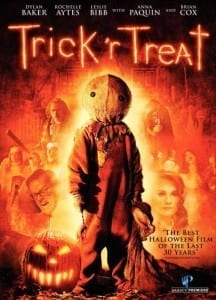 It's Halloween, which means it's time to bust out the best Halloween movie of all time. If you think I'm about to suggest "Halloween", think again. It's called Trick 'r Treat and it's the zombie's knees, or lack thereof. Netflix used to stream this, and I'm not entirely sure why they would ever want to remove it, as this movie is chock full of lore and folktales about our darkest holiday. It plays out like Pulp Fiction with its various, intertwining stories that eventually leads to a centralized plot line. You can get this A+ flick on Amazon's instant video streaming service for $2.99 (SD) or $3.99 (HD), but I advise purchasing a copy as I did, since you'll want to watch it every Halloween.
What's for Dinner:
Today is all about the sweets. Let tomorrow worry about a nutritious meal with all the important food groups and such. For now, let's eat baked sweet potatoes with honey and cinnamon. You really only need those three things.
Sweet potatoes (long, skinny ones work best)
Honey (wild flower honey is tops)
Cinnamon (there's no need for a parenthetical here, but here it is anyway)
Preheat your oven to 400 degrees. Take the sweet potatoes and stab it a few times with a fork (I recommend the side that will be face up in the oven). throw them on a baking sheet, spread maybe half an inch apart at least and shove it in the oven. Wait for liquid sugar to ooze out of the stab wounds (around 45 minutes to 1.5 hours.) While we wait, how bout unwrapping one of those Reese's cups, hm? Maybe two.
Afterwards, take them out and let them sit for about 5 minutes. Cut open the top long-ways , pour in the honey and pepper in the cinnamon to taste and mash it all up real good. And that's it. you can keep any other baked sweet potatoes you don't eat for later and just reheat them in the microwave when you get another craving.
Other Halloween Must-Haves:
If you're as much a fan of banned books as you are Halloween, then you should have already heard of Scary Stories to Tell in the Dark. If not, then shame on you. It's only the greatest gothic children's books you'll ever read. It comes in a three part series or in one big compendium which you can find over at Books-a-Million for a bargain price. Wherever you get it make sure you get the copies with Stephen Gammell's original artwork. The art work makes up half (if not more) of the series' acclaim, and the new, re-released artwork by Brett Helquist is just garbage. Don't get me wrong, Brett Helquist is a great artist, but there's no substitute for Gammell's work.
Every Halloween brings in more decor that I buy to keep out all year round. Take a look at the new Halloween accent pillow for our living room couch. My girlfriend is still begging me to take down the orange string lights I put up last year. Nope.
Finally—and this will require you to actually leave your home—go to your local Walgreens, Walmart or Target (definitely go to Target) tomorrow to take advantage of their clearance sales on all things Halloween. Especially the candy. Oh man, the candy...