Frugal Friday Movie Night: The Comeback and Costco Chicken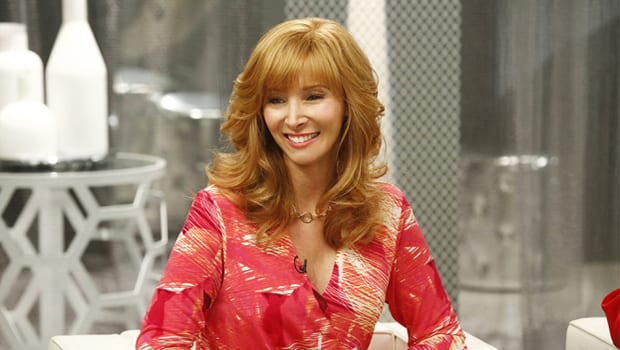 This week's movie night is hosted by Katie, a wickedly funny artist and Brad's Deals graphic designer whose ideal Friday night at home is binge-watching comedy TV with a bottle of cider in hand and a sketch pad in her lap.
What We're Watching
I'm not really in the habit of binge-watching television, but when I do it, I go all-in, withdrawing from the outside world and camping out on my couch until I've consumed every available episode of whichever show has caught my fancy. I recently lost a weekend in this way to the first season of HBO's The Comeback, a mock reality show starring Lisa Kudrow as Valerie Cherish, a has-been '90s TV star attempting a career revival with a thankless
 supporting role on a terrible sitcom. It took a few episodes before I found myself laughing out loud at this show, but I was definitely hooked from the start - it works equally well as comedy, drama, and, having originally aired in 2005, a look back on a more innocent time when wealthy people still used flip phones and Starbucks still sold Chantico drinking chocolate.
A warning: I'm not usually bothered by cringe-y comedies, but at times this show makes me tense up and cover my eyes in a way The Office, Curb Your Enthusiasm, etc. never could. Some critics have suggested that The Comeback provokes this kind of unusually strong reaction in viewers because we're not used to seeing deeply flawed female protagonists in embarrassing, uncomfortable comic situations, something I will ask you to keep in mind as I discuss my eating habits in the section below.
You can stream The Comeback on Amazon for free with Amazon Prime.
What's For Dinner
Rationally speaking, I know that it's kind of ridiculous that I have a membership to a warehouse club store when I don't have a car, a family, or even a lot of freezer space, but logic is meaningless in the face of my love for Costco's $4.99 rotisserie chicken.
I can always get a week's worth of meals out of these delicious giant mutant birds, and while my Costco Chicken Week menus vary - most recently I ended up with a couple of salads, a batch of soup, and a leftovers quesadilla - they always start with the same traditional meal: eating half the chicken with my bare hands while putting away my groceries, like a bear going nuts on an unguarded campsite.
Pro tip: If you live in a market served by Instacart, you can actually shop Costco for home delivery without a membership. Set up a new account with promo code TXvqei to get a $10 discount and free delivery on your first order.
Binge-Watching Bunker Essentials
Costco is also a great place to shop when you're a boozehound on a budget, and more often than not I pick up a bottle of Virtue Cider's The Mitten to go with my $4.99 chicken feast. I can't pretend that I stopped drinking this bourbon barrel-aged apple cider during the summer, but it really pairs perfectly with cold weather (and cheap chicken).
I have an embarrassingly short attention span and I'm pretty bad about letting my mind wander to some other activity while watching TV, but sitting on the couch with a sketchpad in my lap at least feels a little more wholesome than my natural impulse to distract myself with my iPad (and 30 different browser windows). Pick up a cheap Canson XL drawing pad for under $5 at Dick Blick Art Materials and doodle to your heart's content.
Finally, a comfortable pair of leggings is a must-have item for hermit weekends when the only thing tethering you to human society is the fact that you're technically not wearing sweatpants. During the winter months, I usually go with a fleece-lined number like these Tek Gear leggings from Kohl's, which drop from $36 to $16.79 when you check out with promo code WISHLIST20 and pay with a Kohl's Charge Card.