Frugal Friday Movie Night: Unbreakable Kimmy Schmidt & Olive Garden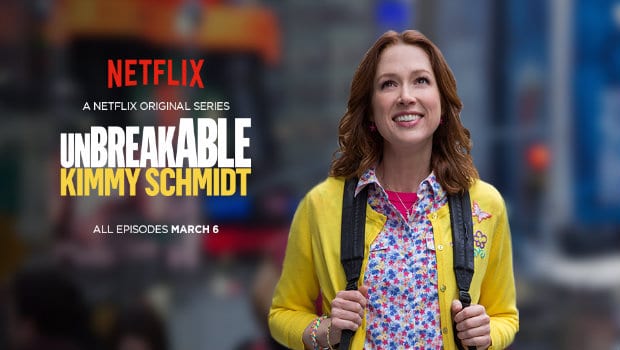 Today's Frugal Friday movie night is brought to you by Brad's Deals blogger, Caroline, lover of shameful binge eating and all things Tina Fey.
What We're Watching: Unbreakable Kimmy Schmidt
A few weeks ago, I was in a post-February slump. The weather was cold and grey and Parks and Recreation, my favorite show and light in the perpetual darkness of Chicago winter had just ended. Luckily, my moping only lasted a couple days, because once March 6th hit, Netflix dropped its new, Tina Fey-produced series, Unbreakable Kimmy Schmidt, and life once again had meaning...for the six hours it took me to binge-watch every episode, of course.
Unbreakable follows the misadventures of Kimmy Schmdit (played by the delightful Ellie Kemper), a 29-year-old escapee of an apocalyptic cult, which kept her in an underground bunker for 15 years. After being rescued, Kimmy decides to start a new life for herself in New York City. Armed with nothing more than a sunny attitude and a euphoric appreciation for her new-found freedom, Kimmy moves in with struggling Broadway performer Titus Andromedon (Tituss Burgess), and finds a job as a nanny for Jacqueline Voorhees (Jane Krakowski), the shallow but lonely wife of a Manhattan billionaire.
I won't spoil any more of the plot, but I will say that brilliant cameo appearances abound, and that every episode has at LEAST one laugh-til-you-cry moment. With Tina Fey at the helm, comparisons to her last television venture, 30 Rock, make sense but don't totally do justice to the phenomenon that is Unbreakable. The jokes and flashback sequences are indeed similar to 30 Rock, but the underlying themes of optimism, feminism and perseverance are played with a quirkiness more reminiscent of my beloved Parks and Recreation.
The episodes are only 20 minutes long, so it won't take you much time to plow through the whole season. If you're in need of a spring pick-me-up, this show is a MUST watch.
What We're Eating: Buy One, Take One from Olive Garden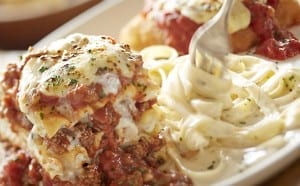 Just like Kimmy's angry little sister, Kymmi (played by Kiernan Shipka of Mad Men fame), I'm not ashamed to admit that I'm a raging fan of Olive Garden. This probably stems from the fact that I've always lived in the city, and thus far out of reach of this typically suburban oasis of pseudo-Italian carbo-loading. You always want what you can't have, so childhood shopping trips to the suburbs would inevitably end with me begging my parents to take me to Olive Garden, and when they (occasionally) gave in I would happily stuff my face with all the bread sticks, pasta and cheese I could get my hands on. And yes, in case you were wondering, I was a very chubby child.
You can't imagine how excited I was to hear about their new "Buy One, Take One" promotion, which gives you two full meals for the price ($12.99) of one. Head over to OG, enjoy a tasty meal, and when you're finished you'll receive a to-go box chock full of another delectable pasta dish--FOR FREE!
True Netflix fans know that nothing goes better with binge watching than binge eating, so I recommend eating light during your first Olive Garden meal, and taking the majority of it home to pair with your second. Variety is key here, and Olive Garden plays a surprisingly large role in episode 9 of Unbreakable. You'll see.
Movie Night Essentials
Pinot Noir -- Trust me, you're going to want to drink along with Titus Andromedon's smash viral hit "Pinot Noir," which appears in the 6th episode of Unbreakable Kimmy Schmidt. And you might as well add to your wine collection in the process, because WSJWine is offering 12 wine bottles and four tasting glasses for just $85, just $7.08 per bottle! Titus would be so proud.
Yoga Pants -- Lounging without yoga pants is like taking the bus without headphones--possible, but not ideal. Trust me, you're gonna be especially thankful for these stretchy beauties after you polish off your take-home OG meal. Luckily, Yugster's got a deal on yoga pants exclusively for Brad's Deals readers: 2 pairs of fold-over yoga pants for $17 with the promo code BRADSYOGA. Binge watching/eating never felt so comfy.
A cozy cashmere sweater -- Spring might be here, but the weather has yet to fully cooperate. Keep cozy in one of these $40 Halogen Crewneck Cashmere Sweaters from Nordstrom--bonus points if you get it in a crazy, Kimmy-approved color like neon yellow or bright pink. Whoever does the wardrobe for Unbreakable is a genius.
Seriously, how good is Unbreakable Kimmy Schmidt?? Leave your opinion in the comments!
Related Coupons: